2021 England vs USA
4 Things We Learned From Team USA Eagles' Valiant Defeat
4 Things We Learned From Team USA Eagles' Valiant Defeat
Despite a shaky start, the Eagles have done the nation proud, hanging in there with England in a 43-29 shootout at Twickenham.
Jul 5, 2021
by Alex Rees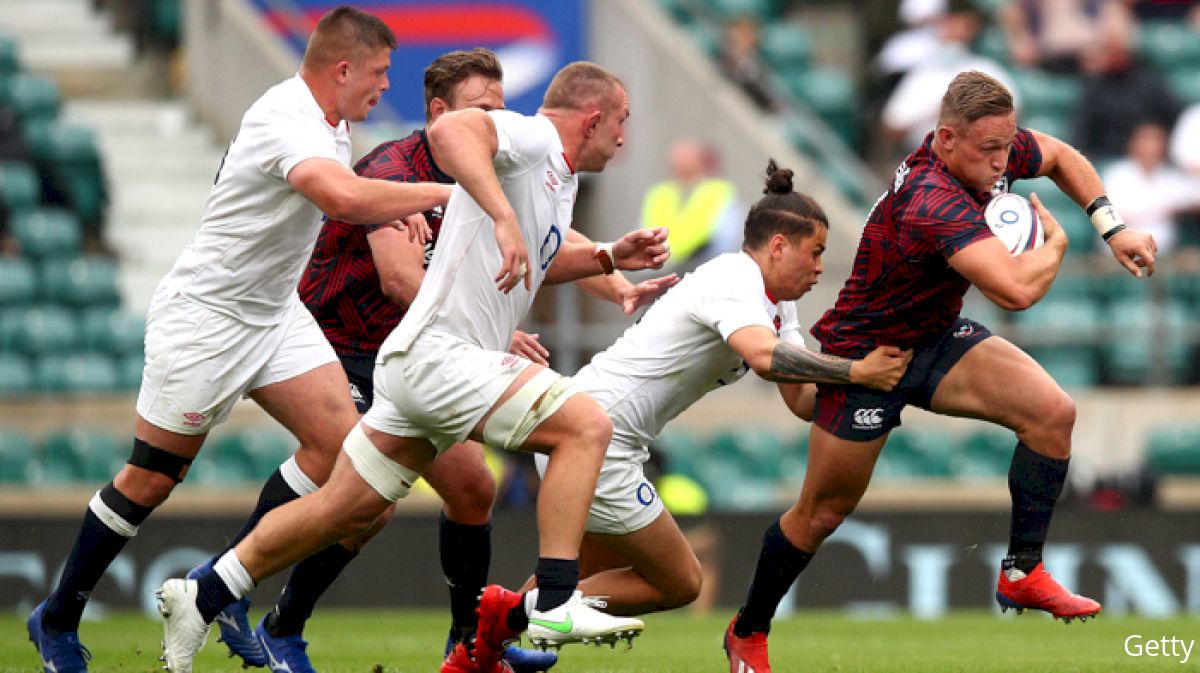 Despite a shaky start, the Eagles have done the nation proud, hanging in there with England in a 43-29 shootout at Twickenham. While Gary Gold and company will want to flush that first half down the drain, there was plenty to be pleased with in a second half that saw the Americans outscore their counterparts 26-17.
Watch the England vs USA Replay!
We haven't seen the Eagles play for nearly two years, so coming into this Independence Day battle there was a lot of ambiguity around how the boys would look. Would we see the MLR (represented by 19 of the 23-man squad) bear the fruits of its labor? Would the long layoff and little time together be too much to overcome? Would this young and inexperienced Eagles squad be able to handle test match rugby?
We don't yet have all the answers, but here are four things we learned about the USA on Sunday:
Knocking The Rust Off
It takes at least a half to shake off almost two years of rust. The Eagles haven't played a game since the 2019 Rugby World Cup in Japan, and since then, we've seen a worldwide pandemic, and a cancelled MLR season. To say this group was undercooked is a massive understatement. Half of them had never met each other, let alone played together, before landing in England last Tuesday. Gary Gold and his staff did an amazing job to prepare them to face a Tier 1 team in such a short time, but understandably, they were wobbly to start the game. The losses of Hooley and McGinty, their most experienced backs, saw center Marcel Brache starting at full back, uncapped Luke Carty at 10 and one cap Calvin Whiting at 12. Against England. At Twickenham. They righted the ship, and helped by quicker recycling, won the second half 26-17. That bodes well for the future.
MLR Paying Dividends...Particularly In Final Quarter
We also learned that fully professional players, in the home stretch of the MLR season, can go the full 80 minutes on a warm English summer day. In years past, you could count on the 24/7 professionals from the English Premiership, or any of the other top pro leagues, to run up the score in the last quarter against virtual semi-pros from the US. Thanks to MLR, those days are gone. The US players might not be getting the same paychecks as the Prem boys, but they have the same number of hours in a day, and the opportunity to use them in training. With increasing support and strengthening rosters, MLR will be a launchpad for future Eagles teams.
Eagles Finally Forming Identity
If there's anything about the Eagles through the years, it's that they've never really had an identity. When we think of the Springboks, we think big, hard forwards who dominate set piece and athletic backs who can kick the ball a mile and a half. The All Blacks a counter-attacking nightmare equipped with advanced skillets at every position. Wales a defensive juggernaut with silky ball handlers and great goal kickers. We can go on, but for the Eagles, you've never really been able to point to the squad and say, "Yup, that's the way the Americans play."
Watch the England vs USA Replay!
However, the second half on Sunday might've offered a first glimpse into what this group - and eventually this country - can be all about. Whereas the first half was a struggle with England slowing every breakdown and getting its defensive line locked and loaded to shoot up quickly, the second 40 min was a stark contrast. The difference? The Eagles, aided in particular by strong bench performances, started rumbling over the advantage line with almost every carry. This enabled quick ball at ruck-time and from there we could get our horses moving at speed and momentum while England was retreating. From there, space started opening up for the backs, and we could see how dangerous guys like Calvin Whiting, Mika Kruse, and Christian Dyer could be with some room to run.
All this to say that quick ball and a high tempo is the best recipe for this extremely athletic and fit USA team to do well. Michael Baska came in at halfback and provided additional tempo to the team, and moving forward this should be what the Americans lean into - let's beat teams by playing at a tempo they can't handle.
Mistakes Serve As Learning Points
One of the things you'll frequently hear from players about test match rugby is the manner in which mistakes are severely punished. The room for error is so slight, and facing off against Tier 1 nations you can ill-afford to give your opposition anything for free - think how many All Black tries come from counter attacks. Yesterday served as a very good learning point for the USA, particularly around the little details inside their own half. Three such examples one will recall:
First, England's opening try. Mikey Teo, who's been on fire in MLR this year, watched idly as he seemingly expected Marcus Smith's restart to sail into touch. In that split second that he switched off, England's Max Malins soared through the air and continued running, as Teo checked out of the play. This was the first gifted 5-pointer.
Next came in the second half, when a bouncing ball in the try area was collected by Rueben de Haas and shifted to Teo. The clever pass gave the USA winger a precious couple of seconds to hoof the ball out of danger, but he opted to run it out instead, getting close to nowhere. This was compounded by another decision to try and pass the ball out from the ruck on our own 1 inch line, and unsurprisingly England easily drove us back and won a five-meter scrum, scoring right after. That's another gifted 5-pointer.
Third was the charged down box kick. Almost identical to Cam Dolan's charge down and score, de Haas had one of his own kicks from the base swatted down and recovered for a try. England halfback Harry Randall, despite his man of the match honors, made a similar error in his test debut just minutes after the Eagles gave up a free 5-points. Perhaps the lesson here is to build a bigger guard to give the #9 room to kick, or to play it safer and pass to a first receiver to exit.
We learned a good deal about our Eagles, but how we react to these lessons will be shown on Saturday when the Americans take on Ireland at Lansdowne road.