2021 Tonga vs New Zealand All Blacks
Everything You Need To Know: New Zealand All Blacks vs Tonga
Everything You Need To Know: New Zealand All Blacks vs Tonga
It's been 215 days since we last saw the New Zealand All Blacks take the pitch and now they are set to face off against Tonga in their return to action.
Jul 2, 2021
by Alex Rees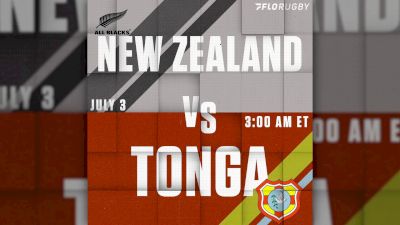 It's been 215 days since we last saw the New Zealand All Blacks take the pitch - a decisive 38-0 victory over Argentina which saw the ABs lift the Tri-Nations Cup.
However, 2020 wasn't all that and a bag of chips for New Zealand rugby. Under a new head coaching regime led by Ian Foster, the All Blacks struggled mightily compared to their lofty standards. An overall record of 3 wins, 2 losses, and 1 tie is well below Kiwi expectations, and you can bet the house they'll be fired up to turn things around in 2021.
Watch New Zealand vs Tonga Live on FloRugby!
July 3 | 3AM ET
That turnaround starts this weekend as New Zealand takes on Tonga in their first competition of the season. The previous meeting between these two sides - a warmup just before the 2019 World Cup - was a brutal 92-7 drubbing in favor of the All Blacks. Whether the Sea Eagles can improve on that result remains to be seen, as they'll have 13 uncapped players in their game day 23, a couple of whom are not yet full professionals. Fans of all the Pacific Islands nations have been clamoring for more opportunities to challenge the Tier 1 powers, but will this be a case of "careful what you wish for"? Let's take a look at some underlying storylines and key matchups.
Beaudy vs Richie
Two years on from the disappointment of a World Cup semifinal exit at the hands of England, the ABs still haven't resolved the question of who should own the 10 shirt - Richie Mo'unga, who has shone for the Crusaders in Super Rugby but underwhelmed at international level, or Beauden Barrett, World Rugby Player of the Year in 2016 and 2017, but now 30 years old and coming off a runner up finish with Suntory Sungoliath in the Japanese Top League. Any other country would be delighted to have either of them, but it's a selection headache for Foster, especially given the slight downturn in results. This weekend will see Mo'unga starting at 10, with Barrett shunted to the bench, but anything less than a spectacular performance from Richie will see the calls for Beaudy to return increasing in volume.
The "frail" New Zealand pack
Writing on a South African website, rugby scribe Oliver Keohane has dubbed the New Zealand forward pack "frail". That's going to raise some hackles, and the Tongans may pay the price, but is it just some South African pot stirring, or is there a nugget of truth to the claim? There's no doubt that the Kiwi Super Rugby franchises put on some amazing displays of offensive running rugby and dominate that competition, but is it at the cost of struggling against the heavy artillery of South Africa, England and the other Northern Hemisphere squads? We probably won't find out this weekend, but count on Tonga to bring a lot of physicality to the contest, looking for any sign of fragility.
New Faces
This will be one of the least experienced All Black squads in decades, and while it may be that Foster is keeping his powder dry for sterner tests vs Fiji over the next two weekends, it will be interesting to see who really puts their hand up in a live game. Will Jordan, starting on the ABs wing, exploded onto the scene in a breakout performance vs Argentina last season, while newcomers Quinn Tupaea at 12 and the bench trio of George Bower, Ethan Blackadder and Fin Christie will be looking to impress the selectors. Luke Jacobson, Dalton Papalii and Akira Ioane have only 8 caps between them in the back row, and will be looking for veterans Scott Barrett and skipper Sam Whitelock to bring some experience at 4 and 5.
The combination of injuries, heavy Super Rugby workloads and a relatively non-threatening opponent has offered an opportunity - now who will grab it?
What about Tonga?
Long the source of fantastic test players, performing for other countries, Tonga would love to get the regular games against the Tier 1 countries that could fund their rugby growth and induce some of those stars to stay home. It went badly for them in that 92-7 shellacking vs New Zealand in 2019, but count on them to be extremely physical and confrontational in taking on the ABs this time around. They aren't coming to the inaugural game at Mount Smart Stadium in Auckland, (usually home to the Rugby League NZ Warriors), to make friends or make up the numbers - they will be bringing it.
Key Matchups
As always in rugby, it all starts with the front rows. In the black corner, props Karl Tu'inukuafe and Angus Ta'avao will be holding up prickly veteran hooker Dane Coles. On the Tonga side will be props Duke Nginingini and Sila Puafisi flanking hooker Sam Moli. If the Tongan trio can achieve even close to parity here, they could disrupt an untested AB lineup.
In the backlines, Tonga will be looking to skipper and scrum half Sonatane Takulua of French giants Toulon to marshall his troops and go toe to toe with opposite number Brad Webber.
Watch New Zealand vs Tonga Live on FloRugby!
July 3 | 3AM ET
Keys to Victory
The All Blacks are prohibitive favorites, and it would be a monumental upset were they to lose this one. Keys for them are to play their game, and maintain discipline in the face of what is likely to be a physical approach from the Tongans.
For Tonga, coach and former Australia No8 Toutai Kefu and his men need to believe victory is possible. They are missing a multitude of their top players who are stuck in Europe due to Covid travel restrictions, and have recruited many new faces from the lower tiers of New Zealand rugby. Perhaps victory for them is being competitive, scoring some tries and making the ABs work for it.
Prediction
How long is the game? Over 80 minutes, par for the All Blacks would be around 65 points, and if Tonga can hit double figures, they will have done well. This pundit says 70-10 All Blacks.