2021 Bloodfest
Bloodfest Team Breakdown
Bloodfest Team Breakdown
The Austin Huns again play host to the best 7s tournament this side of the Mississippi - Bloodfest (it is also a blood drive).
Jun 18, 2021
by Alex Rees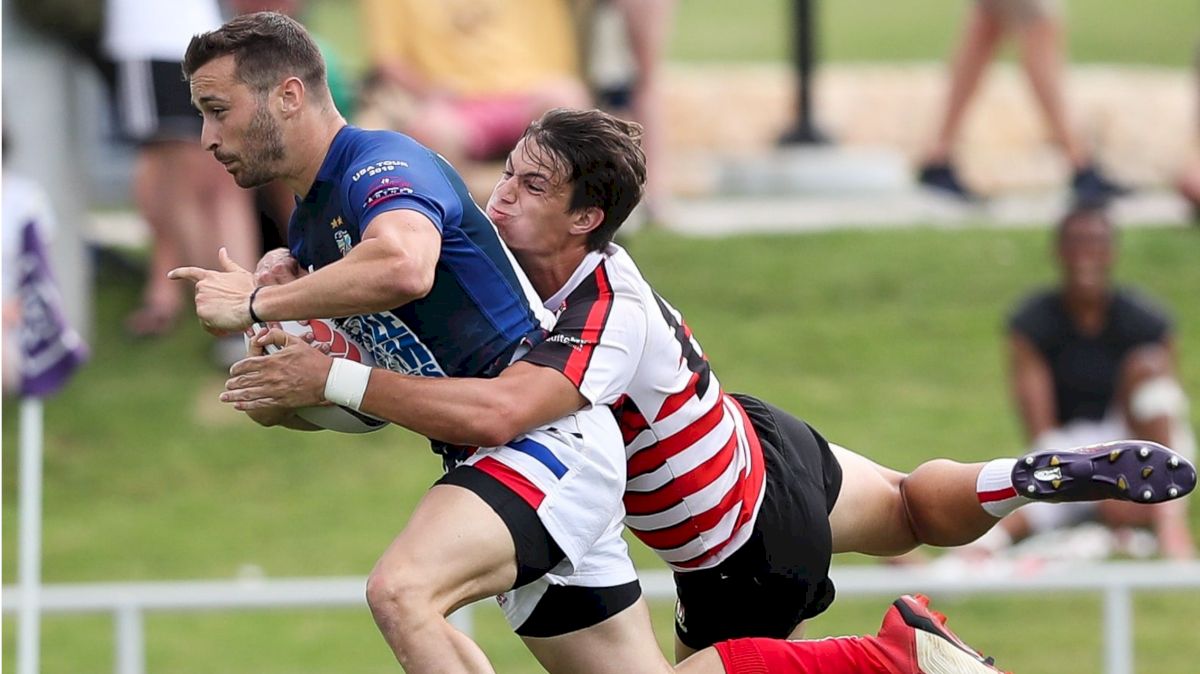 Texas summers; well-known for scorching temperatures, high humidity, and too many mosquitos, yet best-known for barbecues, 7s rugby, and damn good people. If heaven really is a place on earth, then this is exactly what it looks like.
Heaven comes to the Lone Star State this weekend, as the Austin Huns again play host to the best 7s tournament this side of the Mississippi - Bloodfest (it is also a blood drive).
If you can't physically make it out for good food, good rugby, and good people, you can still virtually be there every step of the way - and hey, it's 2021 now; we're all pretty comfortable going remote.
Guess Who's Back...
After a long year-off, Bloodfest is back, and tournament director Ryan Walker has picked up right where he left off. A whopping 82 teams will descend upon the capital city this weekend, including men, women, old boys, highschoolers - anyone who wants to play rugby.
If there's ever a place to dive headfirst into a back-to-normal-ish summer, it's at Bloodfest. With five divisions (Premier, Open, Social, Super Social, High School) rugby will be the ultimate winner on the day, but there too will be some big winners raising trophies.
Let's have a look at the teams competing in the Men's and Women's brackets:
Men's Premier
Pool A
Austin Huns: The tournament hosts took the spoils at the Lonestar 7s in Dallas a week ago, a Corey Jones try in sudden-death extra time putting the nail in the coffin against the Dallas Reds. The Huns will lean on a balanced attack of size and speed, with a dominant aerial game to try and make a run for the cup.
Gorilla Rugby: Now in their 3rd year on the big boy circuit, this collection of young collegiate Texas products has steadily risen each year. They're a fit, skilled, and speedy team capable of starving teams of possession - now, can they take that next step and reach a cup final?
Rugby HTX: You could say it was a roller coaster ride for Rugby HTX's first year as a club. Sabercats academy went toe to toe with the best teams in the state, as well as some top clubs around the country. They won some, they lost some, and they grew enormously over the course of the season. How many players they retained for the summer is yet to be seen, but should they have a full complement of guys for 7s, they could be a tough out.
Countdown Rugby: An unknown commodity, Countdown could well be a sneaky team out of Pool A. Few people know who they are yet, so the countdown is on until we get a real look at these fellas come Saturday.
Pool B
Dallas Reds: Winners of the last two Texas Qualifying circuits ('18 & '19), the Reds have set the bar in the Lonestar State in recent years. They're a well-drilled team always loaded with speed and physicality. They'll be expecting to make a run.
Dallas Harlequins: Once the top dogs in Texas for decades, the Quins fell off in the last 10 years. However, an insurgence of young talent and coaching has given the men from Dallas a lift in the last couple of years. They performed well at the Lonestar 7s, but will need to tighten the screws this weekend in Austin.
Rhinos Rugby: The outfit out of Long Beach has been a young talent factory in recent years, often showcasing on the biggest national stages for youth. With many of those players now playing senior rugby, the Rhinos now have a formidable men's team too. If you need any evidence, watch them tear it up at the Bermuda 10s. These guys are a darkhorse.
Austin Blacks: There once was a time (really not so long ago) where you wouldn't catch the Blacks losing a 7s match in Texas for 2+ years. However, the yearly attrition of deep 15s runs has frequently left them shorthanded during the summer, so 7s has taken a seat on the backburner. With no nationals for 15s in play this year, expect to see as strong a Blacks 7s side as we've seen in a while.
Men's Open
Pool A
Grand Prairie Mavericks: A young but rapidly growing club, Grand Prairie is steadily laying the foundation to be one of the top sides in Texas. With a good showing in Dallas last week (losing only once to the Huns 19-5), this team will be one of the favorites in the Open.
Dallas Harlequins 2: Like their A-side, this squad has come a long way in the last 5 years.
West Texas Titans: An intriguing mix of collegiate players from San Angelo State, Tarleton State, and Abilene Christian, these rugged country boys are ready to get mixed in. Expect them to be physical.
Pool B
Austin Huns 2: A very strong Huns second side will look to defend their Open title this weekend, and they've certainly got what it takes. Many of these players will be itching to climb back onto the qualifier side, so playing together will be key.
F5 Rugby: An unknown team with unknown potential. It will be interesting to see what they bring!
West Houston Lions: With the exodus of their coaching staff and a number of players from last season, the West Houston Lions have done a great job rebounding and keeping the ship on course. They aren't playing D1 anymore, but don't tell them that. They still want this cup as much as anyone.
Pool C
Fort Worth: Never an easy out, Fort Worth will look to channel some of the past this weekend. The men from North Texas were a perennial powerhouse in the early 2010s, and are hungry to get back to that status.
Gorilla Rugby Black: The aforementioned rise of Gorilla Rugby has also spawned a second side. As the program continues to grow, don't be surprised to see them represented across all the divisions.
Other Rugby Club: ORC is just over a year old, yet has already made waves across the Texas rugby landscape. As talented as any team in the Open, the key for the Outsiders is consistency; they have had extraordinary peaks and extraordinary lows in year 1. There's a chance they make a deep run.
Pool D
Rock Rugby U-23: Another club that just continues to grow, Rock Rugby steps up to the men's bracket at Bloodfest for the first time. It will be exciting to see these guys take their game to the next level.
Apex Rugby: Out of Denton, this is a team that keeps getting better each year. With speed across the field, their path to victory requires hanging onto the ball and avoiding the silly turnovers.
Texas Tech: The Red Raiders have driven in all the way from Lubbock, and have upset on their minds. They are often a big, strong team, but will they have the fitness and the skill to last them the whole tournament. Let's hope so.
Women's Social
Pool A
Austin Valkyries Red: The top dogs in Texas have split the team into two evenly-matched sides this weekend, with the hopes there will be an all-Valks final. Not the biggest team out there, the Valkyries beat teams with superior skills, passing, and coaching. It will take a determined effort to bring them down this weekend.
Bay Area Rugby Club: Always a club with talented players, BARC has the potential to spring some upsets if the ball bounces their way. Don't allow their dangerous players too much space or you will be chasing them to the tryzone.
Rock Rugby U-23: A program for young women to develop in is exactly what the Central Texas area needs. The Rock high school girls program has now created a U-23 side, and with that hopefully more and more girls pick up a rugby ball in the coming years.
Denton Rugby Club: Coming down from North Texas, the women in blue will look to continue building on their summer which has been one of great improvement and growth.
Pool B
Houston Athletic Rugby Club: The other big contender in Texas, HARC heads to Bloodfest with only one thing in mind: win the championship. They have very talented players and have forged a great competitive rivalry with the Valkyries. Don't be at all surprised to see them playing for the title.
Maulgaritaville: Little is know about these ladies except their name is undoubtedly the best at Bloodfest.
Grand Prairie Mavericks: The Mavs weren't sure if they'd even have seven players left in the club after covid hit, but some amazing work by the leadership group there has seen the club not only stay afloat, but increase numbers in a big way. This feel-good story continues Saturday at Bloodfest.
Pool C
Dallas Reds: The Reds head down to Austin in great numbers, and representing them on the women's side will be these tough ladies. The Reds are a well-established team that always puts in a good effort; key will be translating that camaraderie and teamwork into a winning chemistry.
Round Rock Rage: The newest team in the state, the Rage are excited to make their first foray into Bloodfest. Some young talent, mostly out of the University of Texas, will make this a fun team to watch over the course of the day.
Austin Valkyries Black: The other Valks team in the competition will be looking to handle its business on the scoreboard, while maintaining that positive energy and companionship that makes them a special club.
San Antonio Riveters: One of the better clubs out of Women's D2, the Riveters have been knocking on the door for a trip to D2 nationals for years now; is 2021 the year they just kick it down?
Men's Social
Pool A
San Antonio Rugby Club: A 2018 run to the D2 national semis (15s) promoted San Antonio up to D1, but the departure of some top talent has seen them head back to D2. They are still a formidable side, and will be a favorite in the Social bracket.
McAllen Knights: All the way up from the border, the Knights come to Austin looking to have fun, play some good rugby, and continue being one of everyone's favorite teams in Texas.
Denton Rugby Club: Denton heads down to Austin looking for a fun weekend, and one with perhaps more contact and less running. This forward-heavy team is at its best when the game is played in the middle of the field.
Ft Hood Old Skool: Ft Hood's Old Skool team brings with it an old school style. Look for these tough men out of Killeen to bring the intensity.
Pool B
San Antonio Rugby Club 2: San Antonio 2 is hoping to run into San Antonio 1 at some point in this tournament. Wouldn't that be interesting.
Matadors Rugby: The only thing these Matadors want to be killing is their opponents on the scoreboard, and the beers after the tourney.
Old Pueblo RFC: One of the few out of state teams, Old Pueblo is in town all the way from Tucson, Arizona. They're about to have the time of their lives.
Alliance Rugby Club: Not so long ago, these guys were playing in the D3 National Title game. Hopefully for them they can draw on the past to send them on a deep run at Bloodfest.
Pool C
Austin Huns 3: The Huns, represented in every division, hope to sweep the awards ceremony. This third side certainly has the goods to do their part.
New York Big Dogs: In town for their annual trip to Bloodfest, the Big Dogs are no strangers to the great city of Austin. Here's to another great year to our esteemed guests.
Grand Prairie Mavericks 2: As alluded to before, the Mavericks are steadily building something really strong in Grand Prairie. Having two sides in this competition is a big step in that direction.
Flammigos: Another team with a great name, the Flammigos are bringing positivity, happiness, and friendship to this tournament.
Men's Super Social
Pool A
Austin Silverbacks: The Austin Huns old boys will simply just be trying to make it through the whole tournament on two feet - and hey, they're pretty good too.
El Nino: The Austin Huns 4th team is annually rebranded El Nino. Not sure what that means? Ask Huns coach Adam Scheidler why he retired.
Corpus Christi Crabs: The Crabs are up from the coast to enjoy a great rugby-filled weekend. Always a fun side that socializes well.
Husky Bois: Not sure if "Husky Bois" means they run around the park like sled dogs, or if they've got husky frames that inhibit that ability. Thinking maybe the latter.
Houston Athletic Rugby Club: The HARC men generally compete in the upper divisions, but have opted for the Super Social this year. They've likely come more for the food and the beer, and the good Bloodfest cheer.
Pool B
Houston United Rugby Team: Another team that frequently makes a good run in the Open, HURT too will come to Austin with a bigger social than competitive mindset. As one of the best D2 teams in the state, they should be the favorites in the Super Social.
Dallas Area Rugby Club: DARC heads into the tournament ready to knock the dust off its boots. Can they make a run all the way to the final? It's Super Social though, so possibly not much "running".
Hill Country Blues: The Blues come in with a great name, and it would be a shame if they aren't listening to Muddy Waters and BB King between games.
Space City RFC: Can only assume these guys are from Houston, Texas.
San Antonio Taco Trucks: I'll take 4 Al Pastors (en maiz).