2020 Wales vs Italy Men's
Autumn Nations Cup Stock Report
Autumn Nations Cup Stock Report
What we just enjoyed was the inaugural Autumn Nations Cup, contested by the 6 Nations, plus Georgia with a cameo appearance by Fiji.
Dec 12, 2020
by Alex Rees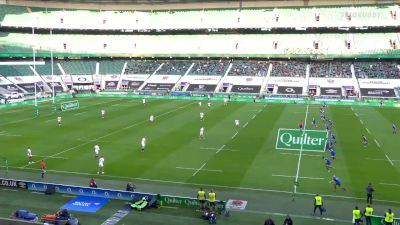 You could be forgiven for thinking that the Northern hemisphere teams decided to play another Six Nations tournament in 2020, and added Georgia, perhaps on a trial basis. But no!
What we just enjoyed was the inaugural Autumn Nations Cup, contested by the 6 Nations, plus Georgia with a cameo appearance by Fiji. More on that later.
So if we were picking stocks, how does each team look fresh off the tourney?
Champion: England
As expected by the English press, the lads in white rolled through the tournament, crushing all before them. Wait, no, that's what was supposed to happen. In fact, England put in a workmanlike performance to run off Georgia 40-0, Ireland 18-7, and Wales 24-13, without ever looking threatened. Then they met France on "position day", in the final between the winners of the two pool groups. With France sending a very inexperienced team, almost all owning single-digit caps, England were expected to partly make up for their stinker in the World Cup final of 2019, and run up a big score. Instead, the youthful French outfit showed their recent U20 form was not an illusion and took England to double overtime before finally going down 22-19.
Stock Price - up a couple of points | England did finally win a tournament final, the first since World Cup 2003, and Eddie Jones says it would be disrespectful to criticize their performance.
Runner Up: France
The jury was out on France coming into the tournament, after some turgid and unsuccessful rugby over the last several years. The newly minted half-back pairing of the excellent Antoine Dupont and 2nd gen Bleus international Romain Ntmack, installed after a 44-8 shellacking at the hands of England in the 2019 6 Nations, gave cause for optimism. But questions lingered. Solid wins over Italy 36-5 and Scotland 22-15, and a 28-0 walkover due to Fiji's Covid issues (thanks 2020) gave little indication of how France would go against England in the final. The national federation also had an agreement with the Top 14, France's pro league, not to select any players for more than 3 games each in the fall series. So the lineup that took to the field for Le Crunch against the old enemy was callow indeed. After coming agonizingly short in double OT, we have to say that the future of French rugby is in good hands. Indeed, but for an extremely favorable call on a possible knock forward by Billy Vunipola in the lead up to England's last gasp game-tying try, they would have taken the Cup.
Stock Price - way up and climbing | Almost like Airbnb going on IPO. The future looks bright, but now might be the time to short a home France win in WC2023. That's a big ask, and the Southern Hemisphere boys will be in town.
3rd Place: Ireland
They are who we thought they were. Efficient if a little limited with ball in hand, and still too reliant on the aging 9/10 axis of Conor Murray and Jonathan Sexton. Sexton has missed games recently, following the inevitable pattern of more mature top players - it's not the performance that drops off, it's the durability. A switch to new head coach Andy Farrell, (yes, Owens dad) could signal a change in tactics and fortunes, but the selection of Keith Earls on the wing looks to be a reach back in time, even if he did bag a brace of tries in the 3rd place 31-16 win over Scotland.
Stock Price – unchanged | After reaching the World #1 ranking briefly in 2019, Ireland looks due for a rebuild, but third place here has them maintaining their stock price.
4th Place: Scotland
Scotland, with their swashbuckling style, and eye-opening performances like coming back from an 0-31 deficit to England in the 2019 6 Nations to lead 38-31, have become something of a media darling. But this is Scotland, and they managed to cough up that lead and tie England 38-38. Similarly in this 2020 Autumn Nations Cup, Scotland flattered to deceive, ultimately beating Italy 28-17, taking their 28-0 walkover over Fiji, and going down 15-22 to the rejuvenated French. The 16-31 3rd/4th place loss to Ireland left them winning only one game on the field. The Scots can point to their top two No.10s, Finn Russell and Adam Hastings, being injured, but that's the way it rolls in top level international rugby.
Stock Price – down | The promise they've shown recently isn't translating into big wins on the pitch.
5th Place: Wales
Where did it all go wrong? Leading into the 2019 World Cup, Wales were briefly top of the World rankings after a pre-tournament warm-up win over England, then put in a creditable run to a narrow semi-final defeat at the hands of eventual champion South Africa. The following 3rd place loss to a fired up New Zealand was to be expected, but nobody saw new coach Wayne Pivac presiding over just three wins in his first 10 tests after taking the reins from Warren Gatland. Two of those wins, over Georgia 18-0 and Italy 38-18 came in the Autumn Nations Cup, but neither performance was well received. Ironically, Wales were praised more for not being completely routed by England in a 13-24 loss. Wales expects more from the national team than creditable losses to England.
Stock Price – continuing to slide | Pivac needs to retool and raise performance levels considerably to arrest the decline - this team looks lost, and were flattered by a 20 point win over Italy
6th Place: Italy
Italy hasn't won a game in the 6N since beating Scotland in 2015 - a run of 22 straight defeats. Based on their showing in the Autumn Nations Cup (losses to France and Scotland, no game vs Fiji), their best prospect for a 6N win is if Georgia is admitted to the tournament. Unfortunately, Italy would be the team most likely to be pushed out of the tournament to make way for Georgia.
Stock Price – we're in penny stock territory here | Italy is in a tough place, too strong for Europe's 2nd tier teams, but not a threat to the four home nations and France. Not a buy signal.
7th Place: Fiji
Covid problems within the squad deprived rugby fans of the opportunity to see the Flying Fijians finally getting to test themselves against some of the traditional rugby powers. Games vs France (dammit! Who wasn't looking forward to that game?), Scotland, and Italy were canceled due to an outbreak that saw half the squad infected. Fiji doesn't get to play the Tier 1 teams very often, and the games against Scotland and Italy looked very winnable. We'll just have to wait and hope they are invited more often. International Rugby administrators are often and justifiably criticized, but kudos to the organizers of this tournament for at least attempting to include Fiji. When they finally did take the field, the Fijians put a tough Georgia outfit to the sword, 38-24 in Scotlands Murrayfield Stadium.
Stock Price up – the jury has to stay out | Three of their games were canceled, but at least they were invited to the party. Plus they have possibly the most dangerous offensive weapon in world rugby in Semi Radradra, who we can just hope to see more of on the biggest stage.
* On a side note, can the outbreak in the Fiji squad be traced back to the several members of their team who were scheduled to play for the Barbarians vs England back in October? We'll never know.
8th Place: Georgia
You had your chance and you blew it. There has been a groundswell of support for giving Georgia a shot at joining the Six Nations, but on this evidence, they aren't ready for prime time. Italy is on a streak of 22 straight losses in the 6N, but defeats by England, Ireland, and Wales with a total point differential of 10-81 suggest Georgia may even struggle against the Azzurri.
Stock Price down – the potential value baked into their stock price looks to be a long way from fruition.
Wrapping up, I would like to extend a big thank you to the Autumn Nations Cup organizers. Covid has hit everyone hard, and to pull together an international rugby tournament in the midst of the pandemic was a herculean task. Normal hostilities with the game's leaders will resume shortly, but for now, well played!