2020 England vs France - Autumn Nations Cup Championship
Autumn Nations Cup Notebook: Fijian Flair Shows Up & Champions Crowned
Autumn Nations Cup Notebook: Fijian Flair Shows Up & Champions Crowned
If the first three rounds of the 2020 Autumn Nations Cup were labeled as slow, or too kick-heavy, the final weekend was anything but.
Dec 8, 2020
by Alex Rees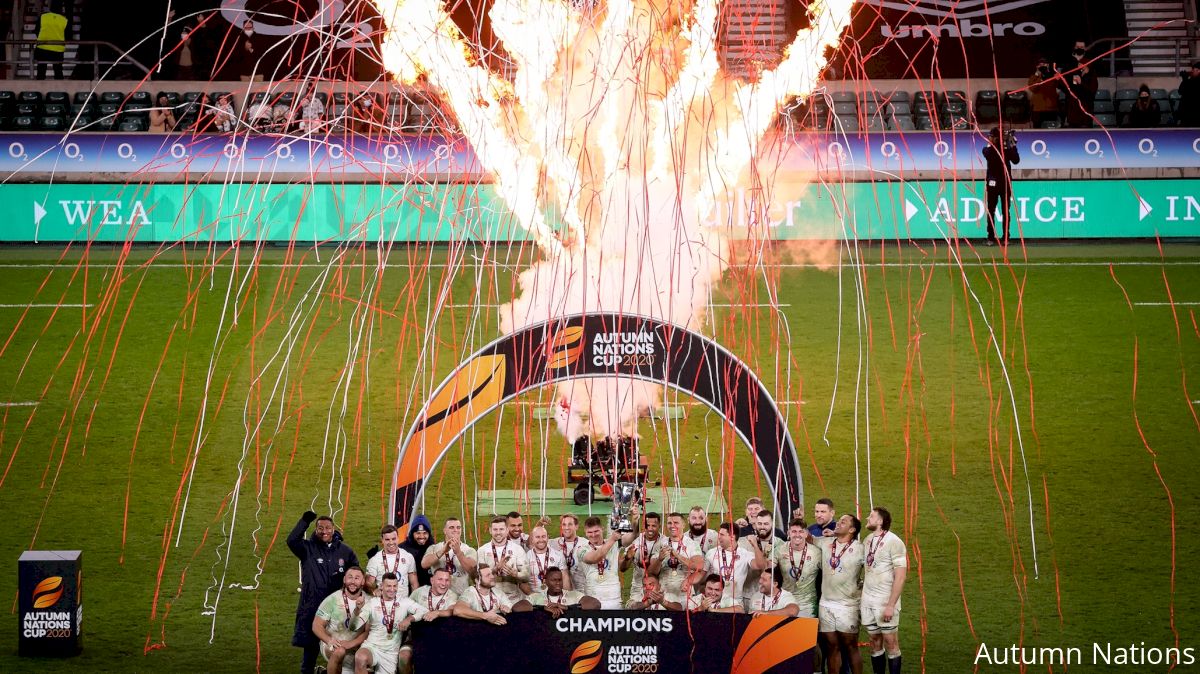 If the first three rounds of the 2020 Autumn Nations Cup were labeled as slow, or too kick-heavy, the final weekend was anything but.
The Fijians finally got to play and put on the scintillating performance fans hoped for when it was announced they'd be participating. Wales put together some beautiful rugby in a high-scoring affair with Italy, while Ireland went and did the same against Scotland. Lastly, England and France played to a historic extra-time thriller in the championship.
Everything fans hoped the ANC could be finally came to fruition and put a very nice capstone on what's been perhaps the wildest year imaginable. At the end of the day, the chips fell as most expected they would, but the competition could be seen as an overall success.
Looking back on Round 4, we review the results, the top performers, the key storylines, and the pertinent questions moving forward:
Results
Georgia 24-38 Fiji – Following a scary period of three weeks which saw 29 players in the Fiji camp suffer from coronavirus, the Fijians were forced to stay locked in their individual hotel rooms for two weeks with no outside contact. Limited to Zoom-only meetings from their rooms, the Fijian players weren't able to train any skills this autumn, but based on Saturday's performance you'd never believe it. A six-try outing from the Pacific Islanders restored hope that rugby is not becoming a kick fest with little excitement, but still one of the world's great spectacles.
Ireland 31-16 Scotland – For little over half an hour, there was only one team in this one, and it was not the one wearing green. However, heaps of Scottish territory and pressure would only yield nine points in the opening 30 min, and bit by bit Ireland grew into the game. A costly yellow card from Scotland late in the half loosened the screws, and by the second Ireland ripped the framework right off the Scotland ship. A great performance to round out Andy Farrell's first year at the Irish helm.
Wales 38-18 Italy – At last, Wales have a performance to look back on with at least a bit of pride. Although there was a 40 min lull in the middle of the match, Wales provided some fireworks early on and late in the match to the tune of five tries. Italy could be proud of their performance up until the final 15 minutes, but once again the lack of depth proved costly.
England 22-19 France – In the grand finale, England and France played to a historic double-overtime, sudden death title bout. Without his top 25 players available for selection (per agreement between French Rugby Federation and Top14 clubs) Fabien Galthie had to dip deep into the French reserves for this one. In a heroic display, France's B side were only seconds from victory, until an English try in the 81st minute sent the game to sudden death where Owen Farrell (who was shambles off the tee) finally ended the game with a tricky penalty kick.
Top Performers
Nemani Nadolo | Fiji: Nadolo climbed into the record books over the weekend, moving into a tie for most test tries in Fijian history after securing a hat trick vs Georgia. The 6'8 winger was unstoppable down the left channel, using his pace, power, and footballing skills to turn in a man-of-the-match caliber performance.
Taulupe Faletau | Wales: The stand-out performer in an otherwise disappointing Autumn for Wales, Faletau looked back to his very best on the weekend. The No. 8 was absolutely everywhere, beating heaps of defenders, chewing up meters, distributing brilliantly, offloading well, and tackling everything. The Lions No. 8 shirt is his to lose.
Brice Dulin | France: One of two French players in the England match with double-digit caps to his name, the diminutive fullback played much bigger than his size on Sunday. Dulin thrived under the high ball, skirted through the defense with ease and consistency, and even scored a nice try in the first half. The Racing 92-turned-La Rochelle man has thrown himself back into the conversation to be included in Galthie's Six Nations set up.
Peter O'Mahony | Ireland: O'Mahony led from the front on Saturday and didn't show any signs of old age slowing him down against Scotland. The hard back-rower was his typical nuisance on defense, turning in tackles, holding up mauls, and disrupting breakdowns, but also provided plenty of go-forward ball for the attack, carrying 11 times for 64 meters. His strong game almost included a spectacular try near the end, but his right foot was judged to be just centimeters into touch before he dove into the corner of the in-goal area.
Key Storylines
England wins, but France shows scary depth
Eddie Jones will be pleased with taking home the first ever Autumn Nations Cup trophy, as England has now won eight straight matches in 2020. Although many thought England would trample a depleted French team, it came down to a crazy comeback and a two periods of overtime to settle the championship. England may not be proud of the performance, but the result is all the same and that shouldn't be lost on anyone.
France, meanwhile, can be awfully encouraged from Sunday's contest. The depth in the French system is frightening, and the group of youngsters which won the 2018 and 2019 U-20 World Championships is starting to come-of-age at the test level. 2020 may just be the tip of the iceberg for what's to come out of France ahead of the 2023 World Cup. Galthie and defensive coach Shaun Edwards are building something very special at the moment.
Andy Farrell, Ireland starting to figure it out
2020 was by no means a bad year for Ireland, but next year they know they'll need to take a step forward to stand pat with England and France in the Six Nations. On Saturday against Scotland, it appeared the Irish rediscovered some swagger and put out a message they're still one of the top sides in the world. Staying healthy and staying confident ahead of the Six Nations will be paramount to their success moving forward.
Wales ends 2020 as it began
The first test of the Wayne Pivac era was a strong 42-0 win at home over Italy, which ignited plenty of optimism among fans that he could be the right man to replace Warren Gatland. Since then it's been largely downhill. Wales at one point lost six games in a row, then ground out an ugly win over Georgia, before putting in a sub-par performance in a loss to England a week ago.
On Saturday, however, Wales played with more ambition, more creativity, and more confidence en route to a good-looking win against Italy. While there were still some alarming defensive lapses vs the Italians, the attack at last materialized into what Pivac teams are known for bringing, and there may just be some glimmers of hope heading into 2021.
Fiji shows us why we all love rugby
How good was it to see Fiji back up and running? For a side unable to train (or do anything really) for three weeks, it's remarkable how well Fiji came out of the gates against Georgia. Two tries in the opening seven minutes set the tone, but it was the Fijian flair, creativity, and willingness to take chances that opened the game into such a pleasurable experience to watch.
It was plain to see just how much fun Fiji was having out there, and at the end of a long 2020 that's exactly what we all needed. They helped to remind us that rugby is fun, it's a privilege to play, and it's still one of the best sports in the universe.
Questions
How should England feel after winning ANC?
England can be happy with winning a second trophy of 2020, especially after reeling off eight consecutive wins. Now, on the flip side, it's starting to look like Eddie Jones' side is becoming a bit one-dimensional. Some more variety to the attack and the introduction of some fresher and younger faces are both in order for 2021.
Where does Georgia sit now?
Coming into the ANC, Georgia wanted to show it could hang with the big dogs of tier-1 rugby and prove it belongs in the Six Nations. After four games, Georgia showed it's no longer a cupcake for Europe's top teams, but with no games closer than 13 points through four weeks it's tough to say they should be thrown into the top level just yet. It was a good outing for the Georgians, though, and they certainly garnered some more respect than they had before.
Can Wales find some momentum?
Another win over Italy won't have gotten Wayne Pivac off the hot seat, but it could be the start of a turnaround for his struggling Welsh team. Pivac's system is far different from Gatland's, so perhaps 2020 was a year of adjustment for Wales. With more time to sit back and analyze the Autumn Nations Cup, Pivac ought to be able to pick out the right players for his style in 2021, even if that means moving on from some stalwarts of the Gatland era.
Will Scotland ever find consistency?
Expectations were high for the Scots after they defeated Wales in Llanelli to end the Six Nations with a three-game win streak, then took down Georgia and Italy to extend that run to five games. After that, Scotland had a prime opportunity to pull out a draw with France, but a late missed-touch-finder from Stuart Hogg prevented that from happening. That, coupled with a lackluster outing against Ireland, now has Scotland on a two-game skid heading into 2021.
Finn Russell and Adam Hastings should be back for the Six Nations, but the question still remains: when will Scotland show more consistency?