2020 Wales vs Georgia
Autumn Nations Cup Notebook #2: Contenders & Pretenders Revealed
Autumn Nations Cup Notebook #2: Contenders & Pretenders Revealed
The second weekend of Autumn Nations Cup action served up two of the most anticipated clashes of the tournament.
Nov 23, 2020
by Alex Rees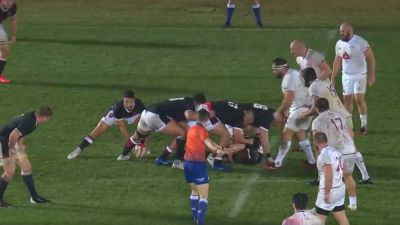 The second weekend of Autumn Nations Cup action served up two of the most anticipated clashes of the tournament.
Full Autumn Nations Cup Schedule!
England hosted Ireland in Pool A, and France visited Scotland in Pool B. Both matches lived up to the hype, with England and France staking their claims as the top dogs in their respective pools.
Elsewhere, Wales treated Georgia to a lovely evening in Llanelli – 50-degree weather, rain, and 25 mph winds. The play on the field wasn't much nicer than the weather, and Wales scrapped out a first win in seven tries over the Georgians. Sadly, Fiji had another game cancelled, with a reported 30 players testing positive for the coronavirus this week. The Flying Fijians will likely be unable to play at all this Autumn Nations Cup, a disappointing reality of life in the covid-age.
Looking back on Round 2, we review the results, the top performers, the key storylines, and the pertinent questions moving forward:
Results
England 18-7 Ireland – For the fourth time in a row, England defeated Ireland by double-digits. The Irish attempted to wear the English down with a bevy of phases and different looks in attack, but it worked against them. England welcomed the pressure, time and time again teeing off on the Irish ball carriers. The combination of a dominant forward pack and a legendary performance from Jonny May lifted England to an 18-0 lead before a late Jacob Stockdale try made for a more respectable scoreline.
Wales 18-0 Georgia – When you've lost six games in a row, you aren't in a position to say you "won ugly", but that's exactly what Wales did against Georgia. While the weather didn't make for a whole bunch of running rugby, Wales still looked underwhelming against tier-2 Georgia. The silver lining here is quite a few Welshmen got their first start in the red, giving them important game time before 2021 and a chance to form a fresh nucleus under Wayne Pivac.
Everything you need to know about Autumn Nations Cup!
Scotland 15-22 France – In the other heavyweight showdown of the round, Scotland and France went down to the wire in a game highlighted by 10 penalty kicks between the two teams. Scotland's new commitment on the defensive end showed up again on Sunday, as the Scots held off wave after wave of French attack inside the 22 to stay in the game. France operated without ace fly-half Romain Ntamack, but managed to pull out the win and avenge their only loss of 2020.
Italy 28-0 Fiji – Fiji's forfeit means Italy received a bonus point win. With Fiji now out of the competition, France and Scotland will also get 28-0 victories over Fiji as well.
Top Performers
Maro Itoje | England – Itoje was superb on Saturday, recording 23 tackles, charging down kicks, smashing rucks, winning turnovers, and making a complete nuisance of himself all game. His partner Joe Launchbury was exceptional as well, as both caused young Ireland hooker Ronan Kelleher all kinds of problems at the lineout.
Jonny May | England – May had two tries on the day, but it was his second that people will be talking about for years, if not decades. His ability to make something out of nothing is paralleled across the international landscape by less than a handful of players, and it was on full display Saturday. While the first try was an impressive leaping snag over an Irish defender, the next one was arguably the best solo try of the century.
Entire Back Row | England – It wouldn't be fair to mention one member of the England back row and leave out the others when talking about great performances. Between Tom Curry, Sam Underhill, Billy Vunipola, and substitute Ben Earl, England's back row completed a whopping 74/74 tackles on the day. Along with some powerful ball-running and strong breakdown work, these four were relentless all day long for England.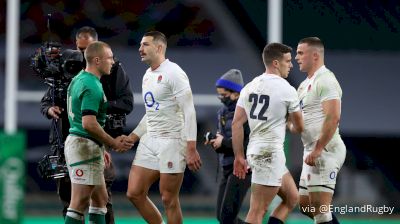 Virimi Vakatawa | France – Vakatawa shined like the star he's been the last two years, shredding Scotland all day long in the middle of the park. In a game short on tries, Vakatawa's brilliance was the difference. Early in the second half, the big center served up a perfectly timed pass for winger Vincent Rattez to break through on a set piece, before getting the ball back in support and wrestling off two defenders to score the game's only try.
Key Storylines
England, France on course for final – As expected, England and France are in prime position to win their pools and square off for all the marbles in December. Barring any letdowns against Wales (England) or Italy (France), the world's second and fourth ranked teams will treat us all to a phenomenal spectacle in the Autumn Nations Cup final.
Hogg's late-game errors – Stuart Hogg is, by many accounts, the favorite to wear the #15 shirt for the British & Irish Lions next summer. However, his reliability in the clutch is proving to be a recurring problem for Scotland. After playing a solid game for 79+ minutes, Hogg choked at the end of the match by missing touch on a penalty with the clock in the red. His kick into the corner went astray, and France was able to boot the ball into touch to end the game. It's Hogg's third big error in the clutch this year, and questions will be raised about his reliability in a three-game series with South Africa.
Wales' woes – The win on Saturday over Georgia halted a six-game skid for Wales and new coach Wayne Pivac, but the outlook for the 2019 World Cup semi-finalists remains unclear. They didn't look particularly good against Georgia, but a win is a win. Wales needs a strong result next week and a win the following week for Wayne Pivac to get off the hot seat.
Questions?
Will Romain Ntamack be available? – France is a very good team without Ntamack at fly-half, but with him they are a great team. Against Italy they'll be fine if he sits out, but should they face England in the final, Ntamack will need to be available for France to take the title.
Will anyone put double-digits on England? – England's defense has been remarkable since international rugby resumed. In the past three games, the English have yielded just 12 points total, and were five minutes off from a shutout against Ireland on Saturday. Moving forward, England's try-line will be extremely difficult to cross and it will take some magic to unlock this defensive unit.
Who plays #10 for Ireland? – Ross Byrne got the start for Ireland against England, and in 70 minutes never put the England defense under pressure. His replacement, Ulster's Billy Burns, came in and promptly put through a perfectly-weighted chip Stockdale to collect and take to the house. Looking ahead, will Andy Farrell play Burns or Byrne? Sexton only has so many years left, and his persistent injury concerns mean one of his replacements will be handed the torch sooner than later.