2020 USA Women Stars vs Stripes
Women's National Team XVs Rosters For Stars vs Stripes Scrimmage Series
Women's National Team XVs Rosters For Stars vs Stripes Scrimmage Series
Head Coach Rob Cain has announced a 49-player roster for the Women's National Team XVs' scrimmage series.
Nov 16, 2020
by FloRugby Staff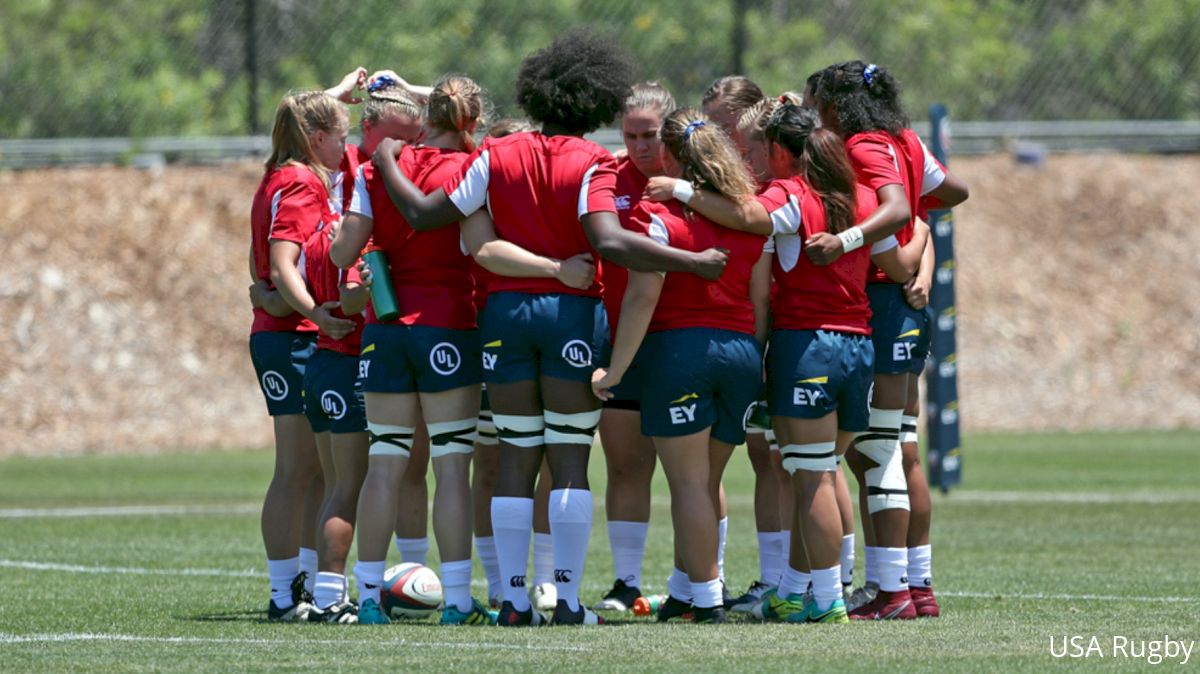 Head Coach Rob Cain has announced a 49-player roster for the Women's National Team XVs' scrimmage series to happen November 18 and 21, KO 2 PM MT, at the Rugby Town National Training Center.
Watch USA Women Stars vs Stripes Scrimmage Series!
Nov. 18 at 4PM ET | Nov. 21 at 4PM ET
The roster is split into two teams -- USA Stars and USA Stripes -- which feature athletes from the recently held daily training environment and mini camps, as well as the USA Sevens Residency Program.
On match-days, teams will be led by Coach Cain and Assistant Coaches Kate Daley & Jamie Burke. Both games will be used to evaluate player progression as preparation for Rugby World Cup 2021 continues.
Head Coach Rob Cain Said...
"Our focus the past 24 months, as a national team, as well as domestically through the WPL and collegiate game, is beginning to pay dividends as seen by the exciting squads here. Unfortunately, between us and our international competition -- who are not only playing international games but have also had full domestic seasons -- the divide is very real. Knowing this, the importance of these games has taken even more significance, allowing us to challenge the players both on and off the pitch. We are all looking forward to seeing the results of this next week.
"Many of our players haven't played a game in 12 months and as you can imagine there is a mix of nervousness, excitement and energy in the air. These games will be an opportunity and next steps window as we near the final stages to create our team for 2021.
"Thank you to our incredibly hard-working staff who brought this vision to life and to the community who have supported this program before and during these unprecedented times. Your support is priceless to the players and we are extremely thankful to you all."
Event Information
Fans can watch both games LIVE and for FREE on FloRugby.com as part of their commitment to the Women's Eagles' World Cup campaign. Former national team players Sarah Chobot and Dallen Stanford form the commentary team for each match. Infinity Park will remain closed to fans to mitigate the ongoing risks of COVID-19.
Women's Rugby Week
The two-part event underpins Women's Rugby Week, a celebration of the past, present and future of American women in the game. From November 16 to 22, fans can enjoy daily content that highlights key events -- including the World Cup Draw -- happening November 19 at 1:15 PM ET on World Rugby's social channels.
USA Stars Roster
| | | | |
| --- | --- | --- | --- |
| NAME | POSITION | CLUB | CAPS |
| Cassidy Bargell | Scrumhalf | Harvard University | uncapped |
| Amy Talei Bonte | Center | Life West Gladiatrix | 6 |
| Tess Feury | Wing | New York Rugby | 6 |
| Mckenzie Hawkins | Flyhalf | Glendale Merlins | 3 |
| Katana Howard | Flyhalf | Twin City Amazons | 4 |
| Lisa Jackson | Prop/Hooker | Atlanta Harlequins | uncapped |
| Nick James | Prop | Houston Athletic | 12 |
| Erica Jarrell | Second Row | Harvard University | uncapped |
| Kathryn Johnson | No. 8 | Twin City Amazons | 2 |
| Rachel Johnson | Flanker | Oregon Rugby Union | 7 |
| Evan Hoese | Back Three | Berkeley All Blues | 1 |
| Shelby Lin | Scrumhalf | Berkeley All Blues | uncapped |
| Darian Lovelace | Back row | Atlanta Harlequins | uncapped |
| Sam Luther | Second row | Colorado Gray Wolves | uncapped |
| Ilona Maher | Back Three | USA Sevens | uncapped |
| Kelsie O'Brien | Scrumhalf | Colorado Gray Wolves | uncapped |
| Neariah Persinger | Wing | Life West Gladiatrix | 1 |
| Hope Rogers | Prop | Life West Gladiatrix | 29 |
| Allie Schrenker | Hooker | Colorado Gray Wolves | uncapped |
| Paige Stathopoulos | Hooker | Colorado Gray Wolves | uncapped |
| Nicole Strasko | Flanker | Life West Gladiatrix | 7 |
| Hallie Taufoou | Back row | ARPTC | uncapped |
| Kathryn Treder | Hooker | Beantown Rugby | 2 |
USA Stripes Roster
| | | | |
| --- | --- | --- | --- |
| NAME | POSITION | CLUB | CAPS |
| Evelyn Ashenbrucker | Back row | San Diego Surfers | uncapped |
| Catie Benson | Prop | Life West Gladiatrix | 23 |
| Julia Buescher | Back Row | San Diego Surfers | uncapped |
| Ashlee Byrge | Scrumhalf | USA Sevens | 5 |
| Elizabeth Cairns | Flanker | Life West Gladiatrix | 11 |
| Rachel Ehrecke | Back Row | Colorado Gray Wolves | uncapped |
| Megan Foster | Flyhalf | San Diego Surfers | 5 |
| Jordan Matyas | USA Sevens | No. 8 | 18 |
| Jett Hayward | Hooker | Life West Gladiatrix | uncapped |
| Emily Henrich | Center | USA Sevens | 8 |
| Charli Jacoby | Prop | Colorado Gray Wolves | 6 |
| Bridget Kahele | Scrumhalf | Atlanta Harlequins | uncapped |
| Kristi Kirshe | Back Three | USA Sevens | uncapped |
| Joanna Kitlinksi | No. 8 | Colorado Gray Wolves | 14 |
| Jenny Kronish | Lock | Colorado Gray Wolves | uncapped |
| Kayla Lawson | Wing | USA Sevens | uncapped |
| Maya Learned | Prop | Colorado Gray Wolves | 2 |
| Sarah Levy | Back Three | New York Rugby | 2 |
| Bulou Mataitoga | Centre | Berkeley All Blues | 3 |
| Mata Morrissette | Flyhalf | Brigham Young University | uncapped |
| Olivia Ortiz | Scrumhalf | Davenport University / Chicago North Shore | 5 |
| Jetta Owens | Back Three | Virginia Tech | uncapped |
| Sam Tancredi | Prop | Lindenwood University | uncapped |
| Nichole Wanamaker | Back Three | Colorado Gray Wolves | uncapped |
| Carly Waters | Scrumhalf | | |