MLR Nationality Breakdown By Position: Houston Sabercats
MLR Nationality Breakdown By Position: Houston Sabercats
So where do Major League Rugby players come from, and which positions do they play? Let's look at the Houston Sabercats.
Jul 2, 2020
by Alex Rees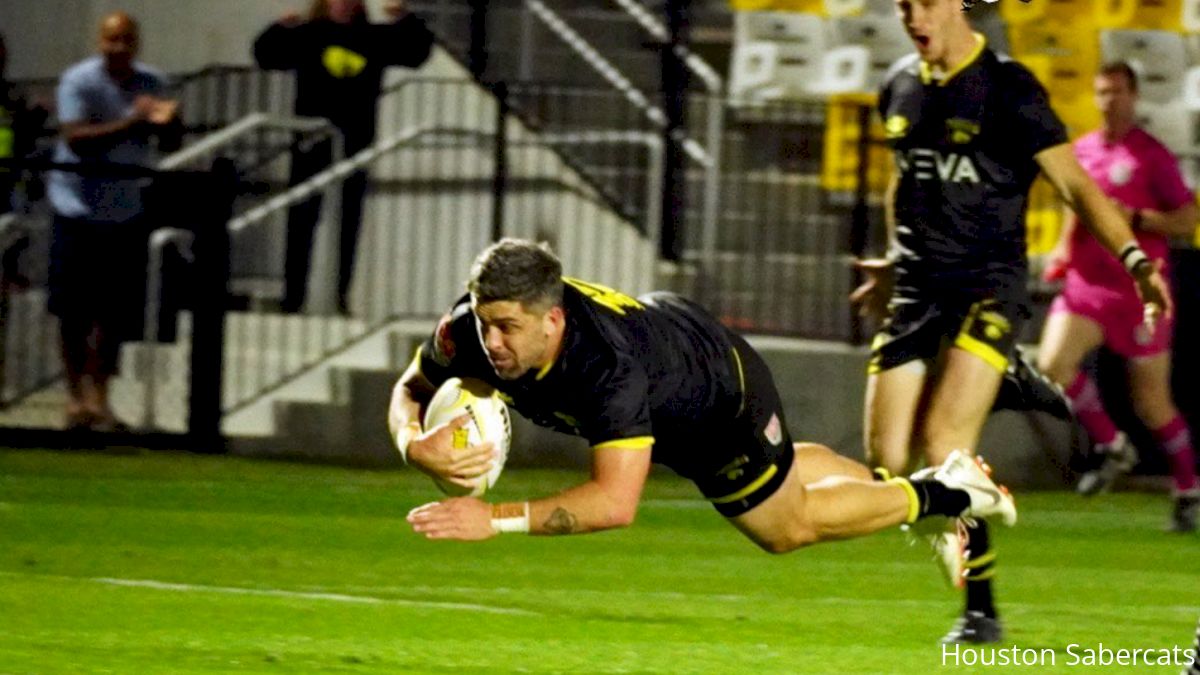 The other day I was thinking about fly-halves in the MLR -- since that is my position -- and I got to thinking how few American players there are playing fly-half in Major League Rugby. The only ones I could think of off the top of my head were Ben Cima (SEA), Scott Dean (SEA), Tadgh Leader (NE) and Zinzan Elan-Puttick (AUS) -- and it's worth noting that both Leader and Elan-Puttick grew up playing rugby in Ireland and South Africa respectively.
So then I started thinking about positions in general, and which ones American players seem to occupy the most frequently in the MLR. To make it easier, I only looked at starting rosters from the first five weeks of the shortened 2020 season, but I think that's enough quantifiable data to get an idea of where American-eligible players are playing.
*I used players' nationality of eligibility rather than their place of birth because the former of those two bits of information is much more easily attainable.
I've decided to go through and do each team one by one, starting alphabetically, so third up are the Houston Sabercats.
Houston Sabercats
Props: USA (4); Ireland (3); New Zealand (2); Argentina (1)
Week 1: Val Lee-Lo (USA) & Charles Connolly (IRE)
Week 2: Val Lee-Lo (USA) & Boyd Wiggins (NZL)
Week 3: Nicolas Solveyra (ARG) & Charles Connolly (IRE)
Week 4: Val Lee-Lo (USA) & Charles Connolly (IRE)
Week 5: Val Lee-Lo (USA) & Boyd Wiggins (NZL)
Hooker: Argentina (4); New Zealand (1)
Week 1: Diego Fortuny (ARG)
Week 2: Timothy Cadwallader (NZL)
Week 3: Diego Fortuny (ARG)
Week 4: Diego Fortuny (ARG)
Week 5: Diego Fortuny (ARG)
Locks: South Africa (5); France (3); USA (2)
Week 1: Kyle Breytenbach (RSA) & Victor Comptat (FRA)
Week 2: Kyle Breytenbach (RSA) & Victor Comptat (FRA)
Week 3: Kyle Breytenbach (RSA) & Rob Meeson (USA)
Week 4: Kyle Breytenbach (RSA) & Victor Comptat (FRA)
Week 5: Kyle Breytenbach (RSA) & Rob Meeson (USA)
Flankers: USA (3); Uruguay (3); Australia (4)
Week 1: Cecil Garber (USA) & Diego Magno (URU)
Week 2: Luke Beauchamp (AUS) & Diego Magno (URU)
Week 3: Luke Beauchamp (AUS) & Cecil Garber (USA)
Week 4: Luke Beauchamp (AUS) & Cecil Garber (USA)
Week 5: Luke Beauchamp (AUS) & Diego Magno (URU)
No. 8: Namibia (4); Uruguay (1)
Week 1: Adriaan Booysen (NAM)
Week 2: Adriaan Booysen (NAM)
Week 3: Diego Magno (URU)
Week 4: Adriaan Booysen (NAM)
Week 5: Adriaan Booysen (NAM)
Scrum-half: Australia (5)
Week 1: De Wet Roos (AUS)
Week 2: De Wet Roos (AUS)
Week 3: De Wet Roos (AUS)
Week 4: De Wet Roos (AUS)
Week 5: De Wet Roos (AUS)
Fly-half: Australia (5)
Week 1: Sam Windsor (AUS)
Week 2: Sam Windsor (AUS)
Week 3: Sam Windsor (AUS)
Week 4: Sam Windsor (AUS)
Week 5: Sam Windsor (AUS)
Centers: South Africa (4); Argentina (4); USA (2)
Week 1: Tiann Loots (RSA) & Matias Freyre (ARG)
Week 2: Taylor Howden (USA) & Tiann Loots (RSA)
Week 3: Tiann Loots (RSA) & Thomas Morani (ARG)
Week 4: Taylor Howden (USA) & Thomas Morani (ARG)
Week 5: Tiaan Loots (RSA) & Matias Freyre (ARG)
Wings: USA (10)
Week 1: Malacchi Esdale (USA) & Zachary Pangelinan (USA)
Week 2: Malacchi Esdale (USA) & Zachary Pangelinan (USA)
Week 3: Malacchi Esdale (USA) & Kieran Farmer (USA)
Week 4: Zachary Pangelinan (USA) & Kieran Farmer (USA)
Week 5: Tim Stanfill (USA) & Zachary Pangelinan (USA)
Fullback: Fiji (3); Argentina (2)
Week 1: Osea Kolinisau (FIJI)
Week 2: Matias Freyre (ARG)
Week 3: Osea Kolinisau (FIJI)
Week 4: Matias Freyre (ARG)
Week 5: Osea Kolinisau (FIJI)