Round 3: Super Rugby Aotearoa Team of the Week
Round 3: Super Rugby Aotearoa Team of the Week
Which players stood out the most in Round 3 of the Super Rugby Aotearoa?
Jun 29, 2020
by Alex Rees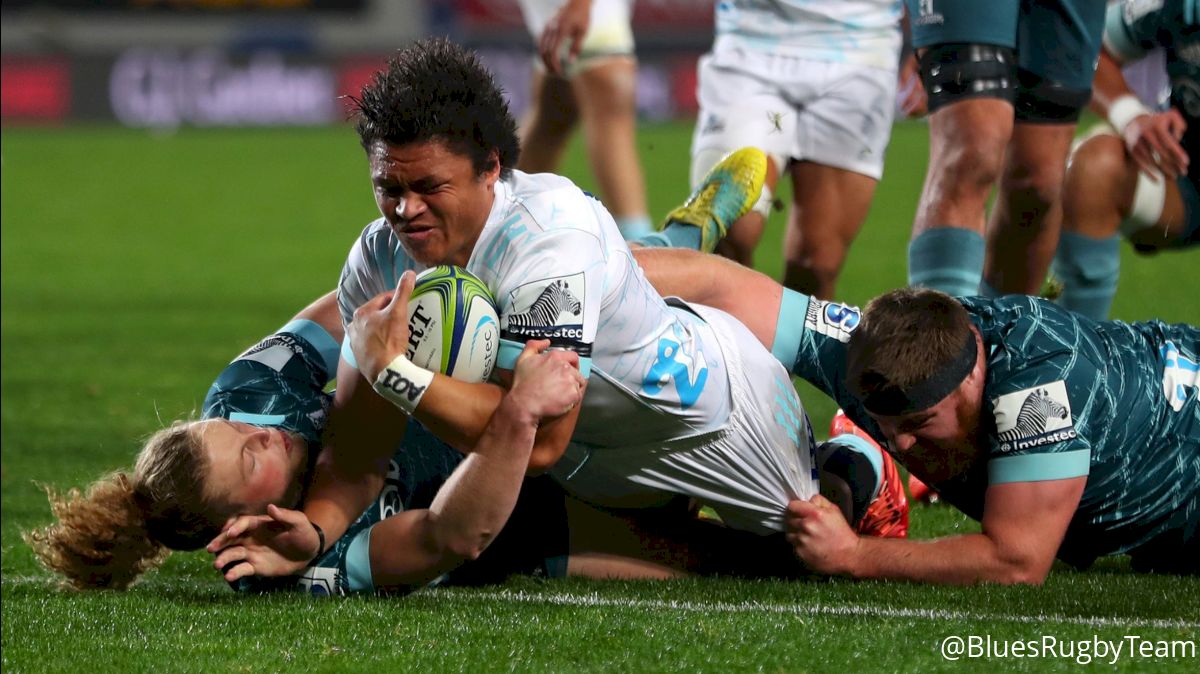 Round 3 of Super Rugby Aotearoa was the most competitive one yet, and as such there is a fairly even distribution of players from all four teams on the team of the week.
Here is your best XV of Round 3:
#1. Alex Hodgeman | Blues
Made a strong bust through the defense in the first five minutes to set up Caleb Clarke's try on the next phase, and made a robust 12 tackles from the prop position. Also completed 68 minutes on the park; not bad for a front rower eh?
#2. Codie Taylor | Crusaders
Looked every bit the All Black that he is on a rainy night in Christchurch against the Chiefs. Ran four times for 27 meters, did well in the set piece under poor conditions, and made a whopping 14 tackles. His work to grab ahold of the Chiefs' Etene Nanai-Seturo on a clean break also stopped what would have likely been a sure try.
#3. Michael Alaalatoa | Crusaders
Scrummed well, beat one defender, had one pass, and had one offload, so it was a fairly pedestrian night in attack for Alaalatoa, but where he shined was in defense. The big man made 14/15 tackles on a night where the Crusaders soaked up wave after wave of Chiefs attack.
#4. Sam Whitelock | Crusaders
As ever, the All Black centurion was excellent on Sunday afternoon. The big lock claimed five lineouts in the driving rain, and pinched one of the Chiefs' throws in the second half. He recorded 9/9 tackles and also came away with one defensive steal at the breakdown. A workman like performance from a guy who always leads from the front.
#5. Mitch Brown | Chiefs
Upon returning from injury, Brown was a spark plug for the Chiefs forward pack against the Crusaders. He carried five times for 10 meters, made 10/10 tackles, completed three passes, and took four lineouts for his side on the evening.
#6. Shannon Frizell | Highlanders
Going up against All Blacks Akira Ioane and Dalton Papalii, Frizell turned in a superb performance. The Highlanders blind side racked up 13 tackles, carried five times for 15 meters, forced three turnovers, and scored a fantastic try to give the Highlanders a late lead.
#7. Cullen Grace | Crusaders
Another day, another massive outing for the youngster on the Crusaders flank. Grace just loves making tackles, recording a whopping 19 this week. He didn't have as many open field opportunities with ball in hand this week, running six times for six meters, but his tackling was phenomenal and he also forced a turnover in the match.
#8. Hoskins Sotutu | Blues
In a titanic duel with fellow All Black No. 8 hopeful Marino Mikaele-Tu'u, Sotutu just nudges in front of his counterpart for team of the week. Similarly, his side just nudged in front of the Highlanders largely due to his contributions. Sotutu charged down a kick that led to a try, ran eight times for 21 meters, put in a solid kick off the back of a scrum, and had the play of the game at the death when he almost single-handedly held up a Highlanders driving maul to force the turnover and preserve the win.
#9. Aaron Smith | Highlanders
It's easy at this point to overlook a great Aaron Smith performance because it's something we've become so accustomed to seeing. But if you took Smith away from the Highlanders, there's just no way they'd compete as well as they do with the best teams. He was again superb on Saturday, notching two try assists and keeping things both moving forward and under control for the Highlanders.
#10. Mitch Hunt | Highlanders
Hunt certainly didn't play a flawless game for the Highlanders, but on a day where they had to take chances to come back agains the Blues, Hunt did brilliantly leading the comeback. Had his late penalty to tie the game gone in, there'd be no question about his place in the team of the week, but his 14 points on the evening and strong distribution earns him a place anyhow.
#11. Caleb Clarke | Blues
The 21 year old powerhouse was once again sublime for the Blues over the weekend. His try in the opening minutes showcased his stepping and power abilities to finish, but it was his try assist soon after to Rieko Ioane that got everyone out of their seats. On a seemingly innocuous counter attack, Clarke knifed through the defense, then shrugged off an Aaron Smith tackle to break into the clear. Just before being tackled by the cover defense, he delivered a picture perfect pass in stride to Ioane to take to the house. If Clarke stays healthy, he's a sure All Black.
#12. Anton Leinert-Brown | Chiefs
ALB hasn't had the space to operate with like he might like this season, but he's still been putting in the hard yards for the Chiefs. He ran 10 times for only 20 meters, but he was drawing in defenders to open up some space on the outside for Damian McKenzie and Aaron Cruden to work some magic. He also logged 7/7 tackles for the Chiefs, shutting down the midfield against the likes of Jack Goodhue and Braydon Ennor.
#13. Rieko Ioane | Blues
Rieko only made one big splash during the game, but it was a big one indeed. He got onto the end of Caleb Clarke's first half break and took it the distance, outrunning Sio Tompkinson in defense. It was a play that few players have the gas to make, but that's one of the things that makes Rieko Ioane special.
#14. Sevu Reece | Crusaders
Sevu Reece assisted both Crusaders tries during the game, the first of which came after he took a Richie Mo'unga punt and skirted past the defense before dishing to a racing Will Jordan in support. His second assist came from some heads up thinking, as he hustled to grab a ball that went out of play and threw a quick lineout to Jordan, who took it in for the score. He also added 46 meters on six carries, and put in three tackles.
#15. Will Jordan | Crusaders
As much as I wanted to put Damian McKenzie in this slot for his superb performance against the Crusaders, I would be remiss to leave out his fullbacking counterpart Will Jordan here. Jordan ran ten times for 98 meters, performed excellently under the high ball, and scored two fantastic tries to give the Crusaders the sight advantage in the match.
His work on the first try may go unnoticed by some, but the amount of ground he covered to get in support of Sevu Reece and then finish off the score untouched goes to show his blinding speed. On his second score he ran right through Brad Weber before outrunning the lightning quick Damian McKenzie to the corner. Jordan has superstar written all over him.