Create a free account to unlock this article!
Get Started
Already a subscriber? Log In
Round 3 of the Super Rugby Aotearoa season provided the most competitive weekend of rugby we've seen since rugby ended back in March. The Chiefs were close to pulling off an upset over the Crusaders in Christchurch, while the Highlanders were just inches from knocking off the Blues.
Here's a look at ten notes from the action in Super Rugby Aotearoa Round 3:
1.) This is a New, Gritty Blues Team
The Blues demonstrated over the first two rounds of Super Rugby Aotearoa that they have the talent, the defense, and the acumen to be a legitimate contender in the competition, but we had yet to see how they respond with their backs up against the wall.

In a game vs the Highlanders this past weekend where the Blues allowed the Highlanders to erase a 12 point second half deficit, they dug in to reclaim the lead at 27-24. Then, on the stroke of full time, the Highlanders set up a rolling maul five meters out from the Blues line. Despite a good early drive from the Highlanders, the Blues' Hoskins Sotutu worked his way through the crowd of bodies to halt the momentum and ultimately hold up the maul. The Blues got out of dodge alive and showed that they know how to stiffen up when the going gets tough.
2.) You Do Not Win In Christchurch
The Crusaders have now won an unbelievable 35 consecutive home games under Scott Robertson. Their last loss came all the way back in 2016 to Beauden Barrett and the Hurricanes, but on Sunday evening they were certainly tested by the Chiefs. After climbing out to an 18-3 lead on the back of two Will Jordan tries, the Crusaders found themselves up just 18-13 with ten minutes to play. That seemed to be all the Chiefs had in the tank though; the Crusaders milked out the rest of the game en route to another home victory.

3.) Will Jordan Will Be a Great All Black
Last week I noted that I think 22 year old Crusaders fullback Will Jordan would be an All Black. This week, I am rescinding that comment and stating that I think Will Jordan will not just be an All Black, but rather will be a great All Black. He was once again superb in the Crusaders win over the Chiefs on Sunday, running for 98 meters, taking high balls, and scoring two brilliant tries. Last week I compared him to Christian Cullen, but this week he showed real flashes of the great Ben Smith. He's destined for stardom.
Where there's a Will, there's a way!

Will Jordan is on ? in this game (⚡ with a little bit of help from Reece Lightning)

WATCH: How about this for a try?! ? #CRUvCHI pic.twitter.com/UvaJqpFck7

— Sky Sport NZ (@skysportnz) June 28, 2020
4.) Ian Foster Has Loads Of New Options
Super Rugby Aotearoa is proving that the All Blacks aren't rebuilding after their semi-final World Cup exit, they're reloading. There are so many phenomenal young players, including Highlanders No. 8 Marino Mikaele-Tu'u, Blues No. 8 Hoskins Sotutu, Chiefs lock Naitoa Ah Kuoi, Crusaders fullback Will Jordan, Blues winger Caleb Clarke, and even Chiefs center Quinn Tupaea just to name a few. The next line of All Blacks will be exciting to watch on the big stage, and new coach Ian Foster has some tough calls to make.
5.) Who Will Take Over The All Black No. 8 Shirt?
Speaking of tough calls to make, Ian Foster will have headaches trying to sort out a replacement for All Black centurion Kieran Read. At the moment, he's probably looking Ardie Savea to move back into the No. 8 spot from his usual flanker position, but with guys like Sotutu and Mikaele-Tu'u coming through, it's going to be extremely tough to decide.

On the fringes too is Chiefs No. 8 Pita Gus Sowakalu, a former basketball player from Fiji who is a consistent gainline operator.
6.) Rieko Is Flying Right Now
After seeing a less-than-spectacular run of form lose him his starting place on the wing in the 2019 Rugby World Cup, young Blues standout Rieko Ioane seems to have kicked it back into gear in 2020. He's been on fire playing in the centers for the Blues, and finished off a brilliant try started by Caleb Clarke over the weekend, showcasing the speed that burst him onto the scene as a 20 year old in the 2017 British and Irish Lions series.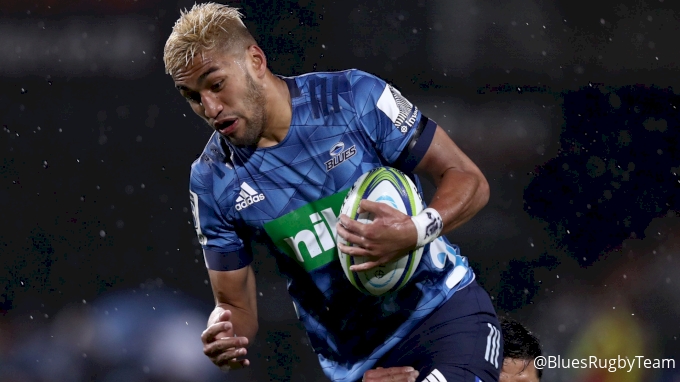 7.) Beaudy Is Evolving
We've come to know Beauden Barrett over the years as a human highlight machine, demonstrating blistering pace, elusiveness, and gamebreaking ability for both the Hurricanes and the All Blacks. He's always been lightning in a bottle, and someone who attacks the line aggressively, looking to free up a team mate or take the ball himself.

While he's always had a wide skillset and a good rugby brain, Barrett has lately seemed to relish evolving into a much more tactical, bigger picture player. In the Super Rugby Aotearoa so far, Barrett has yet to make a highlight worthy play, but his impact has arguably been even better. His knowledge and awareness is outstanding from fullback, and he is excellent under the high ball and reading opposition kicks. Lastly, his kicking from hand is absolutely potent and he's using it right now to chew off hundreds of meters a game for the Blues.
8.) The Keys To The All Black Bus Belong To Richie
Although many of us, myself included, felt that 2019 wasn't the right time to give the All Black fly-half reins from Barrett over to Richie Mo'unga, I think now it's not even debatable who the first choice #10 is moving forward. Mo'unga has been the best player in Super Rugby now for three years and with more and more experience under his belt, he is the best first receiver in the world. He will steer the All Black ship for the foreseeable and it would come as no surprise if he's there lifting the Webb Ellis cup in 2023.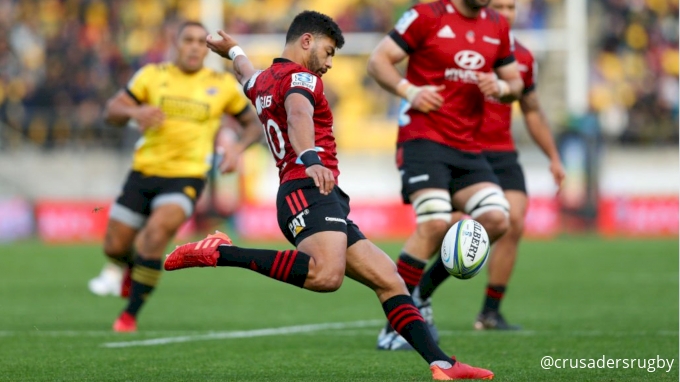 9.) The Crusaders Have Mastered The Two Halfback System
In American football, you always hear pundits saying "If you have two quarterbacks, you have no quarterback." The same could be said about your game drivers in rugby (the 9s and the 10s.) While in most instances this rings true, the Crusaders have proven you can equally split time with your halfbacks and actually benefit from it. Every week, scrum-halves Bryn Hall and Mitch Drummond each play one half for the Crusaders.
Lately it's been Bryn Hall who takes the first stanza and Mitch Drummond who closes it out. It's a unique set up, because the two players each have their own nuances that make them different. It allows the Crusaders to mix up their attack and make slight adjustments to their game plan at the break, keeping their opponents guessing.
10.) We're Heading For a Blues, Crusaders Collision Course
It seems pretty clear that we're staring down the barrel of a Blues, Crusaders race to decide the winner of the Super Rugby Aotearoa. What makes it all the more juicy is the prospect of Crusaders legend and rugby G.O.A.T Dan Carter lacing his boots up for the Blues and ending the Crusaders' run of three straight Super Rugby titles.