Daemon Torres: The Biggest Miss Of The MLR Draft
Daemon Torres: The Biggest Miss Of The MLR Draft
Somehow, some way, Life University's Daemon Torres managed to go undrafted over the weekend, but he's a diamond in the rough in free agency.
Jun 18, 2020
by Alex Rees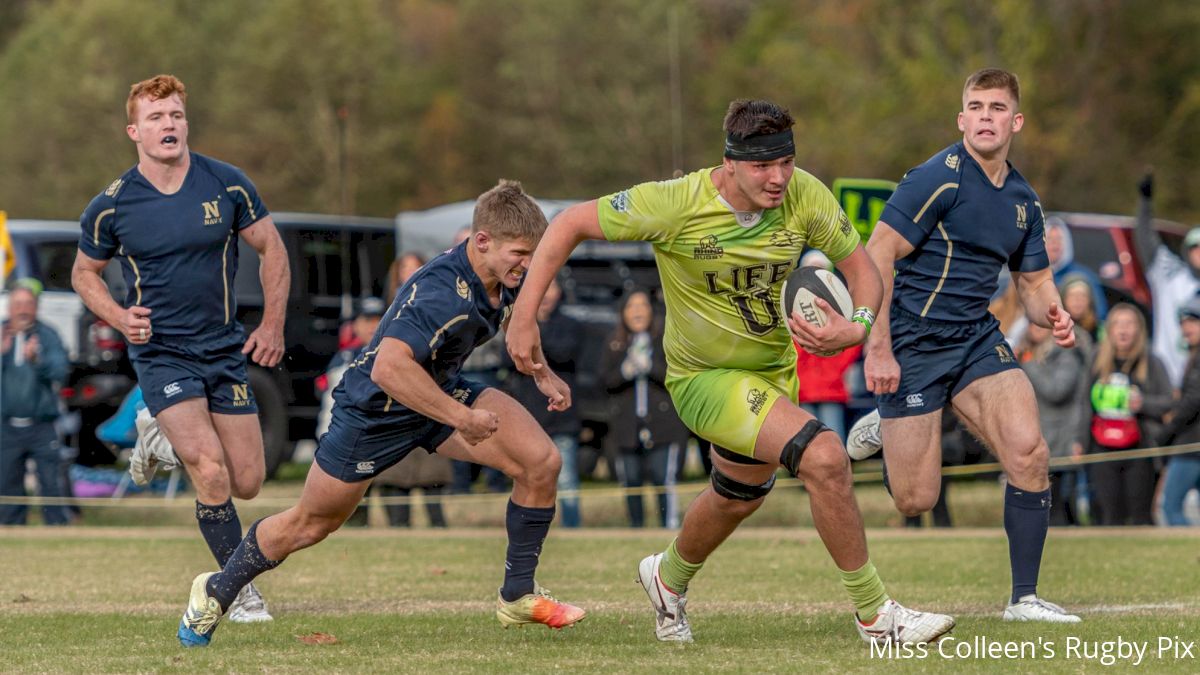 Earlier in the week, I wrote about the five draft picks which I think will give their teams the best value moving forward. However, I believe the steal of the draft is still out there, unsigned. That player would be Daemon Torres, and it surprises me greatly that he managed to go undrafted after 24 picks in the MLR Draft.
Torres was a two-year starter at Life University in 2019 and 2020, and was a significant impact sub in 2018 for a side that was historically good. As a part of the Running Eagles, he won two national titles and was on his way towards a three-peat until the Covid-19 pandemic struck. Daemon has been apart of what's essentially a professional setup at Life during his college years, and it shows in his skills and physicality.
A Powerful Defender
If there's a knock on Torres, it's that he may not pass the proverbial "eye test." However, watch him play and you'll see a forward with softer hands than nearly any back in the country, and a guy that is willing to put his body firmly on the line to make big hits. Playing with the likes of Mike Islava, Maciu Koroi, and Justin Johnson in college, Daemon seemed to pick up on the tendencies of these aggressive players bringing heaps of line speed and physicality on defense.
Extremely High Rugby Acumen
Now, what may separate Daemon Torres the most from the other forwards in the draft is his game awareness and ability to read situations. Watch him play for Life, and see how many times he gets tries simply from seeing a line before it develops. He knows where to be in support, and always seems to get there at just the right time. Some people might just see it as luck, but I know it's down to his ability to see things before they happen and beat defenders to the spot with quick thinking.

Good Versatility
At 6'3, Torres locked for Life, but at the next level he's probably projected more as a #6 or #8. Having started for Atlanta Old White at the 2019 Club 7s Nationals (where they finished 8th), he proved he has the mobility to get around the park from the back row. It takes a deeper dive into film study to watch Torres and the impact he has on a team, but it's worth doing for MLR franchises looking at young free agents.
Scoring Machine
In 39 career games at Life University, Daemon scored 34 tries, a remarkable clip for a second rower. More impressively, he scored six tries in four playoff games in 2019 as Life went on to win a second consecutive D1A title, playing against Penn State, Navy, Lindenwood, and Cal. In addition to that, he was a key member of a staunch defensive unit that helped anchor the Running Eagles when they were under the pump for long periods of the game against Cal.
Whoever steps up and signs the former Rock Rugby high school product out of Round Rock, Texas is going to get their money's worth, while the rest of the league could be kicking themselves for passing up on a great American prospect.