The Houston Sabercats took part in their first preseason exhibition match on Saturday night against the Tasman Mako from New Zealand, falling in a close game 29-19.
The Mako are the defending Mitre 10 Cup champions, which is New Zealand's highest level of domestic professional rugby besides Super Rugby.
Nearly all of the Kiwi players who play Super Rugby also play in the Mitre 10, however on Saturday the Super Rugby contracted players for the Mako were left behind.
Still, they brought with them a whole team of professional and professional-to-be players that are no doubt a formidable side in their own right.
The Sabercats were the bigger team, and they used their size to their advantage, controlling alot of the contact in the forwards and even scoring on a rolling maul.
The Mako were more fleet-footed around the park, and employed a very quick pace of play to keep the ball moving and the attack points constantly shifting. Houston managed to defend this pretty well for the most part, only conceding line breaks through some missed tackling.
The second row pairing of Kyle Breytenbach and Victor Comptat, both former players from the Austin Elite, looked strong, and replacement hooker Timothy Cadwallader made a huge impact when he came on midway through the first half. The hooker scored a try, effected a great turnover at the breakdown, and made some strong hits in defense.
Flyhalf Sam Windsor had a good day, finding space with his boot, running the offense well, and shutting down a number of plays up the middle with his tackling. Outside of him, center Tiann Loots was a very bright spot, and looks set to have a breakout year this season.
In the end, the Sabercats couldn't close it out, but there were some encouraging signs for the team moving forward. They'll need to clean up their set piece and some of their tackling, but there's reason to believe their hot streak to end the season last year could carry over into 2020.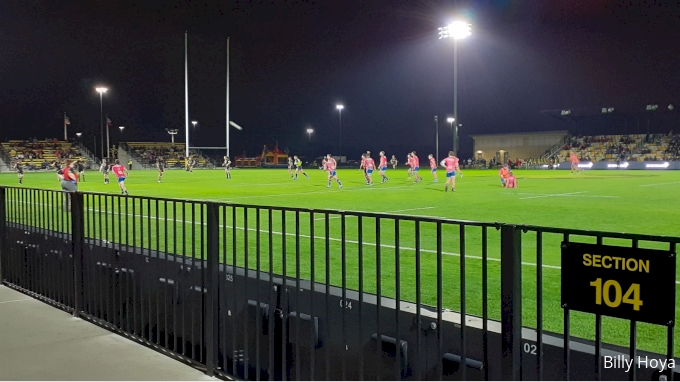 As for the crowd, Houston's beautiful Aveva stadium appeared to be more than halfway full, but certainly not packed to the brim. The stream, which was broadcast on the Sabercats Facebook page, garnered 68k views, which is definitely a positive for the league and for the brand.