Unlock this article, live events, and more with a subscription!
Get Started
Already a subscriber? Log In
The anticipation, the hype, the pregame festivities. All were rewarded with a great opening day of rugby from Rugby ATL, one of Major League Rugby's three brand new teams.
Situated right in the middle of one of America's biggest hotbeds of rugby, ATL is primed for success moving forward.
Playing its home games at Lupo Family Field -- home of Life University rugby and the Atlanta Harlequins of the WPL -- Rugby ATL essentially has the luxury of pro-rugby-player factory right in its backyard, but there are also other quality teams in the area like Atlanta Old White and the Atlanta Renegades.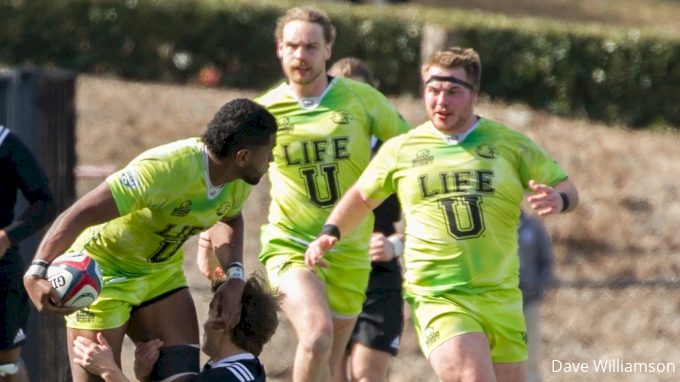 With a number of strong rugby clubs in the region, Rugby ATL already has a great establishment of fans in the community, and for their opening day event the community sure turned out.
In front of a packed house this Sunday at the newly-renovated Lupo field, ATL took on one of last year's surprise teams, the NOLA Gold, for an exhibition match.
Pregame
Rugby ATL didn't hold off on pulling out the stops for opening day.
Beginning with a tailgate at noon, fans started pouring in from all over the city to get their nice and early to hop aboard the hype train.
At 1:30, the team held a ribbon-cutting ceremony to officially announce their arrival on the scene as one of America's newest professional sports franchises.
@RugbyAtl kicked things off today with an official ribbon cutting at their home pitch, and a preseason win against @nolagoldrugby! #MLR2020 https://t.co/PstepkDVDY

— Major League Rugby (@usmlr) January 12, 2020
Then, at 1:45, the players arrived on the team bus, escorted by police and welcomed to their new home by a mob of excited supporters.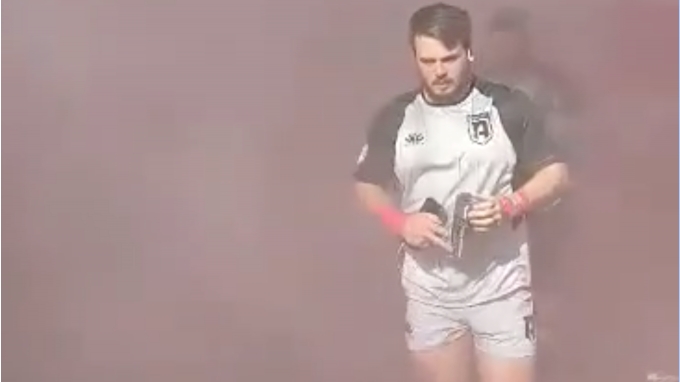 Unlock this video, live events, and more with a subscription!
Get Started
Already a subscriber? Log In
Hip-hop music bumped from the speakers, red and grey smoke filled the air, and the ATL boys strutted through the crowd full of energy and full of confidence.
The match
Yes, this was a just a preseason match, but if you are going to read into this result, you'll know that Rugby ATL is going to be very good.
With most of the starting players playing no more than 60 minutes or so, it was Atlanta that dominated the first three quarters of the game. They built up a 20-12 halftime advantage, and looked the better-drilled, cleaner-executing, and more dynamic team for the majority of the first half.
Atlanta employed a suffocating blitz defense that had the Gold running sideways and generally looking uncomfortable. At the breakdowns, ATL used one man every time to contest at the ruck and, whether or not he actually got the poach, slow the ball down to allow the defense to realign.
Unlock this video, live events, and more with a subscription!
Get Started
Already a subscriber? Log In
If there was an area for them to improve defensively, it would be their discipline, but that's to be expected in the early going with a high pressure defensive line.
With the ball, they were very purposeful on each possession, and it appeared like the players all had a good grasp on the game plan, mostly all on the same page.
Former Life University flyhalf Duncan Van Schalkwyk looked really sharp at scrumhalf, while South African center Ryan Nell was superb. His distributing ability from the 12 shirt gives Atlanta two really good playmakers in the middle with Nell and flyhalf Martini Talapusi.
Between wingers Harley Davidson and Austin White, ATL gets exceptional work rate and go-forward ball from their back three, which also featured Duncan's older brother Zander Van Schalkwyk at fullback.
Up front, there was plenty of aggression and some massive double-tackles from guys like Ross Deacon, Vili Helu, and Matt Heaton among others.
By the 60 minute water break, Rugby ATL had build up a 34-19 lead.
34-19 End of the second third, Rugby ATL ahead! pic.twitter.com/XcpTZGOpo4

— Rugby ATL (@RugbyAtl) January 12, 2020
The final quarter of the game saw a number of changes, and NOLA grabbed more of a foothold in the game, scoring two unanswered tries to pull it back to 34-33. That's how it would end, with both sides probably pleased with the hit-out, but aware they'll have much to work on.
Looking ahead
It's clear that Rugby ATL is not going to be overwhelmed by the step up into MLR. They have the fanbase, the talent, and the coaching to thrive in professional rugby.
Furthermore, they have an elite domestic pipeline of players to work with, and their young roster is only going to get better and better.
The challenge for ATL will be maintaining a strong team for the duration of 16 games. Last season, we saw the Gold come out firing through the first ten games of the season, ascending to the number on position in the stanings. But, as the year dragged on, they didn't have the same depth as some of the other squads, and were unable to turn it up a notch late in the campaign.
Sides like Seattle and San Diego managed to keep rolling fresh players in throughout the season, which made an enormous difference for them down the stretch.
However, Rugby ATL coach Scott Lawrence is one of the very best in the business, and he'll keep pulling the strings all year to fine-tune his side.
It's an exciting time to be a rugby fan in Atlanta, and you better not sleep on these new kids on the block!