While a fair few D1A teams ran through the majority of their schedule in the fall -- including teams in the Rugby East, the Big Ten, and the Liberty conferences -- springtime is when the competition really heats up.
At the culmination of the spring campaign, another champion will be crowned, with Life University seeking an unprecedented D1A three-peat.
In addition to that, the collegiate rugby rendition of the Heisman Trophy will also be awarded to the most outstanding male player of the year.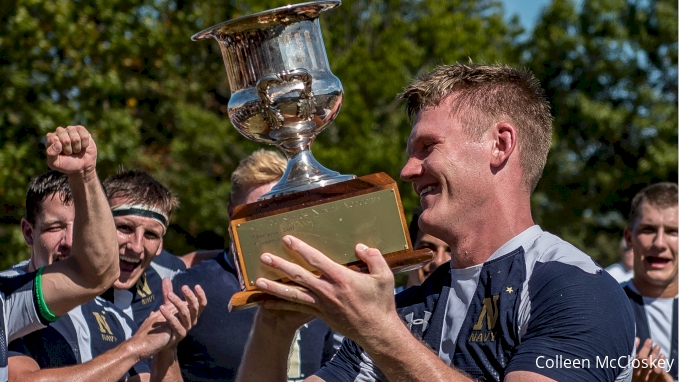 The award, named after the great Rudy Scholz, was created in 2016 by Alex Goff of Goff Rugby Report and the Washington Athletic Club in Seattle.
Previous winners of the award have been USA Eagles Dylan Audsley, Bryce Campbell, and Harley Wheeler, and US Naval Officer Connor McNerney.
There are sure to be many candidates for the award as we move through 2020. For the moment we'll highlight a few players in particular that land on our early watch list:
Brian Muntanga | Hooker - Life
At the heart of any championship team is a clinical set piece, and for Life it's been no different. For the past two years, hooker Brian Muntanga has been right at the forefront of their set piece efficiency, particularly at the lineout.
The man hardly ever misses a throw, whether he's hitting the front, middle, or back jumper. And when the Running Eagles bring the ball ball down for a maul, there's no better operator at the back than Muntanga. He has a way and a feel for steering it in the right direction almost every time.
However, what really separates Brian from the pack -- no pun intended-- is his ability in the open field. At 5'7 and 210 pounds, he is a bowling ball with lighting quick feet and a leg drive that will never stop. He's one of those players that, as a defender, you just hate to tackle. Additionally, the man has nose for the whitewash, having scored 20 tries in his 30 appearances at hooker for the Running Eagles.
He also uses his stout frame and excellent footwork to wreak havoc on defense. He seldom misses a tackle, and is one of the best ball poachers around.
He'll be a key cog once again for Life University here in his senior season, and should he decide to go to the next level, plenty of teams will be after his services.