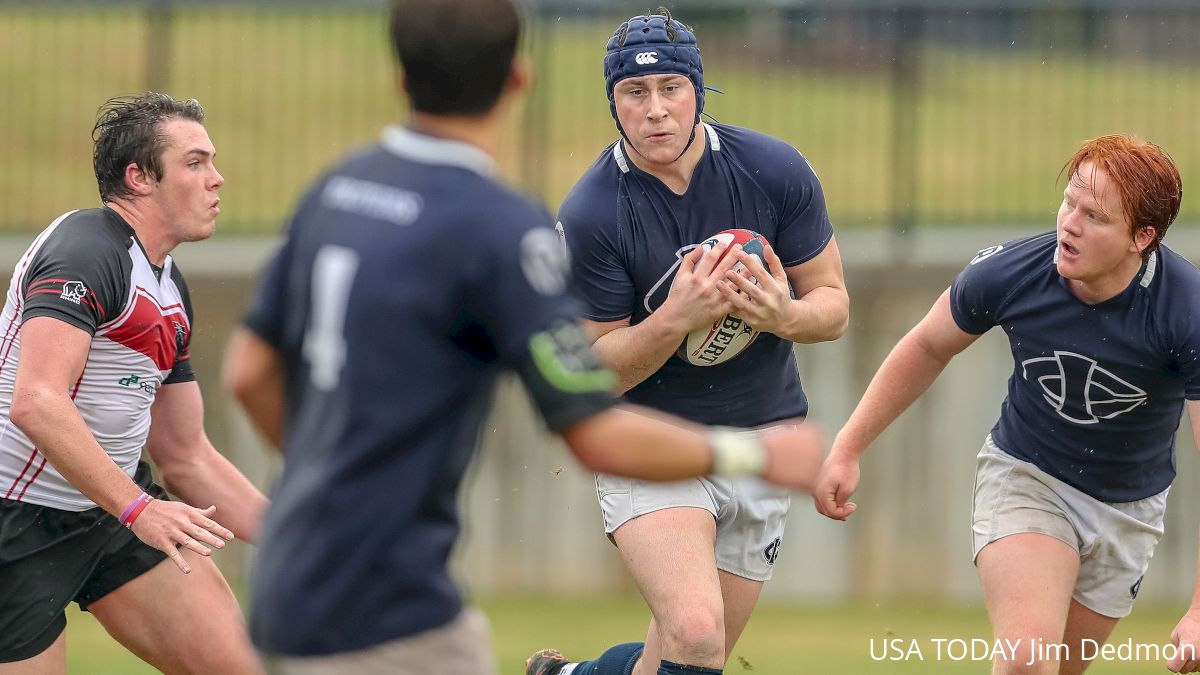 This past weekend we saw a bunch of high quality rugby players compete at the USA Rugby Fall Collegiate Championships.
The standard of college rugby continues to rise with each year, particularly as more and more schools begin to take rugby more seriously and players find themselves training more often.
At the Fall Collegiate Championships, we got a glimpse into the future, and which players could take their talents to the next level, whether it be MLR, national teams, or even overseas.
Here is a cast of players that really stood out over the weekend:
Elijah Hayes - Prop - Iowa Central C.C.
The big man for the Tritons was an absolute wrecking ball in the national championship game. Whether he was on defense or on offense, Hayes completely dominated the gain line, which laid the foundation for his side to get on the front foot and assert themselves.
Marshall Frank - Hooker - Queens University
The bulldozing Queens hooker plays angry, and if you choose to get in his way, he'll make you pay. Despite Frank's large frame, the front-rower has excellent footwork, and the combination of both make him a nightmare to go against. His hard work in the middle of the field helped Queens to dominate their games.
Mark Green - Prop - Western Michigan
Good scrummaging will rarely make the highlight reel, but it's a vital part of rugby, and whenever a scrum is dominating you have to look at the props. Western Michigan's fight back against Iowa Central could be largely attributed to the work at scrum time, and Mark Green was a massive part of that.
Tuia Tupuola - Lock - Iowa Central C.C.
The big lock is remarkably athletic for a second rower, and he sure was a handful for the Western Michigan defenders all game. Aggressive, strong, and quick, Tupuola is dangerous with every touch of the ball. He really helped to set the tone for Iowa Central in their huge performance in the championship game.
Devon McCarthy - Lock - Queens University
The Queens lock was consistently strong with all of his carries, his support at the breakdown, and his ability to make a splash play. His intercept try against Norwich in the semifinals was a great example of what McCarthy can do in open space.
Prince-Louis Bush - Back Row - Queens University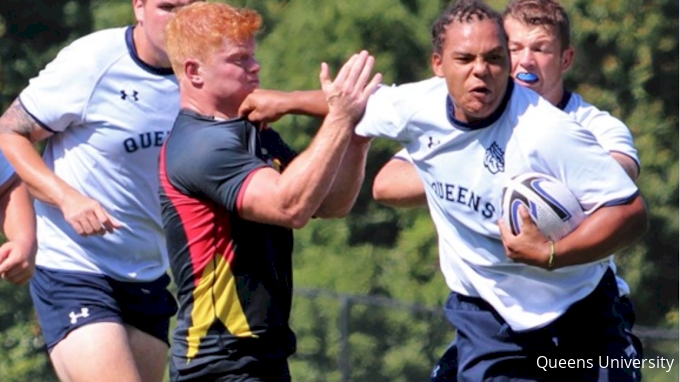 The blind-side Queens flanker is an absolute workhorse. Bush seemed to be involved in about every other tackle for Queens, and when he wasn't putting hits in on defense he was carrying like a mad man. He's exactly what you want in a flanker, and he'll continue to be a force in the coming years.
Nate Rolling - Back Row - Norwich University
Rarely will a player stand out in a 70 point loss, but such is the case for Norwich's Nate Rolling. In a game where his team was thoroughly dominated, Rolling was still outstanding. He plays with so much passion and will that it's hard not to be inspired by his play.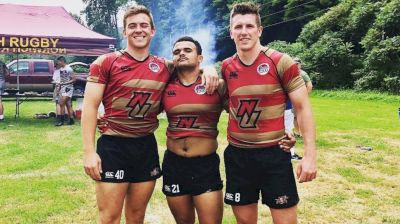 He broke at least one tackle every single time he touched the ball, and was the only source of any offense for Norwich against an incredible Queens side. He is a player that would have a spot on any team in the country, in any division.
Joseph Backe - Back Row - Western Michigan
Another player who was phenomenal in a losing effort, Backe was the heart and soul behind the Broncos' near comeback against Iowa Central. His team was in danger of getting blown out, but the tough-as-nails No. 8 kept fighting and fighting to keep his team in the game, and eventually they rallied.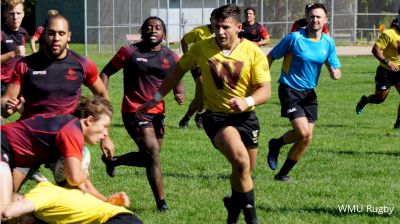 He was unfortunate to be sent off for a blood sub with seven minutes to go, but his work out there for 73 minutes was immense.
Pierre Wansbury - Scrumhalf - Iowa Central C.C.
The shifty little scrum half was very solid all game in the national championship. His service off the deck was quick and accurate, and his box-kicking was on point. On top of that, Wansbury has a nasty step and finds a way to consistently beat defenders, even in the smallest of spaces.
Thomas Keay - Flyhalf - Queens University
The Englishman was arguably the player of the weekend, showcasing a skillset and mental awareness well ahead of the competition. His kicking aptitude with ball-in-hand is at a professional level, and his ability to run the show and manipulate defenses is excellent.
Only a freshman, Keay will become a household name across the college rugby landscape very soon.
Rhys Smith - Center - Iowa Central C.C.
We're not sure if it's a cannon or just his right leg that Smith uses to kick the ball, but whatever it is he sends rockets off of the tee. Rhys' foot played a massive role in Iowa Central's national title victory. The big center scored 21 points for the Tritons, scoring one try, hitting four penalties, and slotting two conversions.
He's also a very steady hand in the middle of the park, directing traffic, distributing the ball, and making the hard carries when it's asked of him. He's a real team player and the Tritons will certainly miss him when he moves on.
Kyle Williams - Center - Western Michigan
This was an extremely tough call to make, as there were quite a few outside centers that stood out over the weekend, including Queens' Zion Thomas and Wisconsin-Whitewater's Levi Van Lanen.
But we'll decide to go with Western Michigan's Kyle Williams, who scored two of the best tries of the weekend to pull his team out of a 23-0 deficit. He's got exceptional pace to go along with his sturdy frame, and he has a good eye for support lines and seeing where gaps are.
Rylee Ellsworth - Wing - Queens University
The Queens winger is like the energizer bunny that never stops. You always want your wingers to be looking for work, and Ellsworth is the type of guy you don't have to ask twice. Or even once.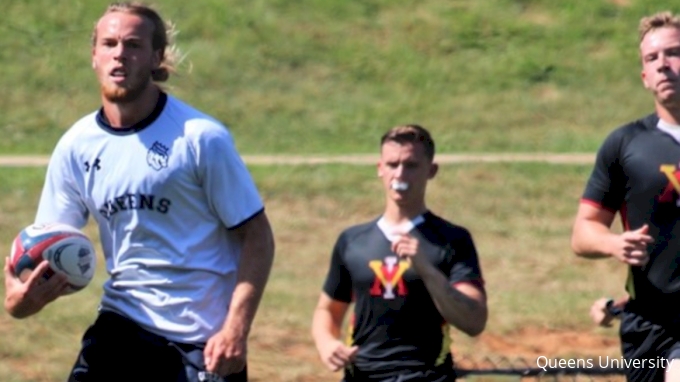 He'll get in there in the defensive line and take on forwards head to head. He'll work his butt off in support to get the final pass on a line break. He'll carry the ball as hard as a No. 8, with the moves of a center. He is slightly reminiscent of a young Harley Wheeler, and should he continue to improve he has a great future ahead.
Jayden Williams - Wing - Iowa Central C.C.
The winger didn't score any tries this weekend, but he was solid all around in his carrying and his defense. He is young but he was poised on the big stage, and his contributions were handy for his side as they took down Western Michigan to win the title.
Viance Vano - Fullback - Iowa Central C.C.
Vano is another guy who could make a case for player of the weekend. He was simply outstanding in the championship game, beating defenders with ease, setting up teammates, and fielding kicks.
Vano is incredibly smooth, and seems to just glide past defenders with no effort. He also has very strong ball skills, and the timing on his passes is very good. He'll certainly be looked at by higher-level teams in the coming years.