2019 New York 7s
Lions Academy: 2019 NY 7s Men's Premier Champs
Lions Academy: 2019 NY 7s Men's Premier Champs
Lions Academy held off two huge comebacks en route to the New York 7s Premier championship.
Dec 2, 2019
by Alex Rees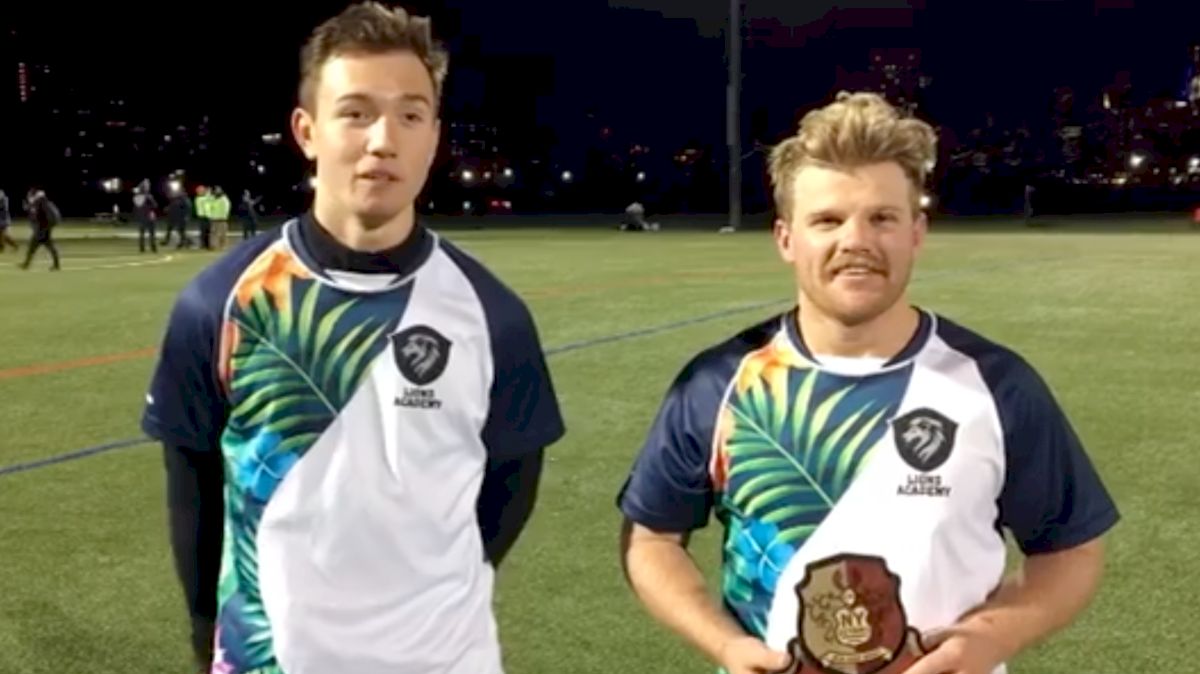 The Lions Academy fought off two huge comeback efforts in the semifinals and finals of the New York 7s to take home the Men's Premier Cup championship.
A mixed bag of players from around the around Ontario area, the Lions Academy is a young group that proved to be too much for the competition.
They moved comfortably through their pool, going 3-0 with a 31-12 win over a strong Pokemoto side, a 34-5 victory against Rouge Samurai, then a 24-12 win against Liberty 9410.
Great hit. Even better try 17-7 at half of the men's premier division cup championship pic.twitter.com/xuQ1t1Ao2r

— New York Rugby 7s (@newyork7s) November 30, 2019
That set them up for a semifinal clash with Beltway Elite, who went 2-1 in pool play after defeating Rugby Quebec 15-12 and the Pacific Island Warriors 38-14, and losing 15-12 to Roots Rugby.
In the semis, it was Pokemoto against Roots, and Beltway Elite against the Lions.
Roots took care of Pokemoto fairly comfortably, winning 24-12. The other semifinal, however, was extremely close.
Next up ROOTS Men's v the warriors in men's premier division. 7-0 ROOTS pic.twitter.com/nU4JHq0sUL

— New York Rugby 7s (@newyork7s) November 30, 2019
After quickly falling behind 5-0, the Lions reeled off 22 unanswered points to claim a 17 point lead with under two minutes remaining.
But all of a sudden, Beltway cranked up the intensity and scored two tries back-to-back to pull within five points with 30 seconds remaining.
The ensuing kickoff was a great one, but it went unclaimed and bounced into touch for a Lions lineout. They completed the throw-in and ran through a couple of phases, but Beltway were able to hold them up in a maul and turn the ball over.
However, time was up on the ref's watch and so the match was ended. An unfortunate circumstance for Beltway but it was a great performance from the Lions Academy.
7-5 thanks to this try by the Lions #roar #RoarOn pic.twitter.com/32XVynBCfy

— New York Rugby 7s (@newyork7s) November 30, 2019
In the final, the Lions once again went down early, but they rallied to score four straight tries to work up to a 24-7 lead with four minutes to go.
Then, in the blink of an eye, Roots scored two quick tries and all of a sudden it was 24-21 with two minutes to play.
I'm good. Don't need nobody help. 22-14 with 5 to play pic.twitter.com/9RXPQjP6sz

— New York Rugby 7s (@newyork7s) November 30, 2019
But the Lions again showed their resilience and notched a score of their own to halt the momentum.
Lions answer 30-21#roarrrrrr! pic.twitter.com/PyktjeM3q2

— New York Rugby 7s (@newyork7s) November 30, 2019
They tacked one more on for good measure, and finished off the day undefeated to become the 2019 New York 7s Premier champions.