What figured to be a competitive weekend of WPL action proved to be just the opposite. Four games and four blowouts as the cream of the crop have distinguished themselves from the rest of the pack.
Life West throttled San Diego, 59-10, Atlanta clobbered Twin Cities, 62-15, Glendale pummeled Berkeley 57-12, and New York picked up an all-important bonus point win over Chicago, 38-12.
The results over the weekend mean that we have officially confirmed three of the four WPL playoff teams, with just the East #2 seed still up for grabs.
New York, Beantown, and Twin Cities will all fight for the final playoff berth over the next two rounds.
Watch the WPL Playoffs and Placement Games LIVE and On Demand Here on Flo Rugby, Nov. 1-3!
Here's how this weekend shook out:
Life West Gladiatrix vs San Diego Surfers
The Gladiatrix put the pressure on early and often against the Surfers, racing out to a commanding 26-0 halftime lead. First half tries came from No. 8 Hope Rogers, left wing Elona Williams, center Amy Bonte, and right wing Nene Persinger.
The power with which Life West carries, and the speed at which they generate quick ball was far too much for San Diego to contain. Scrumhalf Annakaren Pedraza consistently had clean ball to work with and an array of options to her right and to her left.
In the second half, the Gladiatrix converted all their pressure into even more points. Center Leti Hingano scored two, fullback Nikki Kenyon scored one, and then Sara Parsons scored two more as Life west put up a season high 59 points.
San Diego got a late drop goal from flyhalf Rachel Griendling and a try from replacement flanker Nicole Burr to reach double digits, but the efforts were not nearly enough to stem the tide.
Life West will just need a win against winless ORSU in their final game of the season to lock up first place in the WPL West, which would mean avoiding Atlanta in the semifinals.
Life West - 59
Tries: Rogers, Williams, Bonte, Persinger, Hingano (2), Kenyon, Parsons (2)
Convs: Hingano (4), Deters (3)
San Diego - 10
Tries: Burr
Convs: Foster
Drop Goals: Griendling
Atlanta Harlequins vs Twin Cities Amazons
The Harlequins continue to roll through the WPL East after picking up their sixth consecutive win on Saturday against the Amazons.
The game was in the balance for the first half-hour, with Twin Cities holding a 15-7 lead up until a penalty from Atlanta's Corinne Heavner in the 28th minute begun the landslide that the rest of the game would become.
Two Cortney Kuehl tries later, and Atlanta was heading into half up 22-15 with momentum. Amazons scrumhalf Rachel Lentsch scored two first half tries herself, and Danica Mooney-Jones slotted a penalty, but that's all the scoring Twin Cities would do.
The second half was a barrage of Harlequin tries, with wing Kelli Smith and fullback Lara Gartner each scoring twice, Monique Compito grabbing her second of the day, and Megan Rom dotting one down.
Heavner once again racked up a bunch of points with her boot. The flyhalf knocked in seven conversions and a penalty, again showing that she's one of the best kickers in the league.
Atlanta has now wrapped up the top seed in the East, and will most likely see the Glendale Merlins in the semifinals. Twin Cities, meanwhile, need to secure a win against New York in their final game to stay alive in the playoff hunt.
Atlanta - 62
Tries: Compito (2), Kuehl (2), Smith (2), Gartner (2), Rom
Convs: Heavner (7)
Pens: Heavner
Twin Cities - 15
Tries: Lentsch (2)
Convs: Mooney-Jones
Pens: Mooney-Jones
Glendale Merlins vs Berkeley All Blues
What was expected to be the game of the weekend was yet another massive blowout, and a shot fired by the Merlins to the rest of the league.
The first encounter between these two teams was a nailbiter right down to the wire, but the rematch was anything but.
Four tries from No. 8 Carmen Farmer in the opening 48 minutes lifted Glendale to an insurmountable 50-7 lead. Joining her on the score sheet were wing Kaitlyn Broughton, prop Anziv Nalbandian, lock Jenny Kronish, center Juliann Tordanato, and reserve wing Nichole Wannamaker.
Berkeley got their two tries through flanker Roseline Okpara and wing Matilda Kocaj.
It was an underwhelming performance from a Berkeley side that has been so competitive all season. Perhaps the one-point loss to Life West in their most recent game took the life out of the All Blues, who simply just didn't bring their game with them to Colorado.
Glendale, on the other hand, look like they could be the hottest team in the league right now, riding a five-game win streak and booking themselves a place in the semifinals.
Glendale - 57
Tries: Broughton, Nalbandian, Kronish, Tordanato, Farmer (4), Wannamaker
Convs: Hawkins (6)
Berkeley - 12
Tries: Okpara, Kocaj
Convs: Miller
Chicago North Shore vs New York Rugby Club
New York logged a crucial bonus-point victory in Chicago on Sunday, pulling within a point of Twin Cities in the standings with one extra game to play.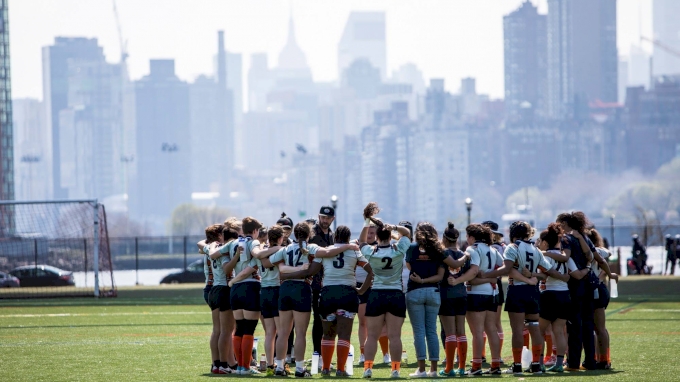 For Chicago it was a fifth straight loss, and a third straight by double-digits.
New York jumped out to a 12-0 first half lead through two tries by wing Sarah Levy and a conversion from Gianna Solomon.
Chicago responded with a Jessica Ventrillo try and Nicole Fisch conversion to take the score to 12-7 at haltime.
Immediately into the second stanza, Levy completed her hat trick, and at that point she was still just getting started. The winger dotted down another two times to tally a remarkable five tries on the day.
New York's Naomi Batzer added one and Chicago's Bridget Kapinus touched down to make the final score 38-12, but this day was all about Levy. Her five scores are the second most in a game for a single player all season, and her total for the year now sits at eight.
New York will play two more huge games against rivals Beantown and Twin Cities, with all three teams still right in the thick of the hunt for the East #2 spot.
Chicago - 12
Tries: Ventrillo, Kapinus
Convs: Fisch
New York - 38
Tries: Levy (5), Batzer
Convs: Solomon (4)