2019 Rugby World Cup
RWC Game 7: Italy vs Namibia
RWC Game 7: Italy vs Namibia
Rugby World Cup report Italy vs Namibia.
Sep 22, 2019
by Alex Goff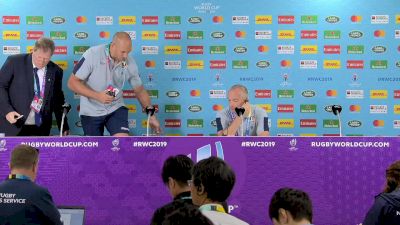 Italy did enough to get the bonus point, but Namibia had their moments in a 47-22 win for the Azzurri.
Italy vs Namibia Stats and Analysis
What They Said
Conor O'Shea, Italy
On improving Italy's performance versus Canada:
"We can't really change much over the next four days. We travel tomorrow afternoon and have a recovery session in the morning. We'll make changes because it is another tough match."
On Italy's performance versus Namibia:
"It was the first World Cup for many of the players. That's not an excuse but it is a lot quicker than any type of rugby. However, we scored 47 points and didn't play well. We could have scored three or four more tries in the first-half with the opportunities we created. The points total doesn't demonstrate our performance today. We want to play better on Thursday."
On prop Tiziano Pasquali (ITA), who went off with an injury in the first-half:
"Tiziano took a bit of a bang on the arm and is being checked by the medical staff."
Sergio Parisse, Italy
On playing in a fifth Rugby World Cup:
"I wasn't thinking about any personal achievement. We've just come from a game we needed to win with five points."
On Italy's performance:
"No one was overly happy with the game, but we have to compliment Namibia with how they played the game with lots of passion. It wasn't a great performance (by Italy). It was one where we have lots of young players making their World Cup debuts. We made a few errors in the first half. Namibia played their own game and didn't want to give us anything.
On qualifying from the pool stage:
"We have no time to lose and we had to win five points. We must get this match out of the way and now think about Canada who we play in four days' time and will be another physical match."
On the performance of center Luca Morisi (ITA):
"Luca played a great match throughout. Like everyone he really wanted to show what he could do, and he improved throughout the match. It is good to see players who have come back from various injuries and really show what they can do, and he was really important for the team."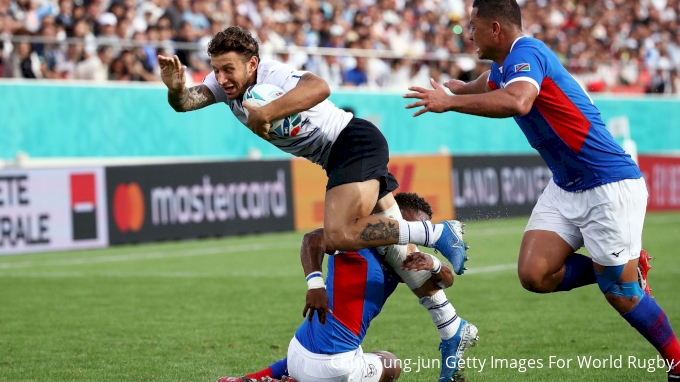 Chad Plato, Namibia
On dedicating his 78th-minute try to his late best friend:
"It felt so good. It was so humbling. I just thought of my friend, Sedick Brenner. He passed away in a drowning accident that is still a mystery. He always believed in me. He was my best friend. I dedicate that try to him."
On making his World Cup debut:
"Scoring my first try in my first game in my debut in the World Cup, that's something I can tell my family and friends back home about."
On accepting defeat despite a spirited display:
"A loss for the team is a loss for the individual."
Wian Conradie, Namibia
On the team's performance:
"I'm disappointed but still feeling good. We played some good stuff. We just made too many soft mistakes around the maul and breakdown. We knew they were good in transition."
On appearing at his second World Cup:
"I'm excited to be at the World Cup, my second since 2015. Maybe I can catch up with Eugene (Jantjies, his team-mate, who is appearing at his fourth RWC) one day. It's good that we have a few new guys who now know what it feels like to play at a World Cup. They now know what to expect next week."
Johan Tromp, Namibia
On the positive reaction from the Japanese support:
"Being the underdogs, we're used to not being the best but the crowd helped us stay in the fight."
On the upcoming challenges in their group:
"The South Africa match will be more physical and New Zealand will be more technical and involve a lot more running while the match against Canada is going to be a mental game. Because it's our last game we're worried about low energy so we are going to focus on that match with Canada."