2019 Rugby World Cup
RWC Game 6: England vs Tonga
RWC Game 6: England vs Tonga
Reports on RWC Game 6: England vs Tonga
Sep 22, 2019
by Alex Goff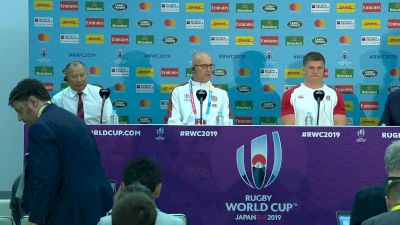 England captain Owen Farrell kicked well and England overall looked solid in a 35-3 bonus-point victory over Tonga.
Match Stats
England vs Tonga Stats and Analysis

What They Said
Maro Itoje, England
On gaining a bonus point against Tonga:
"We would have definitely taken that before the game and while we are happy with the win, we could have played better. But everyone steps up their game at the Rugby World Cup and there are lots of positives to take out of it."
On the reasons for the handling errors by the England players:
"It didn't feel slippery out there and maybe we were a little bit tense and nervous because it was the first game but you don't want those errors.
"We were very excited and watching the games from earlier in the tournament, the Tier 2 nations have upped their game and we saw that with Russia against Japan."
On the performance by Manu Tuilagi (ENG):
"Manu was outstanding and is showing the world what a great player he is. I think he is getting stronger and this is the longest period for some time that he has been healthy. Game by game he is getting better.
"In the last two years in the England camp it has been amazing to watch to see his preparation and it is so professional. He is getting his body right and it is paying dividends."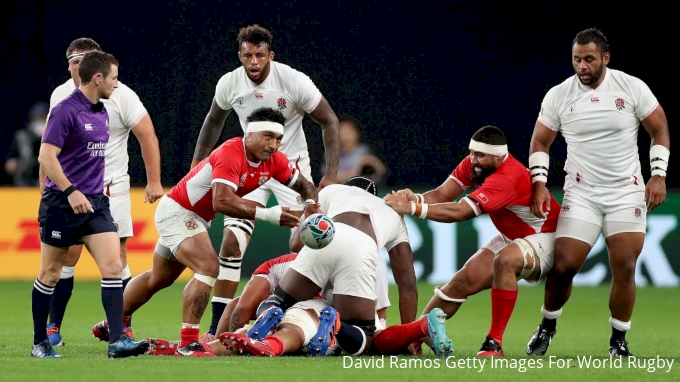 Ben Youngs, England
On this start to a World Cup given his vast experience for England:
"I have good teammates of mine in the Tonga squad and have caught up with them and this was a good start for us. Physically it is what you would expect from Tonga and they competed hard at the breakdown.
"I thought we stuck to our game plan well and not give them targets to hit except for that one on Billy (Vunipola). We managed the game, did enough and probably cruised in second gear a little bit but we will take a bonus point and we are up and running."

On his Leicester teammate Manu Tuilagi:
"He was devastating today and when he is in that sort of form you just want to give him the ball and let things happen around him. He is a physical force you have to try and stop and I am very pleased he is on our team.
"Four years ago he had a tough run of it (he missed the 2015 World Cup for disciplinary reasons) and four years on he has shown the world what he is about and I am delighted for him.
"It's eight years since his last World Cup try and it is crazy and that is why he is enjoying it so much. He is one of the best players in the world and makes people want to come and watch at the stadium or on TV and he did that magnificently today."

On what Tuilagi is like in the changing room after the match:
"He looks after himself after his injuries and spent 20 minutes in the ice bath. He puts a lot more time and investment into his body and is a cheerful guy to be around, is chilled, happy and works hard."

On making the best use of England's attacking threats:
"There is a grinding-down phase and we have seen in other matches at this tournament. The guys who came on had an influence and let loose."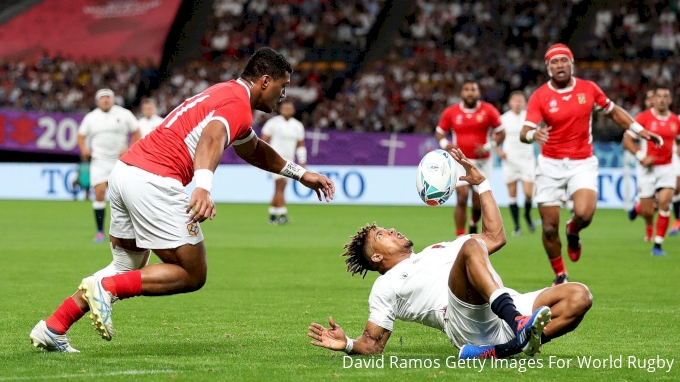 Jamie George, England
On the humid conditions inside the Sapporo Dome:
"We knew what it was going to be like and had prepared well although it was tough conditions and the ball was slippery. We could have held onto the ball more. To not concede a try is also important."
On the verdict on the performance:
"We are never happy and won't be until if and when we lift that trophy."
Nasi Manu, Tonga
On his first game for 13 months, having undergone surgery and chemotherapy for testicular cancer:
"The whole day has been very difficult for me, just controlling the nerves. I couldn't sleep last night, I just got too excited. I was telling my wife that I didn't know what to do. I packed my bags five times."

On coming on as a replacement after 57 minutes:
"After five minutes I felt my legs were gone. No fitness can prepare you for that. I don't know what Toutai (head coach Toutai Kefu (AUS)) has planned for me for the rest of the tournament, but the other guys are playing so well.
"I have achieved my dream of playing in a World Cup whatever happens and I have so many people I can thank for getting me here. I can't say names because I am afraid I will miss some out."
On whether he managed to hold back the tears on taking the field for the anthems:
"They were plenty of them, but then I had to calm down. The boys played well, we just lost key moments that might have kept the pressure on."
Zane Kapeli, Tonga
On the tackle on Billy Vunipola which brought one of the biggest roars of the night from the crowd:
"I just saw him running at me, put my head down and hoped. I've not seen the footage yet, but the boys gave me a pat on the back and I was just trying to ice my shoulder.

"He is a massive ball-carrier, but I don't think there were many arms in my tackle. It was marginal, I would say."
On playing his first Rugby World Cup match:
"I have been looking forward to this for a long time. It's the biggest stage we have and I'm pinching myself that I got the chance to put the jersey on. I'm grateful to be here."