2019 Rugby World Cup
RWC Game 5: Ireland vs Scotland
RWC Game 5: Ireland vs Scotland
Latest from the Rugby World Cup
Sep 22, 2019
by Alex Goff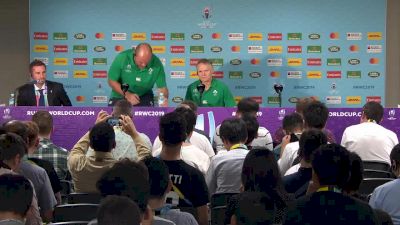 Ireland scored three tries in the first half and cruised to a workmanlike victory over Scotland, showcasing a sterling defense as the Scots were held to just one penalty goal in a 27-3 result.
Game stats and details here: Match-06_Ireland_v_Scotland_Stats.pdf
What They Said
Iain Henderson, Ireland
On making a 20-meter run to help set up the first try by James Ryan:
"Five minutes after that I wasn't feeling great (laughs). When I see someone else do that it gives me a massive lift. Unbelievable support from the guys to clear and James Ryan to get the try. Not that we planned it during the week but there is a lot of emphasis on line breaks and us doing what we can."
On criticism about Rory Best's inclusion and whether he was surprised Best played 80 minutes:
"In World Cups and scenarios, when you have a few injuries, it's not always ideal when there are not many subs. You need to show you can play 80 minutes. I thought he had an absolutely sterling performance and he silenced all of his critics out there.
"You don't quite understand what Rory Best adds to the squad. He has been absolutely incredible and I think today you got a small insight into what he can bring."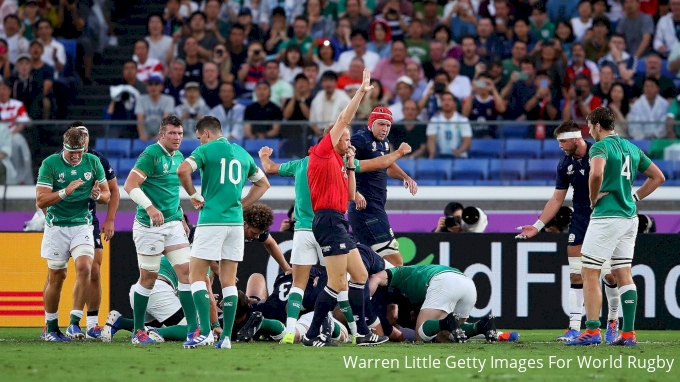 C J Stander, Ireland
On the performance:
"It was a very intense game. The second half was a bit longer as they (Scotland) came back into it."
On the fast start:
"We've been working on it and it's a good template now. It's the way we train. The ball bounced our way and we had a few lucky bounces as well."
On the physical battle:
"We've played them a good few times over the years so it is always a physical battle. Sometimes we win and sometimes we don't but we got lucky in the mauls and that kept us in the game."
On next opponents Japan Saturday 28 September:
"We just want to make sure we recover from tonight and make sure we give ourselves an opportunity against Japan.
"Japan is a team that moves the ball around a lot and has great tempo, they are great athletes and they bring it out when they play international teams.
"I'm looking forward to that game, but the biggest thing now is to recover in the six-day turnaround make sure we are ready to face the team that played so well on Friday."
Jordan Larmour, Ireland
On the occasion:
"The support was incredible. There was a sea of Irish there and we could hear them."
On making his World Cup debut:
"There was good few nerves. It's a first World Cup for a lot of the boys so there wasn't much sleep for the boys last night. It is pretty nerve-racking lining up there singing the national anthem."
On catching high balls early in the game to settle the nerves:
"It helps the confidence. It's something we work hard on in training and in preseason. To get our skills better. It was slippery out there too so I'm happy enough to keep building, kicking on."
On whether he will start the next game when Rob Kearney is fit again:
"There is a lot of competition and in training it's always intense and everyone is fighting for their spot. You have to take the opportunity with both hands and hang on to the jersey. Just play to the best of your ability."
On what happens next:
"There are a lot of things to improve. We will pick the game apart, then keep building, improve in defense, attack, our kicking."
Gregor Townsend, Scotland
On Scotland's loss to Ireland in their opening match:
"It is disappointing. We didn't start with the energy, accuracy, and aggression that is required to beat a team like Ireland. They took their chances well when they got into our 22."
"If you give any team in world rugby a 15 to 20 point start, it is going to be very difficult to come back.
"They just converted mistakes into territory, and mistakes into points. They have a template we all know about and if you give them chances in your third of the field, you can't afford to do that."
On what Scotland need to do now to qualify for the quarterfinals:
"We need to win our next three matches, regardless of the result today. We have to bounce back and play a lot better against Samoa, Russia and Japan, who started the tournament well."
On the injury to flanker Hamish Watson (SCO):
"He was our only injury concern. He had a knee injury and we will hopefully be able to give more information tonight if he can get a scan.
"Obviously it doesn't look good if a player is stretchered off so we await further news.
"We always presumed there would be players that may miss the rest of the World cup after each game. The good news is that Jamie Ritchie (SCO) will be available for our next game against Samoa. He is back in full training now and will be available to play open-side if Hamish is ruled out. I thought Fraser Brown (SCO) did a good job when he came on too.
"Magnus Bradbury (SCO) is still in Japan and if Hamish was to miss out, then Magnus will be his replacement."
On the feeling in the squad:
"When you don't play your best in your first game of a World Cup, then you will obviously be disappointed. We didn't show the best version of ourselves tonight.
"We must play much better in our next three games if we are going to get out of our pool and progress into the quarter-finals and I believe we will be."