2019 Rugby World Cup
RWC Game 4: New Zealand vs South Africa
RWC Game 4: New Zealand vs South Africa
Notes on New Zealand vs South Africa
Sep 21, 2019
by Alex Goff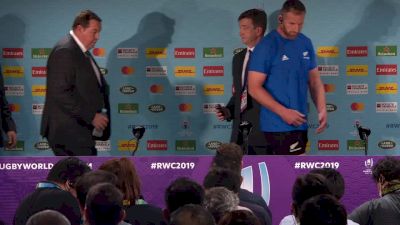 New Zealand held off South Africa in a fractious World Cup opener for both.
What They Said
Richie Mo'unga, New Zealand
"They put us under a lot of pressure. A lot of mistakes and a lot of the pressure came from ourselves. We were frantic and rushing things, so we needed to slow down. We needed to kick the ball back to them to put them under pressure."
"Beauden [Barrett] was awesome for me. He supported me well and it's good to have two decision-makers in the backline, and it's something we can keep working on throughout the World Cup."
"It was awesome, a dream come true. Something I'd been looking forward to and working hard for. So to get the opportunity was awesome, and to get the win with the boys – I'm very proud."
George Bridge, New Zealand
"To be honest, I'm just taking each week as it comes. We've got plenty of competition in my position, so any chance that I get to play, I want to make the most of it. We are only one game in and there's a long way to go."
"With their defense, we knew that they would bring a lot of line-speed, and put our skills under pressure. At the start of the game, we didn't really play how we had planned, and then you saw our tries came through executing our gameplan."
Bridge scored a key try for New Zealand.
"It was actually Sevu who made a good break up the sideline, and when the ball got out to Beaudy, I saw he had a prop in front of him. So, I told him to have a go at [the South African prop], and then from there, he just managed to get the offload and I was in support."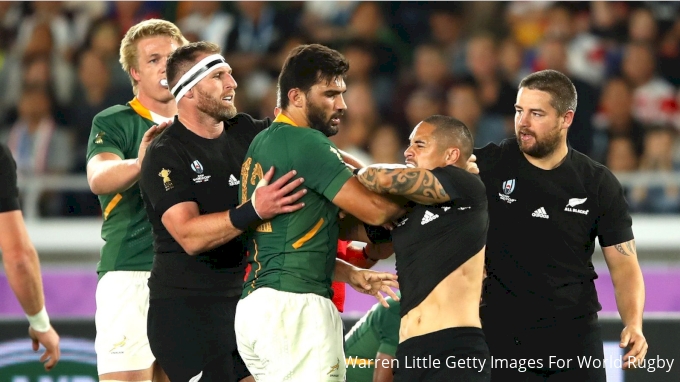 Damian De Allende, South Africa
"I think [the All Blacks] were brilliant. I think they handled the ball quite nicely in these conditions and they put us under a bit of pressure. Their kicks particularly put us under a lot of pressure."
"We started quite nicely in the first half but we made a couple of errors and let them back in the game. We started well again in the second half, but just couldn't capitalize on our opportunities."
"Now it's time to focus on our next game against Namibia and play as hard as we did tonight (and) hopefully get the win."
Cheslin Kolbe, South Africa
"We had a good 10-minute start in the first half, but then there were some loose balls that didn't stick. They just capitalized on our mistakes.
"They played a very good kicking game. The World Cup is not going to be about attacking. There were a few balls we just couldn't handle in the air.
"We'll just keep our heads up high and keep on working for the next game and make sure that we don't drop our heads."
"My first game in a World Cup is a memory I'll take with me throughout my career. It's not the result that we wanted. But it's still a long competition."