2019 Rugby World Cup
RWC GAME 2: Australia vs Fiji
RWC GAME 2: Australia vs Fiji
Game report on Australia vs Fiji
Sep 21, 2019
by Alex Goff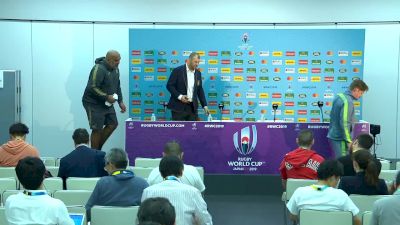 We're avoiding spoilers in our reports, but if you made it this far we can tell you the score.
Australia got off the mark in impressive fashion, but it took a big second half as Fiji led 14-12 at halftime. The Wallabies roared back to win 39-21.
Samu Kerevi and Marika Koroibete became the first and second Fijian-born rugby players to score against Fiji in a World Cup.
What They Are Saying
Marika Koroibete, Australia
"It was a good feeling, although obviously a lot of people back home would have been cheering for Fiji. We were fighting back at that point, we needed a try so we could get the momentum back. It was a very important try."
"Fiji just bring the physicality. We were expecting that. They came to play hard. We spoke about that before, we knew they'd come out hard and that we would have to hold our depth a bit.
"We had to build on our set-piece to build some momentum. Our forwards were pretty hard and got us on the front foot a few times. We got an example from them, they set a platform for us."
David Pocock, Austalia
"Fiji was never going to be an easy game, we came into it expecting that. It was a really physical game. We had to weather the storm a bit and get out in front to finish in the right way."
At halftime, Pocock and captain Michael Hooper had a quick talk about how to adjust.
"We just talked about continuing the game plan, holding on to the ball and building more pressure. We hadn't played well in the first half, we didn't build pressure much with the ball. We turned off few times and Fiji were very good."
Matt Toomua, Australia
"Oh jeez, they were up for it. But you can see they were probably spent at the end of the game and we benefited from making good changes at the right times."
Izack Rodda, Australia
"Fiji are very dangerous on the turnover of the ball, any loose ball they capitalize on, as you saw. They are very elusive and they love to offload so you have to shut them down."
"We wanted to stick to our game plan, we started to get a lot of pay with driving mauls so we thought let's just keep going at them, so we kept going there. All the hard work paid off.
"We had had three mauls and three penalties down there, so it (the yellow card) was bound to come eventually."