At the midway point in the season, it's clear that Life West is the top dog in the league. Behind them, however, a few other teams are beginning to show that they too are serious contenders.
Both at 3-1, and both riding three-game win streaks, the Atlanta Harlequins and the Glendale Merlins are really finding their form. Both teams get a chance to avenge Week 1 losses on Saturday.
Watch the WPL Championships and Placement Games LIVE and On Demand right here on FloRugby, Nov 1-3!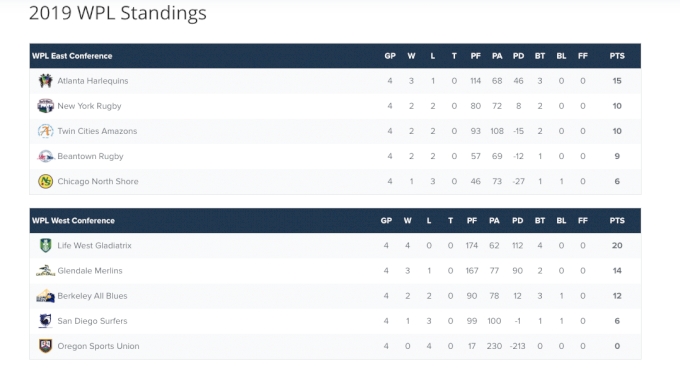 The Merlins will travel to Life West, while the Quins host 2-2 Beantown. The Berkeley All Blues, who sit just a game back from Glendale, will make the trip north to Oregon to face winless ORSU.
The last matchup of the weekend sees the 2-2 Twin Cities Amazons welcome 1-3 Chicago North Shore to town. The Shore has lost three straight after their opening round victory over the Amazons, so this game is huge in terms of staying in the playoff race.
Here's the rundown:
Atlanta Harlequins vs Beantown RFC
The sides' first meeting was a tough go around for Atlanta. In addition to the hefty travel demands they faced going all the way to Boston, the Harlequins also played the game with just 18 players.
This time, playing at home, Atlanta should be near full strength and will be hungry for revenge.
Beantown, meanwhile, have been somewhat up and down. Defensively they have been really strong. Nobody has been able to score more than 22 points against them so far. That's usually going to keep your team in ball games, no matter who you're playing.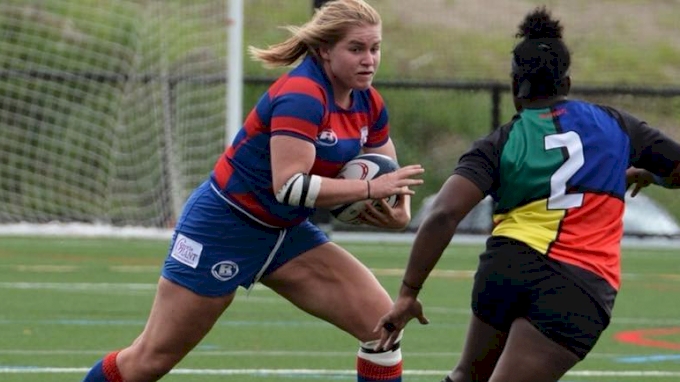 Unfortunately, the women from Boston have run into a lull offensively. After a nice 32-point outing in Round 1, Beantown has failed to surpass 12 points in a contest over the past three games.
Atlanta will be favored, but if Beantown gets it's offensive rhythm back, there's a good chance they get the win and pull themselves back into the playoff picture.
Players to watch
For the Harlequins, prop/second rower Lisa Jackson has been a force this season, as has No. 8 Cortney Kuehl. This week look for USA Eagle Megan Rom to have a huge impact at prop. She missed the first meeting with Beantown, and will be big boost for the Quins on Saturday.
On Beantown, center Amanda Schweitzer has been very good all season, despite missing last week's contest. Her running mate in the backline, Kathleen Phelan, is very dangerous with ball-in-hand, and if Beantown can find a way to link up with her in space they could really start scoring again.
ORSU Jesters vs Berkeley All Blues
The Jesters will seek their first win of the year on Saturday, but it definitely won't come easy as they are faced with a stiff test against the All Blues.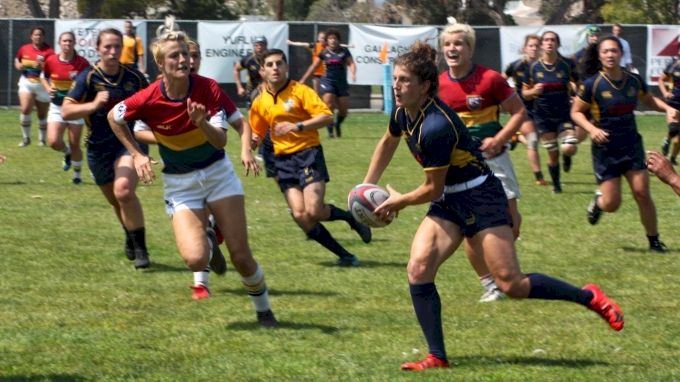 2019 has been rough on ORSU, and the going isn't getting easier. If there's a silver lining, however, it's that the Jesters played Berkeley closer than they've played anyone else this season. Perhaps returning home will give them the boost they need to pick up their first point of the season. It's unlikely though.
Berkeley have played in two very tight contests the past two weeks, picking up one win and one loss against San Diego and Glendale respectively. They hope this week is less stressful, and a bonus point victory would do them alot of good in the standings.
Players to watch
Anna Symonds has been a positive for the Jesters this season, despite playing on a losing team. She'll be heavily involved again tomorrow from her flanker position.
Berkeley have a host of players to watch, including hooker Katy Augustyn, and centers Bulou Mataitoga and Evan Hoese. Also keep an eye out for flanker Christina Ramos. She rarely takes a step backwards, and she has a work rate that keeps her constantly involved in the All Blues' efforts.
Life West Gladiatrix vs Glendale Merlins
This one could well be a preview of the WPL championship game in November. The two teams have one loss between them, which was the Merlins' Week 1 defeat to the Gladiatrix.
Life West have rolled over everyone, but there's no doubt they'll see a more competitive effort out of Glendale this weekend. The Merlins have logged some impressive wins in their past three games, notably a 98-0 shellacking of ORSU a week ago.
A win by Life West would see them go well clear at the top of the WPL West standings. A loss, though, would close the gap between them and the rest and make the last few weeks very interesting.
The first meeting between these two was Life West's first game in the WPL, and they certainly caught everyone a bit off guard with their dominance. There will be no underestimating the Gladiatrix this time around, which means we could be in for a barnburner of a match.
Players to watch
Life West have great players at every position, which makes it very difficult to hone in on one or two particular players. This week, we'll go with flanker Bitsy Cairns and flyhalf Sara Parsons. Both players are team-first oriented and do a lot of the little things right.
Cairns is excellent at the breakdown, and Parsons is truly a cool operator from first receiver. Each will be instrumental this weekend if Life West is to win.
Glendale's Joanna Kitlinski has been rock solid as a leader and a performer from her hooker position all season. However, she will move to the back row this week and showcase her versatility. It's likely she still operates as the lineout thrower.
Another player to keep an eye on is Glendale's Kaitlyn Broughton. The winger made the move to Colorado this year after previously playing for Life University and the Atlanta Harlequins. She tallied a whopping six tries a week ago, and seems in good form at the moment.
Twin Cities Amazons vs Chicago North Shore
The Amazons have been another up and down team in 2019. They were on a bye last weekend, but the week before they turned in a magnificent home performance against New York to improve to 2-2 on the year.
The Zons racked up seven tries in their most recent outing, demonstrating their offensive firepower when they're clicking. They will need to bring that kind of attack on Sunday, when they play a North Shore that limited them to just 10 points back in Week 1.
Speaking of that North Shore defense, it's been the only thing going for Chicago this season. Defensively they can shut down anyone, but playing three straight games without reaching double digits simply isn't going to cut it in the WPL. Any league for that matter.
Twin Cities are tied for second with New York in the WPL East standings right now, so every game at this point is a must-win.
At 1-3, Chicago aren't out of the woods just yet, but if they lose this weekend their season is as good as over. A second win over Twin Cities could go a long way to steering them back in the right direction.
Players to watch
Twin Cities No. 8 Kathryn Johnson was excellent last time out against New York. For a back rower, she has smooth feet and silky skills. She does a fine job of gettin her team on the front foot, and how she goes is very influential to their cause. Flyhalf Katana Howard and rangy winger Kaelene Lundstrom are also two important pieces for the Amazons.
Chicago North Shore's defense leads the effort, and a good flanker at any level can make an entire defense click. For North Shore, that player is Olga Niyibizi, out of the University of Notre Dame. She also has a pair of tries to her name on the year, and will be counted on to get over the line on Sunday for Chicago.