2019 Oktoberfest 7s
Australia Brings Experience, Experiments To Oktoberfest 7s
Australia Brings Experience, Experiments To Oktoberfest 7s
A look at the Australia team at the Oktoberfest 7s.
Sep 19, 2019
by Alex Goff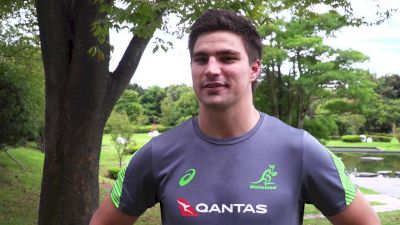 Australia is eager to hit the ground running at the Oktoberfest 7s this weekend.
Jack Maddocks, an injury replacement in 15s for the Wallabies, has left Rugby World Cup training in Japan to join the squad, an indication that coaches want him to get more time.
Watch the 2019 Oktoberfest 7s LIVE and On-Demand
For US and Canada Subscribers on FloRugby, Sep. 21-22
Head coach Tim Walsh is targeting Olympic Qualification in the upcoming Oceania qualifier October 7-9 in Suva, Fiji — that's his priority — and the Oktoberfest 7s in Munich is an excellent warmup.
"We went there two years ago and used it as a lead-in to the World Series and the boys won that one, so we've got a good record there," Walsh told Emma Greenwood in an interview for the ARU. "This time around there's the top eight teams in the world competing but they'll probably send various different teams depending on what their preparation is for the World Series."
Australia will be in a massively difficult pool with New Zealand, South Africa, and England.
Well done @Aussie7s ?? - great training session with a Munich schoolboy ? team. More German Kids profiting from the World Class Teams being in Munich for the #O7s. pic.twitter.com/CCp24nRVIt

— Oktoberfest 7s (@Oktoberfest7s) September 18, 2019
Walsh's lineup will be close to full strength, but Lewis Holland, Maurice Longbottom, and Henry Hutchison are all out because of injuries.
Sprinter Trae Williams is a potential crossover being looked at, but he's been held out because he's still learning.
Tom Cusack returns to the team for the first time since the 2016 Olympic Games. Josh Turner has just attained Australian citizenship (he is from New Zealand) and he's picked —Turner has been in the training squad for a year waiting for his passport.
For Maddocks, he's been in only a few training sessions.
"If I'm not in the World Cup I think I'll go over to Fiji for the Oceania qualifier and hopefully we can get over the line there and cement our spot in the Olympics," he said, addressing the lure of those rings. "It'll be a bit different, but at the end of the day it's still a rugby ball."
Nick Malouf will captain the team in Munich with Holland out injured.
"It's basically the best team that we've got with a couple of players there to get more game time and push for (Oceania) selection," Walsh told Greenwood.