Following the dissolution of the old Anglo-Welsh Cup after the 2017-18 season, Premiership teams in England set out to form a new competition, called the Premiership Rugby Cup.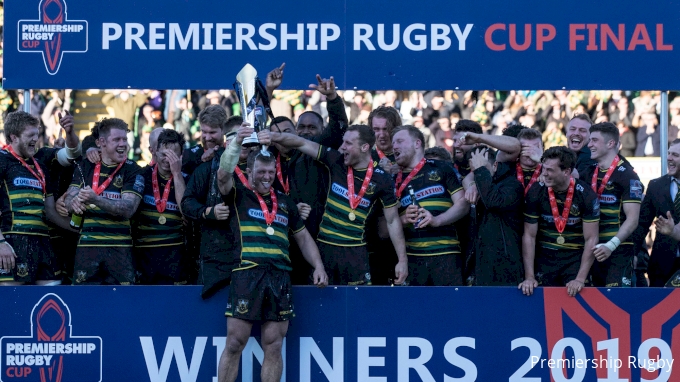 The new tournament was a resounding success in its first year, and not only for giving young players some much-needed playing time.
Major stars who were victims of foreigner quotas or coming back from injury — really anyone who needed game time — suited up.
That's even more the case this time. The Gallagher Premiership kickoff has been delayed until mid-October because of the Rugby World Cup. But there are well-known players not in Japan who need to play some rugby.
So this weekend the likes of former Ireland flyhalf Ian Madigan, former England wing Chris Ashton, as well as Rob Du Preez, Ben Curry, Jean-Luc Du Preez, Rohan Janse Van Rensburg, Daniel Du Preez, and Joe Marchant all strap on the boots in the Premiership Rugby Cup.
You'll also see a couple of famous names, including James Grayson, son of former England great Paul, and Louis Lynagh, son of Australia legend and World Cup-winner Michael.
US-based subscribers can watch the Premiership Rugby Cup kick off this weekend LIVE and On-Demand on FloSports
Harlequins vs Bristol Bears - Sep 20 - 2:45 pm (ET)
Exeter Chiefs vs Bath - Sep 21 - 10:00 am (ET)
With 31 of England's best members away at the Rugby World Cup, the Premiership Rugby Cup is also a great chance for some of the newer players in the Premiership to establish themselves as household names.
"Plenty of young boys came through in the competition and then broke into the Gallagher Premiership," said 2018-19 Breakthrough Player of the Year James Grayson. "There was a clear correlation between good performances in the Cup and chances in the league, which was really positive."
"With the World Cup, there'll be even more opportunities early on and hopefully we can put the club in a good position for when the internationals return."
The two teams that reached the final last season, Northampton (winners) and Saracens, are well-known for their strong academies and production of top-notch talent from within the club.
Will other clubs emerge this year as contenders, or will we see the same old same old at the top?