Create a free account to unlock this article!
Get Started
Already a subscriber? Log In
In Week 4 of the 2019 WPL season, we saw Life West officially establish itself as the juggernaut of the league, Glendale come from behind late, Beantown pull out a defensive struggle, and Twin Cities bounce back in a big way.
Here's how it all went down:
San Diego Surfers vs Life West Gladiatrix
Fullback Sisileti Hingano once again paced the Gladiatrix in scoring, but it was another team effort that saw Life West handle another opponent. The victims this time were the San Diego Surfers, who were on the wrong end of a 40-16 beatdown.
Megan Foster got the Surfers on the board early with a penalty kick inside the opening 10 minutes, but just minutes later Bitsy Cairns got Life West on the scoresheet with a try. The ex-Penn State flanker took a lovely tip pass from another Nittany Lion, prop Catie Benson, and ran 15 meters for the score.
After 15 minutes, Hingano went over for the second Life West try. Center Amy Bonte carved right through the San Diego defense and weighted a perfect pass for her fullback to burst onto and dot down for the try. 14-3 Life West.
Bonte, who was sensational all afternoon, scored an outstanding try in 18th minute. She received a pop pass inside her own half and hit the gas to burst through a hole. She then fended off a tackle before throwing a nasty show-n-go to bamboozle the fullback en route to the tryline. 21-3 Life West.
Megan Foster banged over two more penalties before half to keep the Surfers within striking distance at 21-9, but they were going to need more than three-pointers to win this game.
Life grad Nicole Strasko opened the second half scoring after two minutes. A series of offloads took the Gladiatrix from one end of the field to the other. Bonte was once again instrumental in opening up the break for Life West, and after 42 minutes they led 26-9.
Bonte then scored her second try of the game in the 64th minute. Sisileti Hingano made a huge break up the left sideline before fending the sweeper and offloading to Bonte in support. The connection between those two is really becoming deadly. 33-9 Life West.
In the 71st minute Ashlee Byrge got on the end of a Megan Foster crossfield kick to pull one back for San Diego, but it was too little too late. 33-16 Life West.
Before all was said and done, former Lindenwood Lion Nene Persinger intercepted an errant Surfer pass and streaked 40 meters in for the try to close out the game. 40-16 Life West, final.
The defending champs are looking shaky right now, but there's still some time to turn things around.
San Diego: 16
Tries: Byrge
Convs: Foster
Pens: Foster 3
Life West: 40
Tries: Cairns, Hingano, Bonte 2, Strasko, Persinger
Convs: Hingano 5
Berkeley All Blues vs Glendale Merlins
An important showdown between two 1-1 teams in the WPL West came all the way down to the wire. Glendale pulled together a late comeback to down the All Blues 19-17.
The Merlins drew first blood with a try through No. 8 Carmen Farmer, who smashed over from short range. Gaby Cantorna knocked in the extras to give Glendale the early 7-0 lead.
In the 22nd minute, Berkeley struck back with some beautiful execution off set-piece to score one of their own. After forming a maul on a lineout at the Merlins' 22, the All Blues shifted the ball brilliantly through the hands out to fullback Serena Liu, who threw one dummy pass and went in untouched for the try. 7-5 Glendale.
Shortly before halftime, the All Blues put the maul to good use once again. After a penalty got them deep inside Glendale territory, Berkeley set up a driving maul and then methodically went through the phases. Eventually, hooker Katy Augustyn punched one in on a pick and go to give Berkeley the lead. 12-7 All Blues.
Right before the halftime break, Farmer scored her second of the game for Glendale to level the scores at intermission. This time she used a pick and go, and, with the help of her teammates shoving her from behind, ground one in near the sideline. 12-12 at halftime.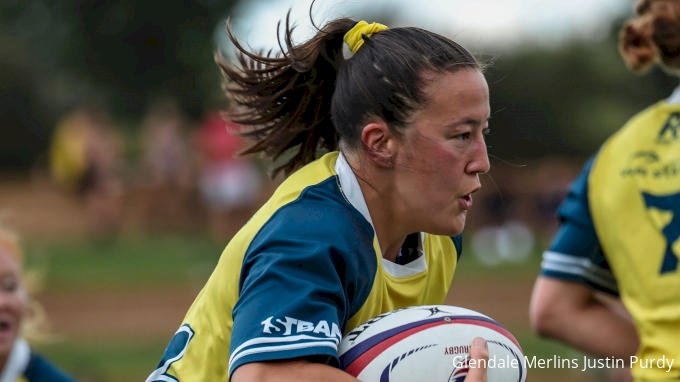 Three minutes into the second half, All Blues center Bulou Mataitoga opened up a break on the left side for her center partner, Evan Hoese, who broke the line and then dished the ball back to Mataitoga for the score. 17-12 Berkeley.
The score would remain that way until the 72nd minute, which is when Glendale flanker Rachel Ehrecke got a try to knot things up. Following an All Blues penalty near the line, Ehrecke thought quickly and took the quick tap while Berkeley was retreating. She ran over a tackler and dotted the ball down to tie it up.
McKenzie Hawkins stepped up for the Merlins and calmly knocked in the conversion to give her side the lead. 19-17 Glendale with eight minutes to play.
That's how the scores would wind up when the final whistle blew. It was a big road performance from Glendale. Berkeley has been strong this season, only losing a close one to Glendale and a competitive game to Life West. They are still a contender at this point in the season.
Berkeley: 17
Tries: Liu, Augustyn, Mataitoga
Convs: Miller
Glendale: 19
Tries: Farmer 2, Ehrecke
Convs: Cantorna, Hawkins
Twin Cities Amazons vs New York Rugby Club
After last week's hiding in Atlanta, the Amazons came back very strong at home against New York. For New York, it was an opposite turn of fortunes. They followed up their huge win a week ago over Chicago with a dud this week in a 39-20 defeat to Twin Cities.
Try-scoring machine Kaelene Lundstrom got the Zons going in the third minute. A wonderful break and offload from No. 8 Kathryn Johnson got the Amazons into open field, and a couple passes later fullback Lundstrom was in for an easy finish. 5-0 Twin Cities.
New York rebounded and scored on a perfectly executed rolling maul, No. 8 Chloe Jex the one to finish it off. Those kind of tries are a favorite of any forward pack, and the New York forwards sure were elated with the effort. 5-5 after 23 minutes.
On the stroke of halftime Twin Cities scored again, this time outside center Brittany O'Dell. She broke a couple of New York tackles and knifed through to give Twin Cities a 12-5 halftime lead.
The 'Zons came out firing to start the second half. A scintillating pass cutout pass from flyhalf Katana Howard put her winger, Kelsey Coley, on a break down the left wing. Howard ran a nice support line an got the ball right back from Coley to go in for the score. 17-5 Amazons.
In the 52nd minute Twin Cities got their fourth-try bonus point when inside center Sarah Rosche took another offload from Coley and juked inside a couple of defenders to score near the left touchline. Danica Mooney-Jones hit the tough conversion and it was 24-5 Amazons.
Tess Feury hit a penalty kick for New York in the 55th minute, but shortly after Twin Cities wing Coley scored a try of her own. She took a well-timed pop pass from Kathryn Johnson to go racing up the sideline for the score. 29-8 Amazons.
New York scored right back in the 62nd minute. Winger Sarah Levy busted a pair of tackles and sprinted through for a try in the right-hand corner. 29-13 Amazons.
Minutes later, Twin Cities scored their sixth try of the game when replacement forward Shaena Sparrow mowed over a New York defender and punched over for the five-pointer. 34-13 Amazons.
Once again New York responded, getting their third try of the game. Inside center Misha Green took a fairly innocuous pass and turned it into a brilliant 50-meter try. She zigged and she zagged, before gassing every one to the whitewash. 34-20 Amazons with 10 minutes remaining.
Any hopes of a New York comeback though were dashed when Amazons scrumhalf Rachel Lentsch scored her team's seventh try of the match. A nice snipe at the breakdown near the line got the job done. 39-20 Amazons, final.
Twin Cities: 39
Tries: Lundstrom, O'Dell, Howard, Rosche, Coley, Sparrow, Lentsch
Convs: Mooney-Jones 2
New York: 20
Tries: Jex, Levy, Green
Convs: Feury
Pens: Feury
Chicago North Shore vs Beantown
Beantown got back in the win column and improved to 2-1 on the season with a tough defensive victory over Chicago North Shore, 10-3.
Ugly conditions meant this contest was lacking in champagne rugby, but aggressive line-speed in defense and smart territorial decision-making from Beantown had them ahead at halftime, 10-0.
Tries from Kathryn Treder and Kathleen Phelan gave Beantown a lead it wouldn't give up the rest of the game. A second-half penalty kick from Kathleen Stanley was all North Shore could muster on the scoreboard. 10-3 final.
Beantown's win puts them in a three-way tie atop the WPL East with Atlanta and Twin Cities. North Shore find themselves just a game behind, but on a two-game losing streak.
Chicago: 3
Pens: Stanley
Beantown: 10
Tries: Treder, Phelan