2019 USA Rugby Club 7s
Guest Drafters Take Fantasy Draft Contest Over 'Experts'
Guest Drafters Take Fantasy Draft Contest Over 'Experts'
A wrapup of the Club 7s Fantasy Draft.
Aug 11, 2019
by Alex Goff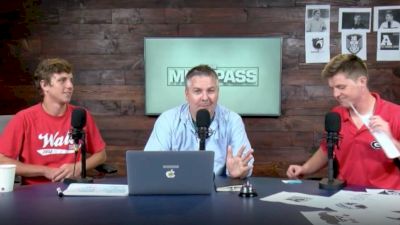 The supposed experts got dinged by the guests as a robot and guest drafter Mike Friday won the Club 7s Fantasy Draft for the women and men, respectively.
It wasn't easy, with both R2D2 (essentially a blind drafter using FloRugby's rankings) and Friday (who chose his own teams) had FloRugby Editor Alex Goff breathing down their necks.
Here's how it worked:
Goff, Austin Willis, and Alex Rees all drafted teams they thought would do well in the Club 7s Championships. Before the draft, USA Men's Sevens coach Friday was given the list of teams and told to choose two from the top eight (based on FloRugby's rankings), and two from the bottom eight.
R2D2 stood in for USA Women's Sevens coach Chris Brown, who we asked too late for him to give us an answer. The droid simply chose the highest-ranked team available.
The result was, basically, that our rankings were very good.
Goff screwed up because, while he chose both finalists for the women's bracket, and had some consistently strong picks in the men, he also picked two of the lower-finishing women's teams, and his pick to win it all on the men's side, Denver, had a poor tournament overall.
(We used the Men's Sevens World Series points system because it's designed for 16 teams. We had to adjust it slightly because the World Series doesn't have every team play out to all of the placements.)
Willis and Rees? Well see how they did:
Men

Drafter
Team
Finish
Pts
Total
Friday
Life West
2nd
19




Belmont Shore Blue
12th
5




WAC
1st
22




Kansas City Blues
15th
2
48
Willis
Dallas
9th
8




Atlanta Old White
8th
10




Schuylkill River
4th
15




Milwaukee
16th
1
34
Rees
NAV 7s
11th
6




Belmont Shore Gold
10th
7




Mystic River
14th
3




Chicago Lions
5th
13
29
Goff
Park City Haggis
5th
12




Denver Barbarians
13th
4




Old Blue
3rd
17




Westside Ronins
7th
11
44











Women

Drafter
Team
Finish
Pts
Total
R2D2
Scion
3rd
17




Chicago Lions
7th
11




Atlanta Harlequins
6th
12




Phoenix
8th
10
50
Willis
ARPTC Blue
9th
8




New York
10th
7




Rocky Mountain
11th
6




Boston
16th
1
22
Rees
Life West
4th
15




Santa Barbara Academy
14th
3




WAC
5th
13




NOVA
12th
5
36
Goff
San Diego Surfers
1st
22




Berkeley All Blues
2nd
19




DC Furies
15th
2




ARPTC White
13th
4
47