As always, the USA Rugby Club 7s produced some surprises and some dicey moments.
This year, how things went is also colored by how the staff at FloRugby did in predicting who would do well.
Here's a very quick rundown on what actually happened, and how that affects the FloRugby fantasy draft.
Flight of the Phoenix
The Phoenix club out of Florida, powered by the three Harvey sisters, blew by New York and did the same to the DCFuries, winning with pace and teamwork over size and strength, to make it to the Cup Quarterfinals.
Scion, with Nate Serevi scoring four tries, dominated in Pool A, as expected, while Washington Athletic Club did enough, showcasing some flashes of good team sevens.
The Berkeley All Blues, led once again by Evan Hoese, were able to contain Phoenix to go 3-0, and in fact finished Pool Play unscored-upon. Berkeley's determination to control possession saw them through.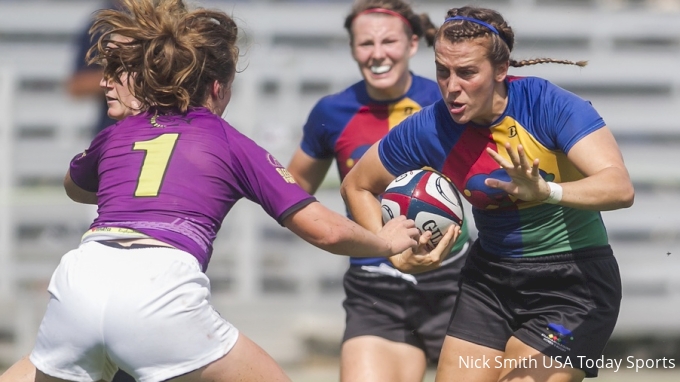 Life West looked in very good shape and became the third Pacific North team to make the top eight. Only a somewhat surprising Chicago Lions gave them any trouble.
In Pool A, the San Diego Surfers and Atlanta Harlequins moved on, with Kayla Lawson leading the Surfers with five tries, and Cortney Kuehl leading the entire tournament with six.
The Fantasy Draft
It's the robot invasion. R2D2, a fourth pick using our own rankings leads by a massive margin. All four of R2D2's picks are in the Cup Quarterfinals, and their picks went an astonishing 9-3 on the day.
Far behind in second is Alex Goff, whose teams went 7-5 and who put two teams in the Cup Quarters. Alex Rees also has two teams in the top eight, while Austin Willis is 2-9-1 and has zero—zee-ro—teams playing for the Cup tomorrow.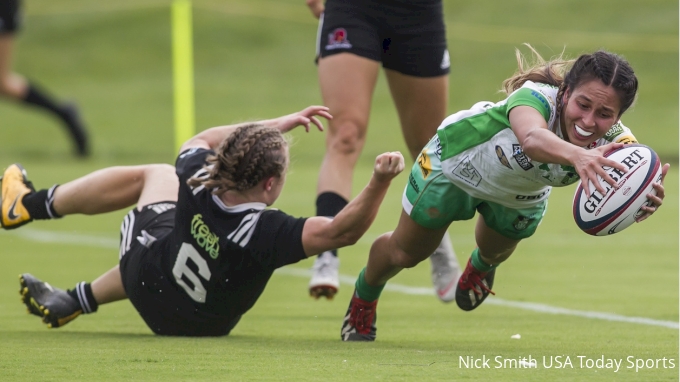 So R2D2 is in the driver's seat, which is worrisome because the robot has no hands. But if Goff's top picks, San Diego and Berkeley, can make the final, then he might pull this out.
Not So Simple
Things were not at all straightforward in the men's pools. Pool A had three teams at 2-1. Pool B had a tie and two teams at 2-1. It was wild.
NAV 7s opened up with a dramatic win over Park City Haggis and then another victory, but then was thumped by Washington Athletic Club. With that result, and Park City's big win over a struggling Mystic River, Haggis and WAC ended up with a better points difference than NAV.
Despite going 2-1, NAV drops to play for the Bowl.
Belmont Shore Blue started brilliantly, shutting out Schuylkill River 34-0. But then the Southern Californians were surprised by Kansas City 12-12, and followed that on with a loss to a Chicago Lions team that didn't look all that strong.
After looking like a title contender after round one, Shore is in the bottom half of the bracket. Schuylkill River recovered to win twice and make the Cup Quarterfinals. Go figure. Kansas City ended up 0-2-1, with two losses by a total of seven points. Ouch.
The Lions somehow won the pool.
All was straightforward in Pool C, with the Westside Ronins speedy offload game getting them to 3-0. Atlanta Old White looked very strong, while the Denver Barbarians—touted by this writer as a potential tournament winner—finished the day winless.
Old Blue and Life West emerged the top of Pool D.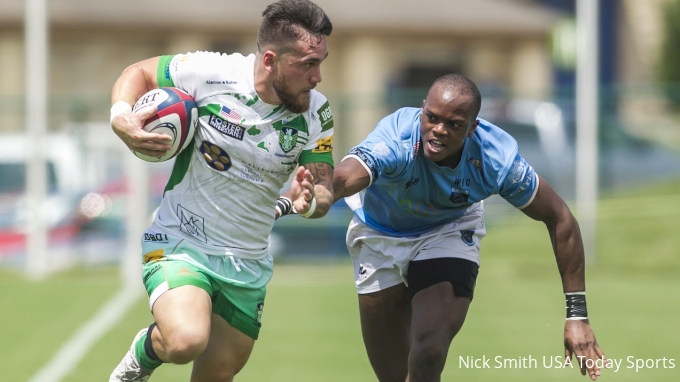 The Fantasy Draft
In a much closer chase, Alex Goff leads so far. His teams went 8-4 and three of his teams made the Cup Quarterfinals. Austin Willis and Mike Friday are essentially tied—Willis is 6-6 and Friday 5-5-2 and both have two teams in the top eight. Alex Rees brings up the rear with a not-horrible 5-7 record (see Willis's record for the women) and one team in the top eight.
Rees is unlucky because he had NAV 7s, and they missed out on the quarterfinals by points difference. Friday is unlucky because of Belmont Shore Blue's tie. Had Shore won that game, he would have three teams in the top eight.