USA Men's 15s head coach Gary Gold has picked his lineup in the Pacific Nations Cup finale Saturday.
The Eagles take on Japan in a clash of the only two 2-0 teams in the PNC. The winner will win the tournament, and while the USA won't jump up in the rankings (they've risen to #13 from #15 after beating Canada and Samoa).
Gold has made eight changes to the starting 15 that beat Samoa 13-10 last week.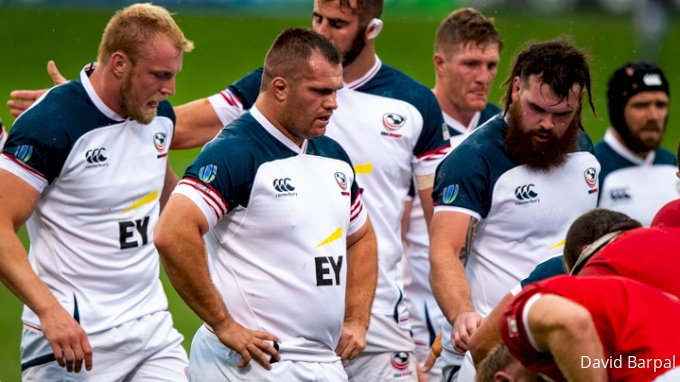 Gold is looking to see more hopefuls and to rest some players who have played two difficult games in a row. Mikey Sosene-Feagai will start at hooker in his first appearance with the Men's Eagles since facing Uruguay in 2016. Nate Brakeley will start at lock with Ben Landry shifting to the bench, while Malon Al-Jiboori and Hanco Germishuys are both in at flanker.
Germishuys is back after dealing with an injury.
Newly-capped Jamason Fa'anana Schultz will take the No. 8 spot, with Shaun Davies back in at scrumhalf.
USA sevens team captain Madison Hughes will start at wing, while Martin Iosefo is rested. Marcel Brache returns at center after completing the HIA protocol. Bryce Campbell, Mr. Reliable for the Eagles, takes a break.
Another player coming back from a long absence and also coming back from injury, Thretton Palamo (last capped in 2016) returns to the Eagles and is on the bench.
Gold said he was "happy for our guys that we've put ourselves in a good position with an opportunity to win the PNC on Saturday. Credit to both Canada and Samoa who put us under a lot of pressure in those first two games and really showed us what can happen when we don't make the right decisions on the field.
"Now that we've reached the final match of the tournament and knowing how sharp this Japanese team is, we must absolutely continue to show consistent defense; but also build momentum around our attacking game to be successful."
USA Line To Face Japan
| | | |
| --- | --- | --- |
| PLAYER NAME | CLUB | CAPS |
| 1. Chance Wenglewski | Rugby ATL | 5 |
| 2. Mikey Sosene-Feagai | Auckland (NZL) | 4 |
| 3. Paul Mullen | Houston SaberCats | 12 |
| 4. Nate Brakeley | Rugby United New York | 19 |
| 5. Gregory Peterson | Newcastle Falcons (ENG) | 24 |
| 6. Malon Aljiboori | Glendale Raptors | 3 |
| 7. Hanco Germishuys | Glendale Raptors | 15 |
| 8. Jamason Fa'anana Shultz | Houston SaberCats | 1 |
| 9. Shaun Davies | Glendale Raptors | 23 |
| 10. AJ MacGinty | Sale Sharks (ENG) | 23 |
| 11. Madison Hughes | USA Sevens | 4 |
| 12. Paul Lasike | Harlequins (ENG) | 14 |
| 13. Marcel Brache | Western Force (AUS) | 17 |
| 14. Blaine Scully (C) | Unattached | 48 |
| 15. Will Hooley | Bedford Blues (ENG) | 10 |
USA Reserves
| | | |
| --- | --- | --- |
| PLAYER NAME | CLUB | CAPS |
| 16. Dylan Fawsitt | Rugby United New York | 10 |
| 17. David Ainu'u | Toulouse Rugby (FRA) | 7 |
| 18. Paddy Ryan | Rugby United New York | 3 |
| 19. Ben Landry | Ealing Trailfinders (ENG) | 20 |
| 20. Ben Pinkelman | USA Sevens | 1 |
| 21. Nate Augspurger | San Diego Legion | 22 |
| 22. Will Magie | Glendale Raptors | 24 |
| 23. Thretton Palamo | Houston SaberCats | 17 |
USA MEN'S NATIONAL TEAM XVs STAFF
General Manager | Dave Hodges
Head Coach | Gary Gold
Assistant Coach, Attack | Greg McWilliams
Assistant Coach, Set Piece | Shawn Pittman
Assistant Coach, Defense | Jaque Fourie
Strength & Conditioning Coach | Huw Bevan
Performance Analyst | Jimmy Harrison
Assistant S&C and Analyst | Tom Kindley
Team Doctor | Mark Sakr
Team Doctor | Sam Akhavan
Head Athletic Trainer | Kevin Ng
Athletic Trainer | Matt Lopez (Fiji)
Athletic Trainer | Kristen Douhan
Massage Therapist | Daliah Hurwitz
Team Manager | Chris Hanson
Assistant Team Manager | Mark Drown