Heading into leg two of the NAHS 7s boys series, one thing was clear, or so we thought: Rebel Rugby was going to have its work cut out in this tournament.
But, as they always say, that's why you play the game.
In their opening match of the day, Rebel squared off against Atlantis, the #1 team in the NAHS standings. At #8 in the standings, the Rebels were given little realistic chance. But what was expected to be another routine win for Atlantis turned into a dogfight. The two sides traded big hit after big hit, until at the end Atlantis finally got itself in front with a try as time expired. 10-7 Atlantis.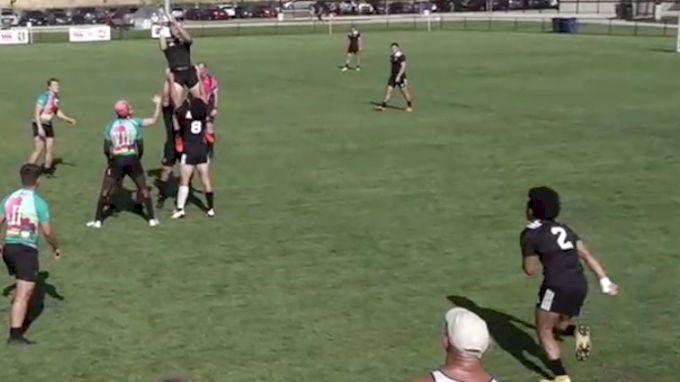 Despite the close loss, it was clear that the Rebels found some confidence. Their sub-par performance in the first round of the NAHS series in Orlando could have left them wondering if they could hang with these top teams, but after taking the top-ranked team to the wire they figured this is where they belong.
Another Nailbiter
Their second game was also a heartbreaker. Rebel lost again on the final play of the game, this time to Rock Rugby. However, Rock took down Atlantis earlier in the day, so the result really wasn't anything to dwell on. A few bounces here and there and the Rebels could easily have been 2-0 through pool play.
As it was, Rebel Rugby got the #7 seed for the quarterfinals and would be seeing the Tsunami Misfits, who many dubbed the favorites of the whole tournament. The team from Canada won its two pool games 25-12 and 38-0 and looked to be humming headed into the quarters.
The Misfits continued their good form early on, scoring a pair of tries to go up 10-0. But that's about the time that the Rebels, and maybe attrition, took over.
Rebel Rugby started to dominate in all phases of the game. They began making big runs, huge hits, and looked the livelier of the two sides. Misfits, meanwhile, seemed to run out of steam under the bright Utah sun. Two Rebel tries before half turned the tide and after the break all the momentum was with the Rebels.
The Misfits played hard till the end, but every collision, every footrace, every contestable ball was won by Rebel, and in the end they smoked the #2 seed, 29-10.
You have to wonder if the Canadians ultimately struggled with the conditions. Between the altitude and the heat, this was not a climate the boys from Ontario were accustomed to. The Rebels, meanwhile, seemed to get stronger as the game wore on.
They will see Rock Rugby in the semis tomorrow, and revenge will surely be on their minds. Just as they grew stronger in their quarterfinal win over the Misfits, the Rebels hope to grow stronger throughout the tournament and reach the NAHS 7s final tomorrow, here in Utah.