Argentina, Canada Take Pan-Am Gold
Argentina, Canada Take Pan-Am Gold
Argentina, Canada Take Pan-Am Gold
Jul 28, 2019
by Alex Goff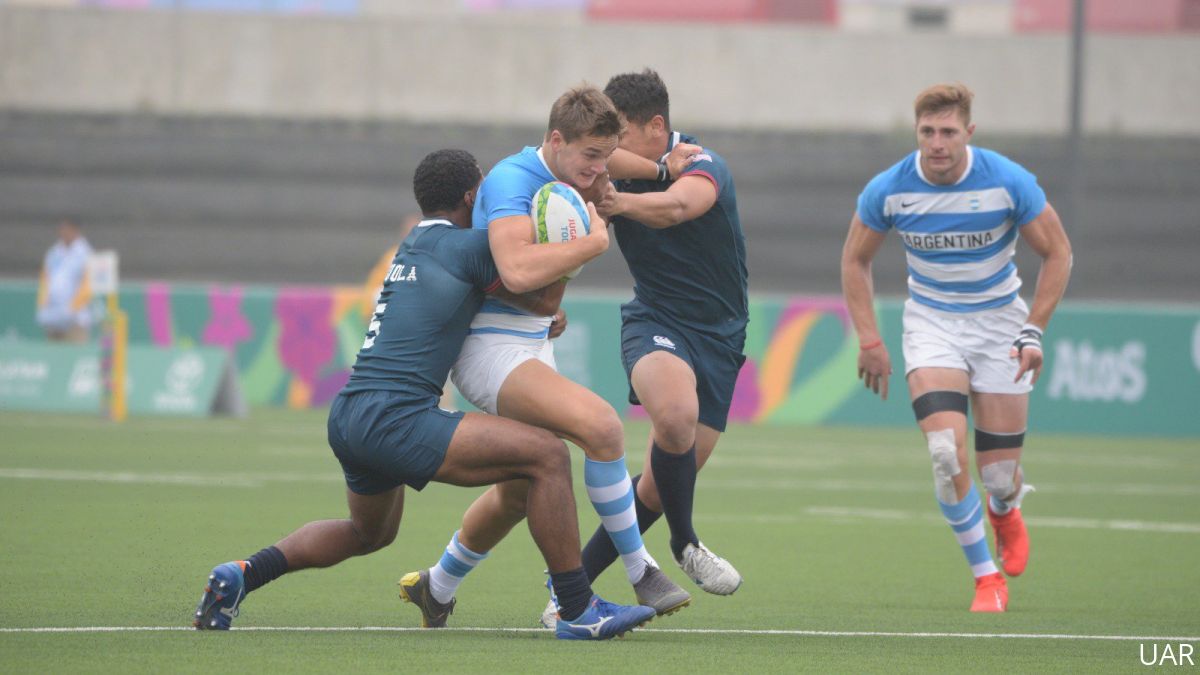 Canada and Argentina won gold in the Rugby Sevens competition at the Pan-Am Games Sunday.
The Canadian women's team defeated the USA 24-10 in the Gold Medal match to repeat as Pan-Am Games champions. Argentina won its first Pan-Am Games Gold, beating Canada 33-10 in the final.
The USA men and Colombia women took Bronze.
Bronze Medal - Women
Colombia played a very tenacious game and despite falling behind Brazil 24-12, managed to tie it up at the end of the game 24-24 with tries from Maria Lopera and Nicole Acevedo.
In overtime, Lopera once again the the heroine. Her second try of the game, coupled with two clutch conversions, completed the comeback—just reward for the Colombia team's fitness
Bronze Medal - Men
The USA lost to Brazil 12-10 in pool play on Saturday, and that was a strange game in that the official score was listed as 14-10 but later changed to 12-10.
Mike Friday, who is not with the team, tweeted that it would have been nice to know that during the game, because the Eagles had a penalty right in front of the posts with time up. Thinking they needed the try, the USA players tapped and ran. Guilty of a little too much white-line fever, the Eagles lost the ball and the game.
This passion play would repeat itself later in this Bronze Medal game.
The Eagles got on the board first when captain Cody Melphy took a hit and dished to an onrushing Harley Wheeler.
But after that Brazil took control. Using their powerful big men they tested the USA tacklers and bulled through for two tries in the first half and a 14-7 lead.
Penalties and mistakes helped Brazil take a 19-7 lead with four minutes to go before the Eagles started the comeback.
Wheeler took an excellent line to run in from long range. Melphy made the difficult conversion. Then, with time almost up the USA were deep in their own end, but found Travion Clark, who took the corner and stepped out of a tackle and he was gone to the corner.
That tied it up 19-19, and moments later it was full time.
¡Estados Unidos ?? y Brasil ?? se disputan, en estos momentos, la medalla de Bronce ? en Rugby 7 masculino ?! #Lima2019 #JugamosTodos pic.twitter.com/u20fvbfGBx

— Lima 2019 #JugamosTodos? (@Lima2019Juegos) July 28, 2019
So on to overtime, and the USA dominated this overtime. They pressured Brazil and got a penalty almost in front of the posts. Melphy, perhaps thinking of the previous game against Brazil, opted for a kick at goal. His kicking had been very strong all weekend, but he missed this kick and the teams kept playing.
The Eagles got the ball back on tapped on the next penalty. Hands out to Clark and he could have strolled in, but he dropped the ball. Clark was obviously distressed at the mistake, but the Eagles kept playing, and managed to forced a knock-on at midfield. From there Marcus Tupuola took over, sidestepping some exhausted Brazilian players to go 50 meters to win the game.
For the USA players, they learned what it takes to be tenacious at the international level, and learned that retaining composure is crucial, and that no one is going to give anything to you.
Well done to these young Dawgs ?...battled adversity the whole weekend and are coming home with a shiny thing ? #PRIDE #DawgsLyf https://t.co/MJEVG8sifi

— Mike Friday (@MikeFriday09) July 28, 2019
Wheeler was an emotional spark for the Eagles all weekend, and Anthony Welmers put in a ton of work. But little connections misfired, and that is why young players need time on this stage.
In addition, the Eagles managed to finish with just nine players. Injuries and what is reportedly a bad blood test (confirming on that) depleted their squad, so they learned to handle that, too.
Gold Medal - Women
Canada torched the USA women 24-10 to win the Gold Medal at the Pan-Am Games.
¡Felicitaciones a Canadá ?? por ganar la medalla de Oro ? en Rugby 7 femenino ?! ¡Increíble partido como el de Toronto 2015! #Lima2019 #JugamosTodos pic.twitter.com/qrFkBcrTHI

— Lima 2019 #JugamosTodos? (@Lima2019Juegos) July 28, 2019
The USA team had some moments but were a little slow in resetting on defense and paid for it with Asia Hogan-Rochester going around the outside for one, and the being on the end of some concerted phase play for another.
Between those two tries, Ilona Maher charged through, was tripped up, but got the ball to Kayla Canett in support. Maher was the most impressive USA attacker.
Hogan-Rochester added another try before Breanne Nicholas went over to make it 24-5. Naya Tapper set up Maher for another impressive run, but the USA didn't have enough time after that.
Gold Medal - Men
#Lima2019 | Gracias a nuestro Seleccionado Femenino y a @LosPumas7s por representar con tremendo orgullo a su país en @Lima2019Juegos @PrensaCOA pic.twitter.com/1DAKIcg8QE

— UnionArgentinaRugby (@unionargentina) July 28, 2019
And in the men's final, Argentina was more physical and more polished. Despite Canada scoring the opening try through Josiah Morra, the Pumas controlled most of the first half. Luciano Gonzalez, scored two and German Schilz added one, with Santiago Mare covering all three for a commanding 21-7 halftime lead.
Franco Sabato and Lautaro Bazan scored to make it 33-5 before Canada got one more through Sean Duke.