NAI 7s 2019
Gorilla Looks To Shake Up U20 Bracket
Gorilla Looks To Shake Up U20 Bracket
Gorilla Looks To Shake Up U20 Bracket
Jul 24, 2019
by Alex Goff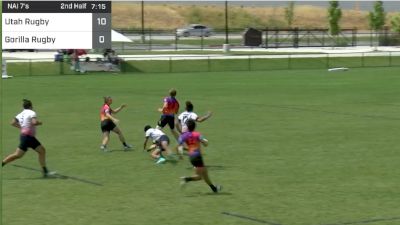 Along with elite-level U18 and U16 brackets at the NAI 7s is something that's become a bit of a trend in similar tournaments—a U20 bracket.
Kicked off last year, the U20 bracket has given players a chance to remain active in playing at a high level, and Gorilla Rugby has taken advantage, launching its U20 team this year.
Gorilla Rugby has been running U16 and U18 teams in major tournaments, but the U20 program is a new trial. The team is comprised almost entirely of 19-year-olds who played high school rugby in Texas, with most having just finished their freshman year at some major college programs.
Bring all of them together has been difficult, but the program has exceeded expectations. where they played at schools including Lindenwood, Kutztown, Arkansas St, Texas A&M, and UNT.
Watch Two Live Feeds For the NAI 7s August 2-3
Elite HS Brackets—NAHS 7s—Live Here
Two other NAI 7s Field Live Here
It has been a daunting task for a bunch of 19-year-old kids to step up and play in these large tournaments, but Gorilla has exceeded expectation, taking 3rd at the Lone Star 7s, taking the Bowl in the Men's Premier division at Bloodfest, and going 5-1 at the Hell or High Water 7s.
These were all tournaments again full-grown adult opposition. The U20 team will be playing again at the Red River Rampage and then loading up and heading to Salt Lake City where they will be playing in the NAI7s U20 Division. that youth connection is crucial, and we've already seen the likes of Zach Eglin, Kelsey Gladney, and Hell or High Water 7s player of the tournament, Evan Conlon, move up though the ranks.