It's a little weird to say that a rugby team based in Boston flies under the radar—the city is no shrinking violet—but that is what has happened in club rugby.
Despite winning the 2017-18 Men's D1 club championship, and despite almost making the final of the 2018 Men's Club 7s Championships, Mystic River is still easy to forget.
Watch The USA Rugby Club 7s National Championships LIVE on FloRugby August 10-11
New head coach Chris Frazier, who took over from Josh Smith when Smith stepped away to concentrate on working with the New England Free Jacks, has his players performing again this summer, and doesn't worry too much about whether anyone notices.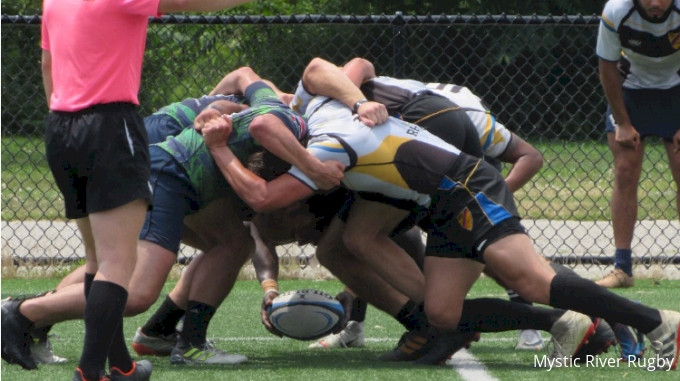 "Yeah we do tend to get overlooked a bit," Frazier told FloRugby. "Maybe it's because we're not in a big rugby community like California or Colorado, or even New York. We can be looked on as Old Blue's little brother. But when it's time to play, we've always stepped up."
And that's the story again this summer. Coming off a fairly comprehensive win at the Showdown At The Shore in Monmouth, NJ, in which they beat Old Blue in the final, Mystic is once again looking toward a strong run to the national title.
"It was a good performance but that final was very close," said Frazier. "We scored on the last play so it was 19-17 for a bit—very back-and-forth. Overall we've been getting better through the summer and even when we've been missing some guys we're played well."
Mystic has talent; they're no doubt about that.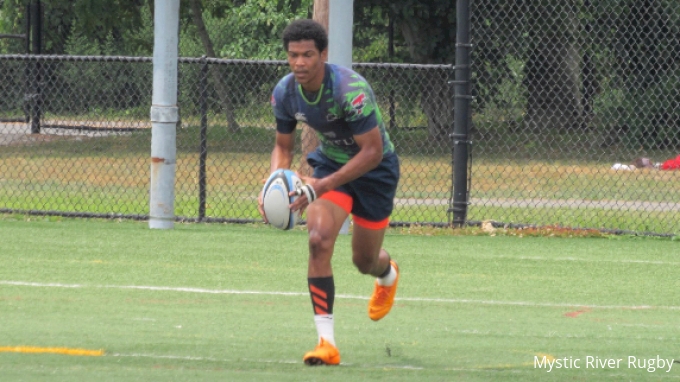 Trinidad-based Jeron Panter is back for another summer. He spent some time training with the USA Sevens players and at 20 has an enormous upside.
"The kid is electric," said Frazier.
It was Panter who made a move and burst up the middle to seal the final against Old Blue in Monmouth.
Mike Fasi is also very very quick, but at 18 he's still pretty green. His soccer background has translated into an understanding of space and some very good foot skills.
"Those guys competing against grown men is good for them, and we've seen that benefit," added Frazier.
Just look at Adnan Kawuma, who started playing with the Mystic men's team at 16 and now, almost 30, is a key leader and central figure with the squad.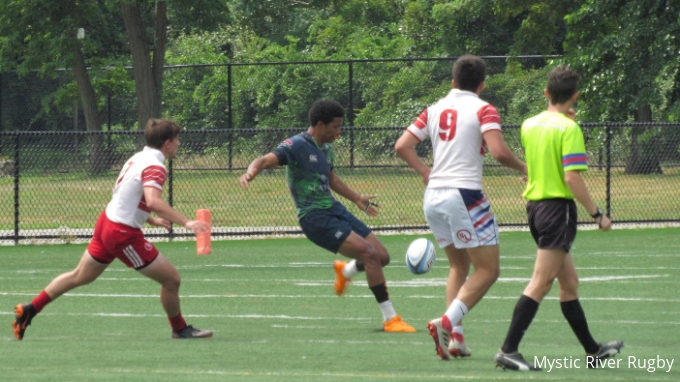 Ian Luciano brings that experience, too, having played with the Utah Warriors in Major League Rugby. Back in Boston for the summer, Luciano has that professional approach that rubs off on his teammates.
And then there's Cam Davidowicz, who, while young, was thrown into the thick of the competition and has performed admirably.
"We didn't know what to expect, but he's been unstoppable," said Frazier. "He goes a full 14 minutes every time."
Davidowicz is one of the college-produced players helping Mystic River, as is Bryan Michel, who was a standout for Stony Brook before joining Mystic River. He played center and sometimes flyhalf in college 15s, but his lanky frame and ability to get in the air makes him an ideal forward.
With Oliver Elgelhart, Isaiah Lopez, and Pecs Rinakama all bring experience and athleticism, this is, said Frazier, "the best squad of 12 Mystic's ever had."
Not that you'd ever notice.