2019 Women's Super Series
France Ready To Face USA Sunday
France Ready To Face USA Sunday
A look at the France side set to face the USA.
Jul 13, 2019
by Alex Goff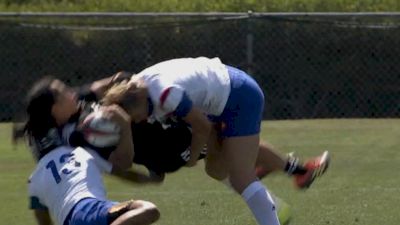 France and the USA are set to face off Sunday in the final day of the 2019 Women's Super Series.
Watch USA vs France LIVE on FloRugby July 14, KO 4PM PT
(Available everywhere except New Zealand)
France goes with mostly the same lineup that defeated New Zealand July 6, but not exactly the same. Clara Joyeaux comes in at tighthead prop for Anaelle Deshaye, while captain Gaelle Hermet switches from No. 8 to blindside flanker. Emeline Gros comes in at No. 8 and flanker Coumba Diallo is rested.
There is only one change in the backs, with center Maelle Filopon stepping aside for Toulouse outside center Camille Cabalou.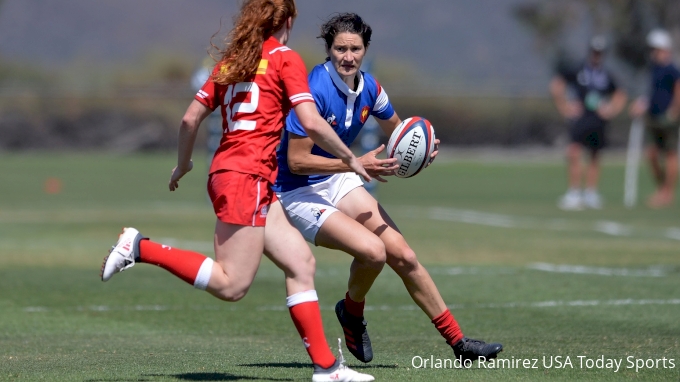 France Lineup
1 ARRICASTRE Lise LONS RUGBY FEMININ BEARN PYRENEES
2 THOMAS Caroline ASM ROMAGNAT RUGBY FEMININ
3 JOYEUX Clara BLAGNAC RUGBY FEMININ
4 FALL Madoussou AC BOBIGNY RUGBY 93
5 FORLANI Audrey BLAGNAC RUGBY FEMININ
6 HERMET © Gaëlle STADE TOULOUSAIN RUGBY
7 FERER Celine A S BAYONNAISE
8 GROS Emeline FC GRENOBLE AMAZONES
9 BOURDON Pauline AS BAYONNAISE
10 PEYRONNET Morgane MONTPELLIER R C
11 MENAGER Marine MONTPELLIER R C
12 VERNIER Gabrielle LILLE METROPOLE RC VILLENEUVOIS
13 CABALOU Camille STADE TOULOUSAIN RUGBY
14 BOUJARD Caroline MONTPELLIER R C
15 TREMOULIERE Jessy STADE RENNAIS RUGBY
Reserves
16 SOCHAT Agathe MONTPELLIER R C
17 TOUYE Laure BLAGNAC RUGBY FEMININ
18 DESHAYES Annaëlle AS ROUEN UNIVERSITE CLUB
19 LECAT Fiona STADE TOULOUSAIN RUGBY
20 BERTHOUMIEU Axelle BLAGNAC RUGBY FEMININ
21 SANSUS Laure STADE TOULOUSAIN RUGBY
22 COUDERT Emma ASM ROMAGNAT RUGBY FEMININ
23 BANET Cyrielle MONTPELLIER RC
Both France and the USA are 1-2 going into the tournament. France was very unlucky to lose to England on July 10 while the USA upset Canada on the same day. The winner of this game moves to 2-2 and will finish 3rd in the Super Series.
France's superb backline will likely cause some issues for the USA, but the Eagles have generally defended well. Their problems have been caused by errors, turnovers, and penalties.
But the USA secret weapon may well be the work in the forwards. They have a very mobile second row and a powerful front row that could control the scrum.
USA Lineup
1. Hope Rogers, 2. Joanna Kitlinski, 3. Nick James, 4. Nicole Strasko, 5. Stacey Bridges, 6. Rachel Johnson, 7. Joyce Taufa, 8. Kate Zackary(C), 9. Ashlee Byrge, 10. Gabriella Cantorna, 11. Jennine Duncan, 12. Amy TaleiBonte, 13. Emily Henrich, 14. NeariahPersinger, 15. AlevKelter

Reserves: 16. CatieBenson, 17. CharliJacoby, 18. Katy Augustyn, 19. AsinateSerevi, 20. Kristine Sommer, 21. Olivia Ortiz, 22. Bui Baravilala, 23. Kris Thomas
"It's been a great few days for the players reflecting from such a determined and exciting performance against Canada," said USA head coach Rob Cain. "To win the game with such a purposeful decision into the right space shows how far we have come from November. The exciting part is that there's so much more to come."
"We know France are a very talented team who have both physicality through their ball carriers and patience through their kicking game but are also extremely dangerous in open space."
Our Pick
Perhaps too dangerous. With Jessy Tremouliere and Marine Menager two of the best outside back on the planet, the young Eagles are up against it. France 29 USA 19.