Create a free account to unlock this article!
Get Started
Already a subscriber? Log In
It's been a somewhat roundabout path for Eagles playmaker AJ MacGinty and his ascension into one of the northern hemisphere's best flyhalves.
The current Sale Sharks outhalf grew up in Ireland, before crossing the Atlantic to play in the United States with NYAC and then the Life University men's side from 2012-2015. Great success there earned him a spot with the Eagles, and more quality showings at the test level scored him a contract back in Ireland with Connacht, where he led the Irish province to the PRO12 title in 2016.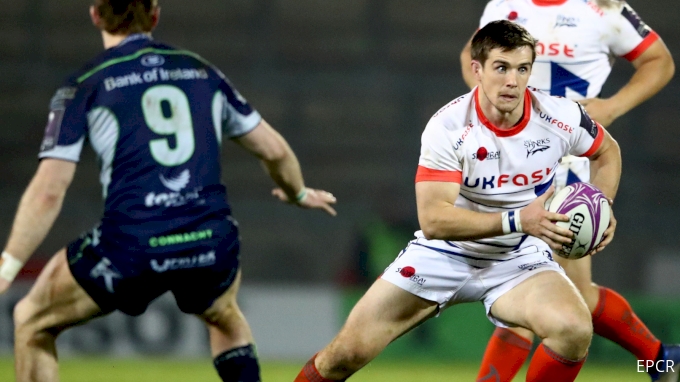 MacGinty was nice enough to take some time out of his hectic schedule to speak with FloRugby as he and his fellow Eagles prepare for this summer's Pacific Nations Cup ahead of the Rugby World Cup this October in Japan.
Watch The USA Prepare For the 2019 Rugby World Cup In A Clash With Canada
September 7 LIVE on FloRugby
The shifty flyhalf sheds light on preparing for a tough World Cup pool, the impact of Major League Rugby, playing top-flight rugby in the UK, his time at Life, and gives some pointers to young players who want to take their game to the next level.
FloRugby: It's widely regarded that the Eagles have been placed into the pool of death at this year's Rugby World Cup. However, Japan proved in 2015 that the Tier 1 nations are not unbeatable. With three of the top ten teams in the world in your group, do you look forward to the challenge? And will the team approach these matches differently than any other match?
MacGinty: For me personally I always want to test myself against the best players in the world and while it is a difficult group it's an exciting challenge to pit yourself against those three teams as well as Tonga who are a very good side, too. It was hard for me to watch the USA vs South Africa game in 2015, as I wasn't involved, because those are the games you want to play: against the best and on the biggest stage.
I don't think you approach any game differently but the priority for us is to get our preparation right and that starts now here in camp in Colorado and throughout the PNC and leading up to the World Cup.
We don't have to take inspiration from Japan about beating Tier 1 sides; we can take it from ourselves beating Scotland but we also know how difficult it is. The preparation has to be there so you can execute for 80 minutes against those sides because if you don't you get punished by Tier 1 nations.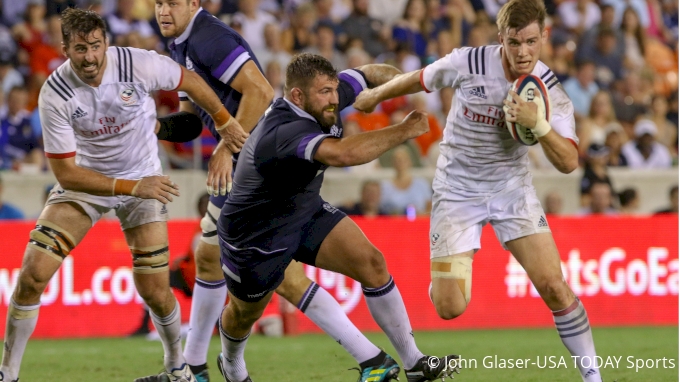 Games can turn very quickly as we saw vs Ireland last November and even in the last world cup where we led Scotland at half time and then saw the game go away from us as much to our errors as down to what they did well. But our main focus will be on ourselves and delivering a performance in each game we play.
"We don't have to take inspiration from Japan about beating Tier 1 sides; we can take it from ourselves beating Scotland but we also know how difficult it is."
FloRugby: Do you find that the introduction of Major League Rugby in America has had a positive effect on the national team?
MacGinty: It's definitely had a positive effect and hopefully it can continue because the longer it does it can only improve the standard of the national team. Everyone is turning up to camp in an improved physical and fitness condition closer to being ready for the demands of international rugby.
I was a domestic player in 2015 and realistically I was playing in two to three competitive domestic games a year as there just wasn't the quality of games. For the first time ever, the entire squad has come off the back of a pro season. We've all had exposure to a larger number of high-quality games, in front of improving crowds and televised all factors that will only help us be better rugby players and more prepared to play international rugby. I do think the benefits will be seen more in the coming years the longer the competition is up and running and the standard inevitably improves.
There is a great rugby fan base in the States and it is great to have something like the MLR on their doorstep to enjoy and also use as a tool to attract new fans. Seattle has been the most successful team on the pitch but you look at their crowds too off the pitch and think I would love to play a game there and have that home support behind us.
FloRugby: How has your time spent playing in the Guinness Pro 12 and the Gallagher Premiership impacted your abilities when it comes to test match rugby? Furthermore, what are the differences between playing in those two leagues?
MacGinty: To have four seasons playing with and against some of the best players in the world can only make you a better player and more confident in your ability to make an impact and influence test matches. My first cap against Samoa was played at a pace and intensity I had never played at and those initial games were all the highest standard I had played, with where now I have probably played another 50-60 games at that level.
As I mentioned earlier, if you make mistakes versus Tier 1 nations you get punished and it's the same in those leagues. Also hopefully I can pass on that experience to the players around me and it gives them confidence.
It's hard to compare. I do think the massive difference is no relegation in the PRO14 as teams can play with a bit more freedom and have more opportunity to rotate players and try new players during the season. The Prem is so competitive that if you lose a few games or have a bad run the threat of relegation can very quickly loom over you so there is probably a bit more intensity on every game each week.
"I wouldn't have played for USA or be a pro rugby player if it wasn't for Life University Rugby."
FloRugby: You played for some time with Life in Georgia, and my brother (Life University scrumhalf Ryan Rees) has told me you are very good about coming back and helping the current players with training and developing their skills. Is there anything you'd like to say about the Life program, and your time within it?
MacGinty: Yeah I loved my time in Life. We had a great team and great success while I was there. For a small school, the program that Dan Payne/Scott Lawrence built is phenomenal and it's great to see it continue with them being back to back national champs and the men's team winning the championship as well this year.
I wouldn't have played for USA or be a pro rugby player if it wasn't for Life University Rugby. When I arrived there I wasn't physically developed for this level of play and I had never been a great man for going to the gym. It was like going into a professional setup and probably explains why we had so much success. I think if you look at the players that came through that program it speaks for itself. I haven't been in Atlanta in about a year, but any time I am I love going back there and helping out in any way they want me too, it's a great place.
FloRugby: Lastly, what can young rugby players in America do to make it to the next level, such as you have? What's your best nugget of advice for the next generation of talent?
McGinty: Improve and practice their skills. US national teams, club teams, college teams are never not going to be physically ready for rugby. The major gap is in skills; part of it is a lot of players come to the game later but even those players and players starting younger need to do more skills.
There was a massive emphasis on it when I was in Life. I was quite shocked how good some lads were and how fast they improved for only playing the game for a few years, but they worked extremely hard at it. So the talent is definitely there and players need good coaching on technique and establishing good habits. The extra gym sessions are always popular, but priority should be getting a ball in your hand as much as possible.
Also, there's plenty of rugby available to watch so having a team to follow is a brilliant way to learn new things or better your understanding of the game.