Create a free account to unlock this article!
Get Started
Already a subscriber? Log In
The Red Roses dug deep to grind out an extremely tight contest over Les Bleus. Emily Scarratt's 15 second half points saw England overcome an 18-5 halftime deficit to move to 3-0 in the Super Series with one game remaining.
It was a tale of two halves, as France came out clicking in the first 40 minutes. An early cross-field kick from French flyhalf Camille Imart found its way perfectly into the waiting arms of right winger Cyrielle Banet to give the French a 5-0 lead inside of two minutes.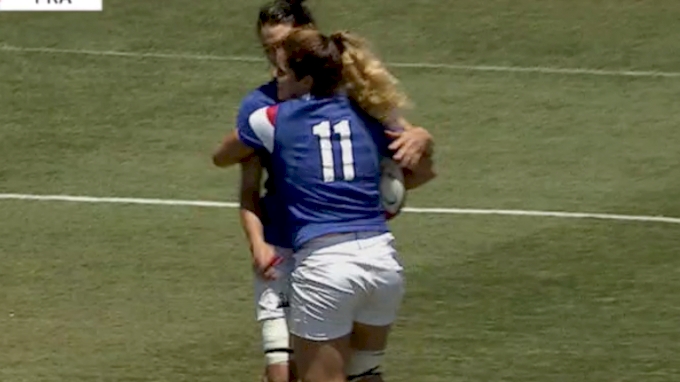 After a well-worked buildup from England ended with a ball held up in-goal, the Red Roses capitalized on the ensuing scrum. The ball popped out from behind the No. 8's feet and halfback Leanne Riley spun the ball to the left wing for Kelly Smith to operate one-on-one with her opposite. She gave the old in-and-out with a quick fend to beat her defender and dot down to tie the game at 5-5 after nine minutes.
The next ten or so minutes were very physical. The French made crunching tackle after crunching tackle to put a halt on numerous English opportunities. Though the Red Roses made consistent headway with ball in hand all half, they succumbed to too many handling errors, which could be attributed to France's defensive pressure and some forced offloads in contact.
At the 23-minute mark, France struck again, this time through winger Caroline Boujard. From a scrum all the way on the far left-hand side of the field just past the halfway line, French No. 8 Gaelle Hermet took one from the back and fought off two tacklers to offload to a pacing Boujard.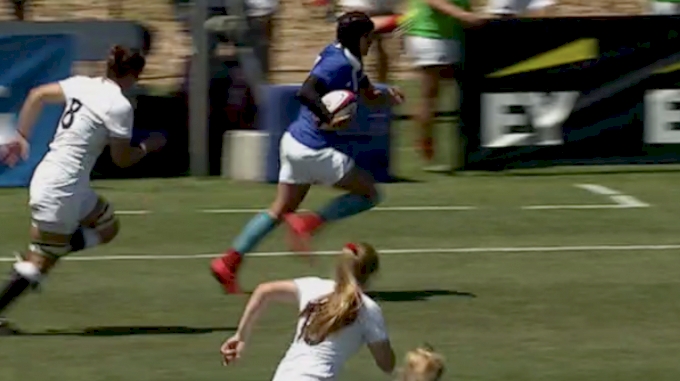 The winger then did the rest, racing past everyone up the touchline before giving a shimmy of the hips to breeze through the attempted tackle from the covering England wing. Jessy Tremouliere converted from out wide to make it 12-5 France.
Some ill-discipline from England inside their own half gifted France another two penalty shots at goal. Tremouliere slotted both, one of them a 45-meter blast from close to the sideline to close out the half. Her boot was a key factor for Les Bleus, as she was both making kicks off the tee and pinning the Roses deep in their own half with long, raking punts into the corners.
England Claws Back
England showed great resolve though in the second stanza. They played safer with the ball, and ran through phase after phase, forcing France into a number of penalties. The Red Roses used those opportunities to kick deep to touch and spend most of their time inside the French half.
After nine minutes they were rewarded, when Zoe Harrison put a crossfield kick of her own into the Les Bleus try area and johnny-on-the-spot Emily Scarratt pounced on the bouncing ball to get her second-half tally started. That made it 18-10.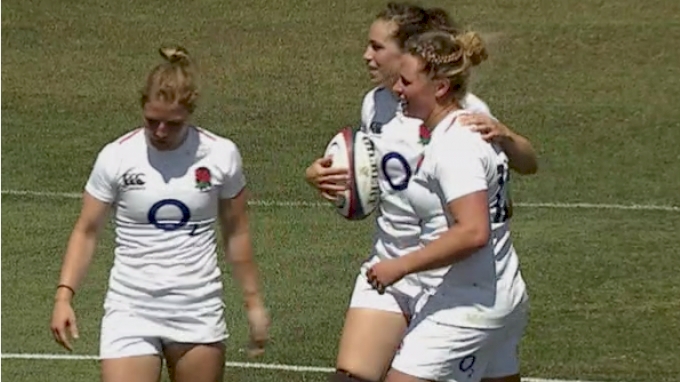 The next 15 minutes proved to be pivotal. France played heroic defense to keep England out of try zone, and found a few breakouts through counterattacks that flipped the field. They twice had their chances to take back the momentum, but a knock on one meter from the line and then a phenomenal turnover won by English flanker Marlie Packer under the shadow of her posts kept France scoreless.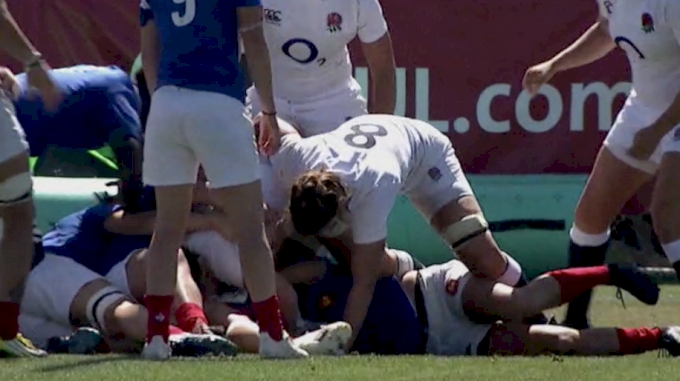 A couple of great Zoe Harrison kicks later had England back in France's 22, and that's when the Emily Scarratt show went to another level.
The Roses had a lineout just inside the 22 on the far right-hand side of the field. Lark Davies' throw was brought down well into a rolling maul that garnered a penalty advantage for England. Well aware of the situation, Zoe Harrison got herself into a good position to put boot to ball once again for a cross-field kick, this time to her left-hand side.
She spotted Scarratt hanging out wide, and hoisted a perfectly weighted kick which came down just a yard beyond the try line. The tall, athletic English center came bursting on at high speed and leaped high into the air over the outstretched arms of Tremouliere and Boujard to come down with the ball and dot it down in the whitewash. For good measure, she added the extras from out wide to bring the score to 18-17 with 11 minutes to play.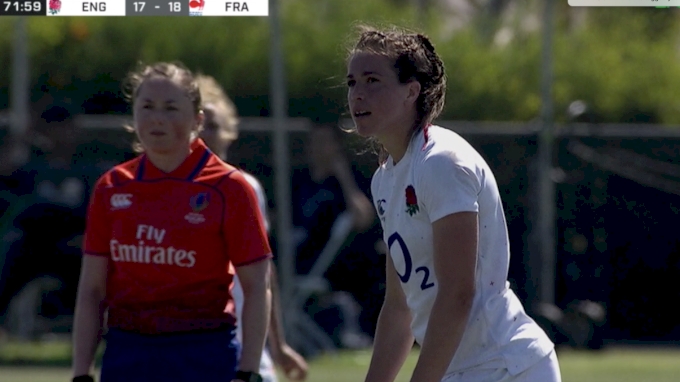 A few minutes later, France yielded another penalty inside their own half. Full of confidence, Scarratt stepped up to attempt the 38-meter kick. As expected, she nailed it right down the middle to put England in front for the first time all game, 20--18.
The next seven minutes were tense, but England's fresh bodies came in clutch and they were able to regain possession after a period of tough defense within their half. After a dozen or so phases, the Red Roses were able to run the clock into the red before scrumhalf Leanne Riley found Scarratt once more and the player of the match booted the ball into the crowd to finish off a standout performance with a victory.
They don't call this fixture Le Crunch for nothing; this was as physical a game as there has been in this Super Series. Many players suffered knocks and injuries, and it's best wishes for a speedy recovery to France center Elise Pignot, who was stretchered off with a leg injury after a very impressive performance.
England will look to make it a clean sweep in the Super Series in their final matchup with New Zealand, while France try to get to 2-2 as they meet the United States.
England 20
Tries: Smith, Scarratt, Harrison
Convs: Scarratt
Pens: Scarratt
France 18
Tries: Banet, Boujard
Convs: Tremouliere
Pens: Tremouliere 2