FloRugby Finalizes Top HS Players
FloRugby Finalizes Top HS Players
Alex Goff lists the top all-HS teams
Jul 7, 2019
by Alex Goff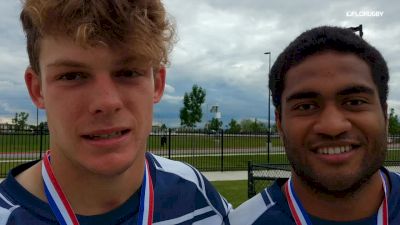 FloRugby has finished off its list of top players from each position in high school rugby.
The list, which will be updated his summer following RCT analysis and lobbying by those who think we missed someone, is meant as recognition for players who went above and beyond for their high school teams.
Each position also got a positional player of the year (one each for prop, hooker, lock, flanker, No. 8, scrumhalf, flyhalf, center, wing, and fullback). That, however, isn't enough to fill out a full team.
So we've added to it. Here is our 2018-19 All-Boys-High-School 15:
1. John O'Toole, Gonzaga HS, DC
2. Mike Cross, St. Augustine HS, CA
3. Mariano Delgado, Herriman HS, UT
4. Carson Shoemaker, Arrowhead Berserkers, AZ
5. Jack Brown, Charlotte Tigers, NC
6. Russell Lemaster, Royal Irish, IN
7. Colin Turner, Back Bay, CA
8. Miles McCormick, Cathedral Catholic, CA
9. Karl Keane, Eastside Lions, WA
10. Nathan Schooling, Jackson Wolverines, FL
11. Dominic Tianga, Wellington Wizards, FL
12. Will Chevalier, Neuqua, IL
13. Junior Gafa, Back Bay, CA
14. Donovan Law, Charlotte Tigers, NC
15. Max Schumacher, Jesuit HS, CA
We took a little license with the flanker position, moving No. 8 Russ Lemaster to #6, but this was the best choice we felt based on the talent available.
And, since we had so many good candidates, here are our honorable mentions:
1. Carllieon Fielder, St. Ignatius, OH
2. Ryan Bullock, Germantown, TN
3. Marco Caramanico, Xavier, NY
4. Kelecki Latu, Jesuit, CA
5. Cole Taft, De La Salle, CA
6. Nate Roebeck, Raleigh Redhawks, NC
7. Ray Weiner, Aspetuck Valley, CT
8. Ethan Howard, Back Bay, CA
9. Aaron Scheckels, Fort Hunt, VA
10. Sean Nolan, Back Bay, CA
11. Elijah Billips, Play Rugby, NY
12. Aidan Smith, Xavier, NY
13. Darius Law, Charlotte Tigers
14. Jackson Hammer, Herriman, UT
15. Orrin Bizer, Woodlands Youth, TX