Canada laid down a bit of a marker and New Zealand improved to 2-0 in the Women's Super Series as Round 2 completed at the Elite Athlete Training Center in Chula Vista, CA.
Canada backed a smart game plan and some teeth-rattling defense to leave France in the dust 36-19. Pressure early set up No. 8 Sophie de Goede for a penalty goal, and while France replied with big lock Safi N'Diaye busting over the line, the Canadians slowly began to take control.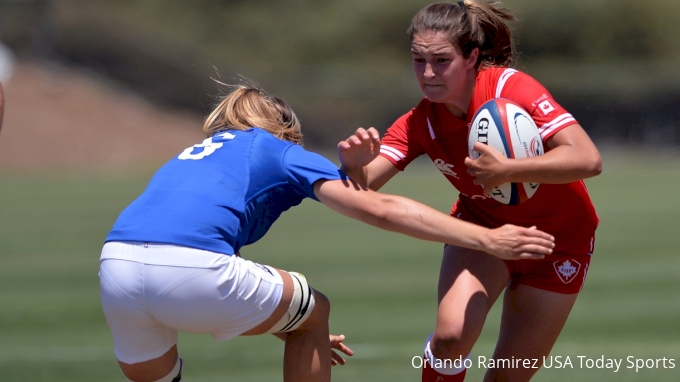 Canada's forward pack rumbled towards the line before Tyson Beukeboom stretched out to touch the ball against the base of the post. De Goede's conversion gave her side a 10-7 advantage.
But with less than 15 minutes on the clock France retook the lead. On a scrum in the center portion of the pitch, the French put all of their backs on the right, so of course scrumhalf Laure Sansus cut left, dipped a shoulder to freeze the defense, and was in at the corner.
Watch Canada vs France On-Demand
That put France up 12-10. But Canada's defense pinned France in their own end, and forced kicks that the backs, including fullback Elissa Alarie, were only too happy to return.
The forwards backed that up and flanker Janna Slevinsky stretched over to make it 17-12 at the break.
It was more Canada in the second half. Both teams had been guilty of multiple turnovers, and it was Canada that fixed it.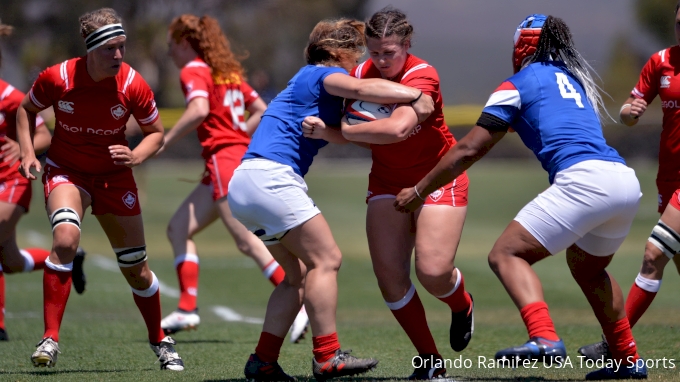 "We really wanted to put our bodies on the line and work as a team," said Alarie.
Some more work from the forwards opened up some space for a superb backline passing sequence that put wing Sabrina Poulin in at the corner. Center Alex Tessier's quick passing fed Alarie, who waited for the right moment to commit the final defenders and give Poulin a free run.
Alarie was captain for the day, while prop Laura Russell took a rest, but Russell was part of an experienced bench that came on the close out the game, and it was Russell who thundered over for Canada's fourth try.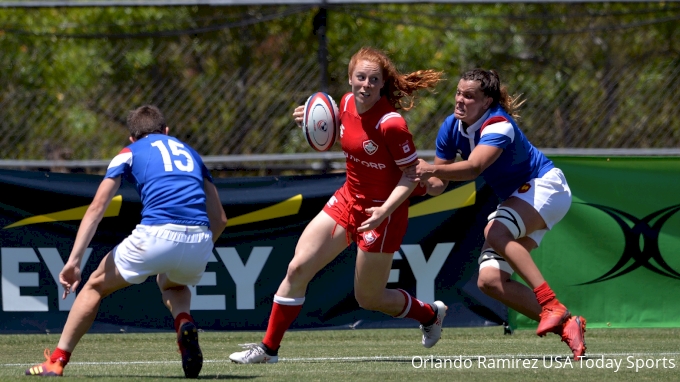 France tried the same thing, and did finally see Jessy Tremouliere over, but it was too little too late. Canada came back—shorthanded thanks to a yellow card—and center Amanda Thornborough celebrated her birthday with a nice fend and try to capt if off 36-19.
"We needed to take better care of the ball and give us a chance to play with it," said France captain Gaelle Hermet.
For Canada, this was an impressive performance and sets them up well over the next two game days.
Canada 36
Tries: Beukeboom, Slevinsky, Poulin, Russell, Thornborough
Convs: De Goede 4
Pens: De Goede
France 19
Tries: N'Diaye, Sansus, Tremouliere
Convs: Coudert 2
NEW ZEALAND 33 USA 0
Despite losing in a shutout, the USA put in a stronger performance against the #1-ranked Black Ferns on Tuesday, getting many more scoring opportunities despite fielding a relatively young side, and holding the Black Ferns to half the number of points they scored against the Eagles last November.
But in the early going it was all New Zealand as the USA was forced to defend its line for multiple phases. This they did, but the dam finally broke with Carla Hohepa taking a little pop pass and going over.
Watch New Zealand vs USA On-Demand
With the USA unable to win its lineout consistently and committing too many turnovers at ruck time, New Zealand was able to put the USA under more pressure. That set up hooker Te Kura Ngata-Aerengamate for the second New Zealand try.
"They really made us work hard for it," said Ngata-Aerengamate. "But we just trusted our processes today and got it done."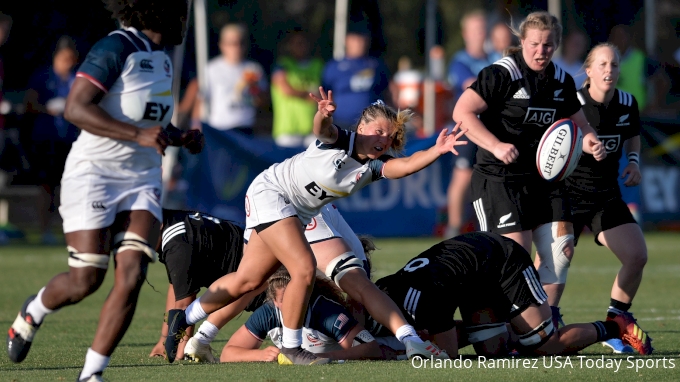 Scrumhalf Kendra Cocksedge slotted the conversion and then tapped quickly on a US penalty to set up Natahlia Moors in space on the right wing, and she finished it off in the corner.
That made it 19-0. Eagles center Alev Kelter missed a penalty attempt later in the first half, which was unfortunate as the final 12 minutes of the first half were spent in the New Zealand 22, but with no points to show for it.
New Zealand scored early in the second half through Tapsell, but the USA had more of the run of play after that. Bui Baravilala, whether at fullback or flyhalf, was very useful in attack and Kate Zakary was strong all day. Nicole Strasko brought a spark as a sub in the second row.
But the Eagles still could not secure their lineouts at critical moments, so much so that they started calling for scrums on penalties. Several times the USA came close to scoring, but New Zealand's cover defense was there.
Black Ferns lock Eloise Blackwell capped off a maul for the final try.
"I was pretty happy with the performance today, the score was probably where we wanted it to be," Black Ferns assistant coach Wesley Clarke said. "To dissect the game we'd probably say we were pretty clinical in the first half but probably got a bit messy by the end."
"We needed to clear up our discipline a bit," added Ngata-Aerengamate.
Certainly New Zealand was very fortunate not to get into more trouble for some high tackles and some repeat infringements in their own 22, as referee Holly Davidson was feeling in a generous mood.
For the USA, lock Alycia Washington said "we saw a lot of improvement, and we've been working on connecting the dots. We had some good buildup and it seems to be one or two little things that we still need to get right. But there's a lot of good to take out of this."
Newcomer Katan Howard showed a lot of promise at flyhalf.
New Zealand 33
Tries: Hohepa, Ngata-Aerengamate, Moors, Tapsell, Blackwell
Convs: Cocksedge 4
USA 0