2019 USA Rugby Club 7s
Life West Books Place At Sevens Nationals
Life West Books Place At Sevens Nationals
Life West wins the 2019 Western Super Qualifier.
Jun 30, 2019
by Alex Goff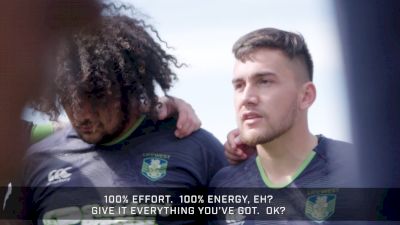 Life West defeated Belmont Shore 29-5 in the final of the Western Super Qualifier on Treasure Island in San Francisco, CA to lock in a spot at the 2019 USA Rugby Men's Club 7s Championships.
Watch the USA Rugby Club 7s Championships LIVE on FloRugby
The result capped off a competitive eight-team qualifier which also saw the Westside Ronins out of the Seattle area compete well.
Belmont Shore defeated San Jose 34-7 in the semis, while Life West had to work for it in a 24-10 win over the Westside Ronins.
In that game, a last-second try somewhat flattered Life West. But in the final, the Gladiators dominated. Belmont Shore couldn't secure possession, and had trouble containing Life West's power runners, especially Martini Talapusi, Cecil Garber, Anthony Welmers, and Lorenzo Thomas.
But more than that, Life West was balanced, and fit.
"We talked about it throughout the week," said scrumhalf Devereaux Ferris. "Last year we lost the Super Qualifier final with a strong squad, and we just wanted to keep building toward nationals and not worry about the results. But I knew that if we stuck to what we've been training, and relied on our fitness, I thought we'd do well."
That's exactly what happened. Life West dominated in the restarts, and used their balance of power and pace. With Tim Stanfill, Jihad Khabir, and Royall Jones adding attacking flair, they ran out to a 19-0 lead and never looked back.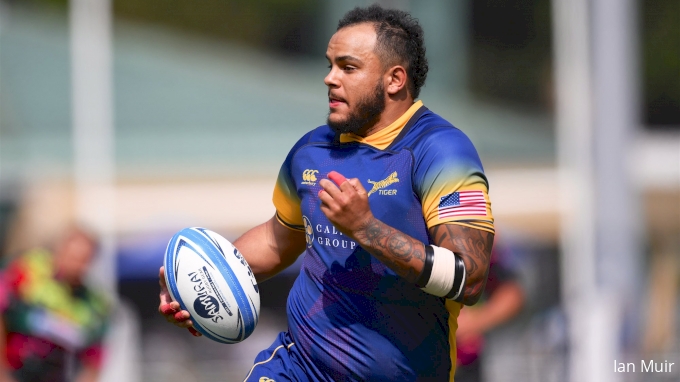 Lorenzo Thomas in action for Tiger Rugby
"We pride ourselves on our kickoffs," said Ferris. "But we also knew we could put them under pressure and capitalize on their mistakes. On attack we just played our game and I am pretty proud of what we did today."
It has taken a little bit of time to put all the pieces together, said Ferris, but now that the Gladiators have accomplished the task of qualifying for nationals, they can work more on continuity.
"This weekend is the first time we've played as a solid squad," Ferris said. "Tim Stanfill is very experienced and really important to what we're doing. Cecil Garber is a huge influence with his physicality, and Anthony Welmers is one of the best sevens players in the country. Add in Lorenzo and Jihad and Royall and you've got that X-factor.
"Qualifying does take a bit of the weight off our shoulders, but we know we have more work to do."