2019 USA Rugby Club 7s
New Look New York At Newport 7s
New Look New York At Newport 7s
Newport 7s Old Blue, Mystic River, New York Rugby Club, ROOTs Rugby
Jun 21, 2019
by Austin Willis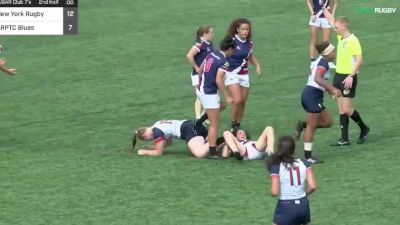 Take a quick look back to the 2018 Club 7s nationals and you'll quickly realize that the Atlantic North was the best division last year.
Old Blue and Mystic River qualified and both went undefeated in pool play. Mystic beat Metropolis in the quarterfinals in the comeback of the tournament before they fell to the eventual champion, Bulldog, by eight points. Old Blue arose from the pool of death, but lost 7-5 to the eventual runner up, Belmont Shore.
These teams were close last year.
Old Blue
The MLR shook up Old Blue's squad. They lost their famous faces, Connor Wallace-Sims (RUNY), Derek Lipscomb (RUNY), and Paris Hollis (RugbyATL). As always, Old Blue reloaded with a new batch of talent.
The biggest name of the bunch, JP Aguirre. Aguirre is quite possibly the top recruit in all of club 7s. In his trophy case he's got a Collegiate 7s national title, a CRC title, and a 2018 Club 7s national championship with Bulldog.
He went to the RugbyTown 7s final with Tiger Rugby and was a standout at the World Rugby Americas Combine. This MLR season he signed to Austin Elite. This offseason he took a job in New York and he'll suit up in Blue.
Chase Schor-Haskin was on his way to a starting spot with Life University's national championship squad until an injury took his season.
Only a sophomore in college but has represented the USA at the 2017 Maccabiah Games in Israel and played for Tsunami in RugbyTown 7s. At 6'3 210lbs Schor-Haskin will be one of those playmaking props that Old Blue likes. He won't have Paris Hollis speed, but he's got an offload package that will save Old Blue several rucks.
Mystic River
The sleeper pickup for Mystic is Mikel Facey. The speedster represented Jamaica at the Rugby World Cup 7s in San Francisco at only 18 years old. He was a rugby leaguer in Jamaica until he made the switch to union to play in the Rugby Americas North U19 division for a few years. Facey is young and raw, but he's got speed and a step like the next player on this list.
Jeron Pantor is back in Massachusets. The Trinidad & Tobago product made the Mystic side last year and was a human highlight reel. Like Facey, is a Caribbean player but has a bit more polish to his game. He's unselfish and loves to move the ball around the pitch. He's a pass and loop player that can carve up a defense with quite possibly the best step in the country.
If you don't know Pantor now, you will by the time Club 7s nationals gets aired on FloRugby and his step is plastered all over our highlight page.
Oliver Engelhart is the last piece of the puzzle for Mystic. The Collegiate All-American from Hong Kong and Dartmouth is fresh off a D1AA national championship and was recently signed the New England Free Jacks. Engelhart has been the backbone to Dartmouth's success at the CRC's since Madison Hughes left for the Eagles.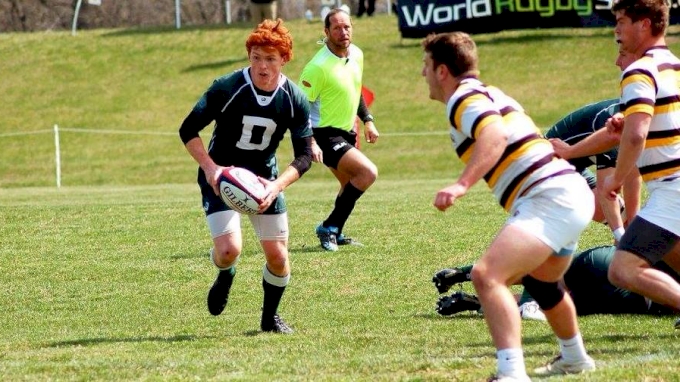 Pairing Engelhart and Pantor is a brilliant plan. At any point these two playmakers can shift the ball to opposite sides of the pitch. Mystic will always have a game-breaking set-up man on the pitch for the entire season.
Mystic lost Matthew Novitzkas to the Huns, but they've got all the pieces they need to make another run at the Club 7s title.
With no Bulldog in the competition this season, the path is clear for both Mystic and Old Blue to make deep playoff runs once again.
Women's Bracket
You have to watch out for New York Rugby Club.
New York Rugby Club
They smashed through a tough pool at nationals last year going 3-0 on day one. Wins over Washington Athletic Club, Atlanta Harlequins, and NOVA proved New York was a viable contender for the title. Then New York came up against ARPTC in the quarterfinal and with seconds left they took the lead that some thought would put New York into the semis. But on the final play New York let Hallie Taufoo go coast-to-coast to score the game winner.
New York went on to win the plate by smashing the Rocky Mountain Magic and the Berkeley All-Blues.
New York will be the favorite to take Newport 7s, but watch out for the new team on the scene.
ROOTs Rugby
This team is new to the scene but already seen success on the men's competition. The men won the Carolina 9s rugby league competition which helped several ROOTs players to opportunities to play for the USA Hawks.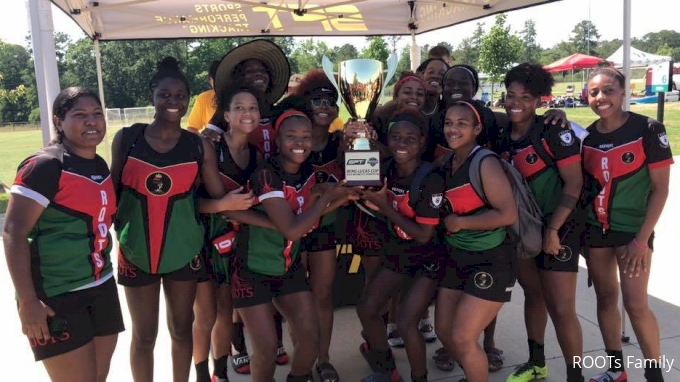 "R.O.O.T.S stands for Rugby Offering Opportunities To Succeed. This program was originally created to give rugby players from the African Diaspora more of an opportunity to play at higher levels and with the freedom to just play for sisterhood and brotherhood. Without the worry of being a stereotype on a team. ROOTS doesn't close Opportunities for those not from the African Diaspora, rather we encourage and invite participation for all interested in representing ROOTS." -ROOTs Family & Friends.
Newport 7s is going to be a proving ground for this women's team.
ROOTs takes on New York in the first match of Newport 7s. Beat a perennial powerhouse like New York and a WPL team like Beantown and ROOTs will shake up the expectations Atlantic North and beyond.