The Eagle Women 7s Are Much Better; Here's Why
The Eagle Women 7s Are Much Better; Here's Why
A breakdown of why the USA Women's 7s team is getting better.
Jun 17, 2019
by Alex Goff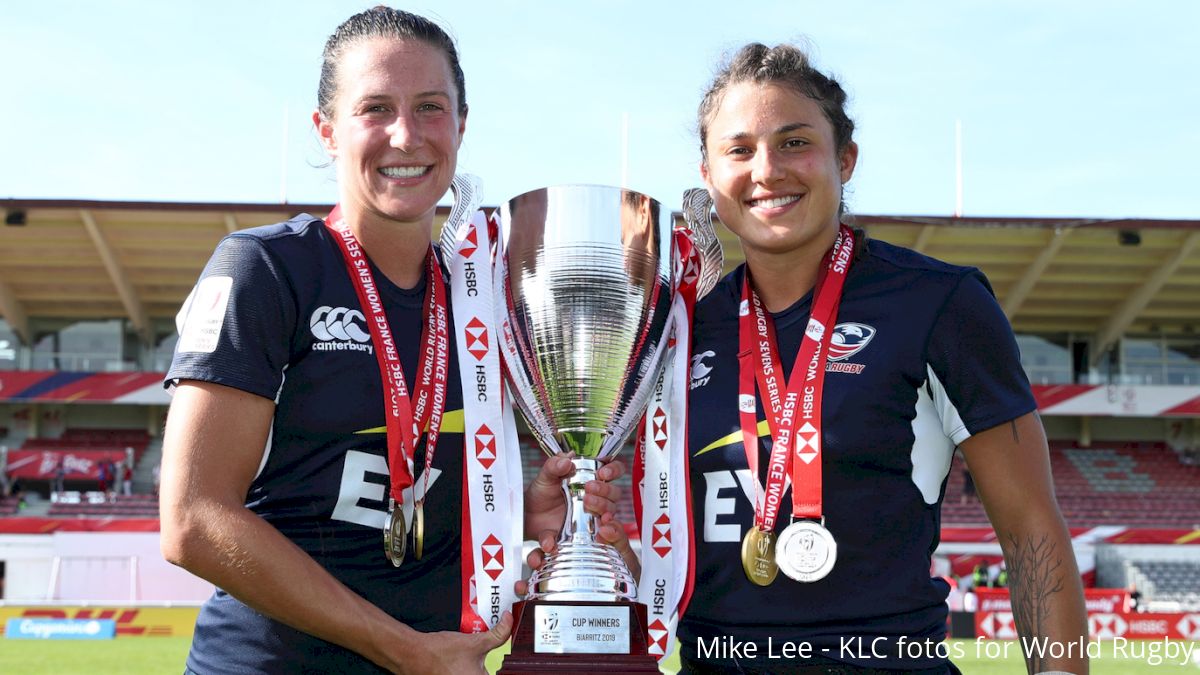 USA Women's Sevens head coach Chris Brown won the Women's World Series Coach of the Year Award, and it was well-deserved.
Brown took a team that appeared to be underperforming and said he would bring consistency to their performances. That is exactly what he did. And in the land of everyone falling on their feet, the guy he replaced, Richie Walker, ended up coaching the Seattle Seawolves as they won the MLR.
So sometimes you just need a change. Brown inherited a team that wasn't playing as a team, and was expecting others to step up. Brown said he wanted to change the culture and the defense. He didn't state he expected the team to be fitter, but everyone knew he'd work on that, too.
The final exam was Sunday, when the Eagles dominated New Zealand to win 26-10 and take the Biarritz 7s trophy.
Culture And Lauren Doyle
We are using Lauren Doyle as a sort of all-encompassing example. Every player on the USA team last season had deficiencies. Fast players weren't physical enough. Power players weren't developing their skills and speed enough.
? "I've imagined this moment so many times. It means the world..."
@Ldoyle2009 takes a moment to reflect on @USARugby's achievements. #BiarritzSevens pic.twitter.com/BushZ7ud7K

— World Rugby Sevens (@WorldRugby7s) June 16, 2019
Sometimes even their power players didn't play with power.
Few were playing in a team format. That was highlighted in this column following the team's 11th-place finish in Dubai in 2016. Doyle was singled out specifically for her lack of connecting with teammates.
But in Biarritz, Doyle was different. She was a link as well as a finisher. She served many roles, and in doing so we got to see what makes her great. That length-of-the-field chase to stop a try against Fiji ensured the Eagles had an easier run to the final, and possibly was the play that won it all.
Then look at other players. Look at how Ilona Maher has become an offload specialist as well as a bulldozer; how Cheta Emba is in the middle of the action and using her height and vertical leap to win ball; how Naya Tapper and especially Kristen Thomas are now very grouchy ballcarriers who win the point of contact.
They all Doyled in some way, and in doing so we saw the culture of self-improvement, of owning one's own faults, develop.
Defense Part 1
That was the culture part. Here's the defense part. The Eagles quickly got better on defense this season (see chart below). Their worst defensive performance was in the opening tournament in Glendale, and by Dubai they had reduced points allowed by almost 30%.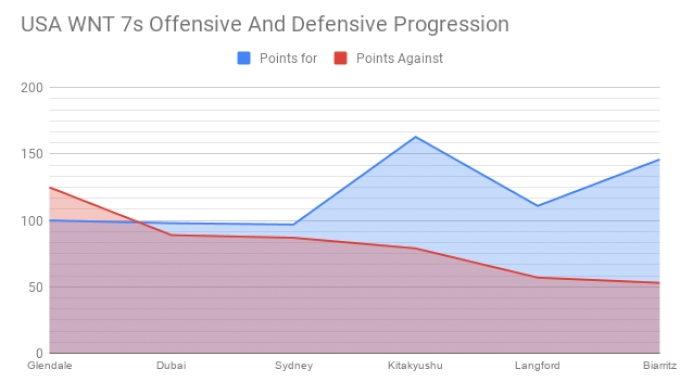 But they kept on improving, and Biarritz was the team's best defensive performance yet, as the Eagles allowed 53 points, or 7.8 points per game. That's almost exactly half of what they did in Glendale.
Why? Well this is the consistency part of the equation. The tackles were consistent. As a result, fewer players had to come in to rescue a poor tackle, thus leaving holes elsewhere.
Defense Part 2
There's a game-to-game aspect to the defensive effort, too. Here's another chart.
Tries Allowed Game-By-Game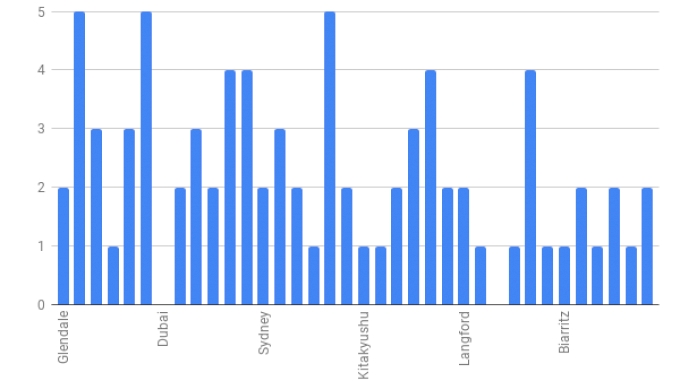 This shows tries allowed in each game. Notice how the Eagles allowed five tries twice in Glendale—both against New Zealand. And then over the next two tournaments, they allowed four tries twice and five tries once more.
And then, it seemed, they made a decision not to do that anymore.After getting slammed in the semis in Sydney they attacked every game with vigor. You can have a mind-set within a game of playing great defense, but you also have to have a mind-set throughout the tournament. You can't take a game off. You have to decide, like Doyle did against Fiji, that it's just not going to happen; the opposition is not going to score.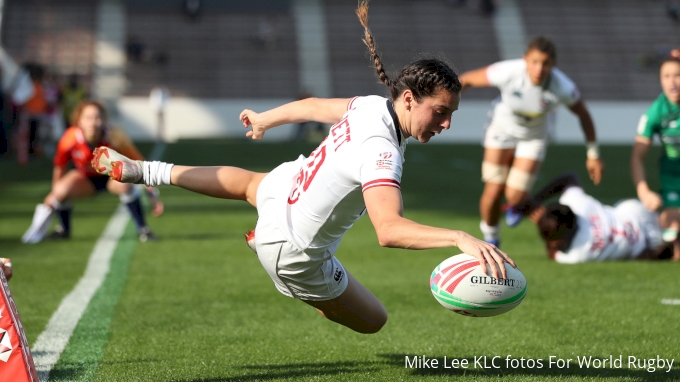 In Biarritz, the Eagles allowed nine tries, and never more than two in a game. That kind of attitude has to be part of the Eagle dynamic.
The three five-try games were all against New Zealand, by the way, and overall the USA was 2-5 against the Black Ferns, giving up five or four tries in every loss. But they perhaps turned a corner in beating New Zealand 26-19 in Kitakyushu. That game might be one we can point to as showing the Eagles the way.
Final Stats
The Eagles were 26-10 over the course of this season, with a losing record against England (two close losses and one blowout win that also helped them turn a psychological corner), and 2-5 against New Zealand. Against the rest of the field, the USA was 23-3, going 1-1 against Canada, 2-1 against Spain, 3-1 against Australia, and sweeping China, France (1), Russia, Ireland, and Fiji.
With the constant defensive improvements, and how the players have broadened their individual skill sets, those stats show that the USA is a real medal contender in 2020.