The USA Women's Sevens team has made history, winning a Sevens World Series for the first time, as the Eagles beat Russia, Spain, and New Zealand to take home a tournament trophy in the final round of the 2018-19 season.
For the Eagles, they played one of their best games in the championship fixture, taking down World Series champs New Zealand 26-10 thanks to a stifling defensive effort.
It also helped to have Alev Kelter back. Kelter missed the opening game of the tournament as she was serving out a red card suspension. She then got another red card in the third pool match and was suspended for the quarterfinal.
But back for the semi and the final, Kelter, clearly rested and fresh, was a terror and scored two tries in the championship match to win MVP of the final.
USA 27 Russia 12
After showing vulnerability against Fiji, the Eagles built on a solid 19-7 win over France the day before with a comprehensive defeat of Russia.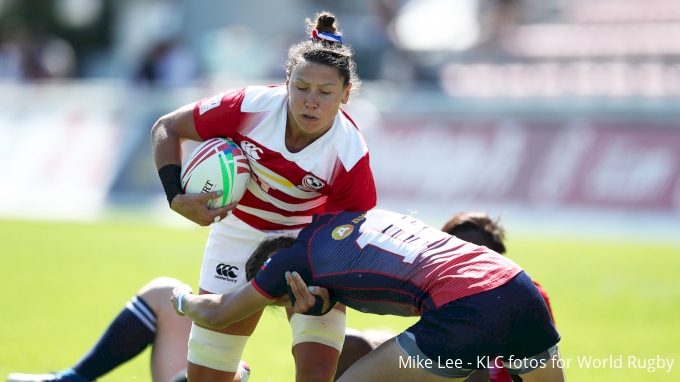 The imposing Ilona Maher charged over to open the game and Kristen Thomas—who emerged as a more physical presence in this tournament—scored to make it 10-0. Russia scored right at the end of the first half, but the USA started to pull away, seeing speedsters Naya Tapper and Kristi Kirshe through.
USA 27
Tries: Maher, Thomas 2, Tapper, Kirshe
Convs: Heavirland
Russia 12
Tries: Seredina, Zdrokova
Convs: Seredina
USA 24 Spain 7
That set up a final against a Spain team that always seems to I've the USA trouble. But the Eagles worked very hard on defense to prevent Spain's quick-taps, and also did well not to get into penalty trouble in the first place.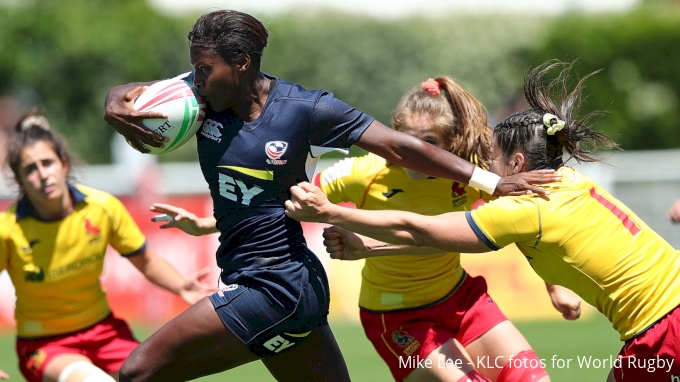 Still, Spain opened the game with a try and the Eagles needed to regroup. They did. Tapper torched the Spanish twice and, back on the field, Kelter scored a try and set up Doyle for a crucial score.
USA 24
Tries: Tapper 2, Doyle, Kelter
Convs: Kelter, Heavirland
Spain 7
Tries: Pia
Convs: Garcia
Cup Final: USA 26 New Zealand 10
The final was almost all USA. While the Black Ferns 7s have been in fairly dominant form all season, the Eagles concentrated on defense and on controlling field position. The result was New Zealand having difficulty getting out of their own end.
When they did, the USA managed to get out more successfully. A period inside the USA 22 marked by some huge hits resulted in a loose ball that Tapper rescued. She fed Kelter who took off, barely outrunning the cover defense to score from about 80 meters out.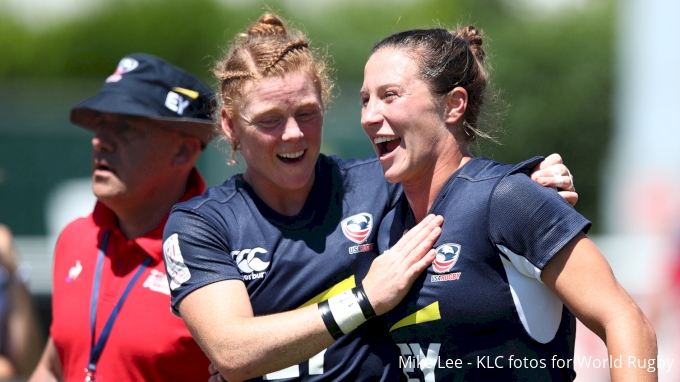 After that the Americans pinned New Zealand in their own 22, and eventually won the ball back when a big tackle from Doyle and a jackal from Kelter forced a penalty.
Kelter made a half-break, Tapper garnered some attention, and then soldi teamwork set up Cheta Emba to dummy and go over.
That made it 12-0. Ruby Tusi raced to the corner to get five back for New Zealand, but then Kelter sidestepped two, and charged out of another tackle to score from 70 meters out to make it 19-5 at halftime.
Kelter was everywhere, making up for lost time. But New Zealand's tackling was also uncharacteristically poor.
In the second half, the USA team wisely slowed things down and used the clock and patient defense to put New Zealand under pressure. Really strong team play set up by a Kirshe break and a Maher charge set up Doyle for another try. New Zealand scored once more but there wasn't enough time.
USA 26
Tries: Kelter 2, Doyle, Emba
Convs: Kelter, Heavirland
New Zealand 10
Tries: Tui, Baker
Kelter said after the game she she received nothing but support from her teammates after the red card, and said her MVP award was a tribute to the team for giving her the chance.
"There was nothing but hugs and 'I believe in you,'" she said.
For head coach Chris Brown, finally getting a tournament win for the USA was a big moment, but, he added, they can be better.
"For them to stick to what we agreed to on the weekend is special," said Brown. "We had to sort our culture out and learn what it's like to play for each other. They showed character on defense … we're progressing."
Offensively, Brown said, the USA can be better, but this Day Two run of at least four tries in every game is impressive.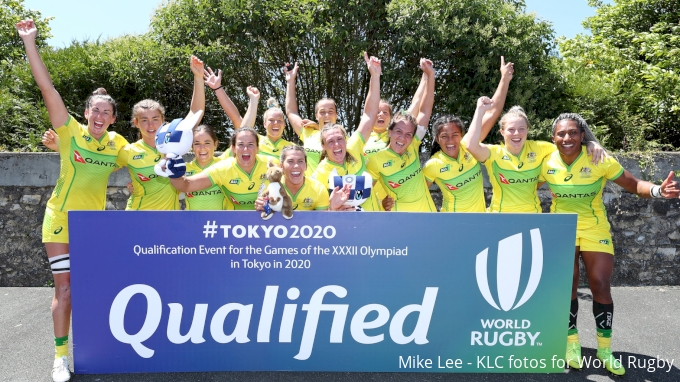 Canada took third over Spain, while Australia held on for 5th and joined the USA and Canada in confirming Olympic qualification. New Zealand, winners in four of the six World Series tournaments, took the World Series title, with the USA 2nd.
2018-19 Women's Sevens World Series Standings

POS
TEAM
USA
DUB
AUS
JAP
CAN
FRA
POINTS
1
New Zealand
20
20
20
12
20
18
110
2
USA
18
14
16
16
16
20
100
3
Canada
16
18
12
20
12
16
94
4
Australia
12
16
18
10
18
12
86
5
France
14
8
10
14
14
10
70
6
England
6
10
3
18
10
3
50
7
Russia
8
12
8
6
8
6
48
8
Ireland
10
6
14
8
2
1
41
9
Spain
4
3
6
3
6
14
36
10
China
2
4
3
2
3
8
22
11
Fiji
3
2
4
4
4
4
21
12
Scotland
-
-
-
-
-
2
2
13
Japan
-
-
-
1
-
-
1
13
Kenya
-
1
-
-
-
-
1
13
Papua New Guinea
-
-
1
-
-
-
1
13
Mexico
1
-
-
-
-
-
1
13
Brazil
-
-
-
-
1
-
1