Guinness PRO14 2018-19
Socino: It Was My Pleasure
Socino: It Was My Pleasure
Juan Pablo Socino finishes up the season with his column.
Jun 6, 2019
by FloRugby Staff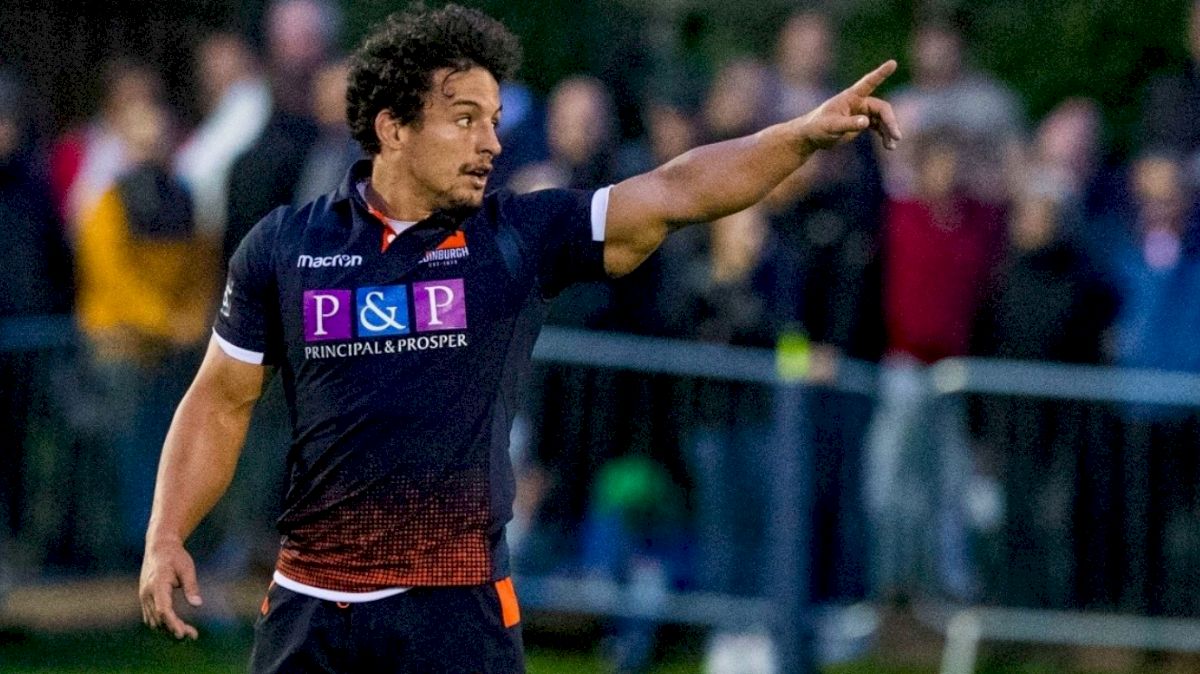 As if the recent news about my brother returning to Argentina to play for Jaguares wasn't enough, we then woke to the great news that he has also been included in the enlarged Rugby World Cup squad of 46 players that will prepare for The Rugby Championship and eventually Rugby World Cup 2019 in Japan.
(This is the last column of the 2018-19 season from our gracious contributor and Edinburgh player Juan Pablo Socino. Este Columna En Español abajo)
This is a situation that showcases precisely what life for a professional sportsman is like, as things can change in a second; rugby is the priority and determines the player's schedule and, if there is, also a family. Plans, holidays, even cities, have to be changed to fit the options the profession offers.
As his older brother, to know what he is about to embark, something so enjoyable that I was so lucky to live four years ago, is great. It is something you never forget, and to know my brother will go through it, after all of his hard work, feels me with pride. I am his number one fan!
Having written throughout the season about the Guinness PRO14, how not to write about the great final, the huge rugby party enjoyed at Glasgow's Celtic Park.
The home side, the Glasgow Warriors, had fans coming from every corner of the country – the Highlands and Lowlands, the Border Country and even Edinburgh.
Subscribers In Latin America, Spain, France, Portugal, Middle East, and North Africa can see all of the Guinness PRO14 games from the season on-demand here>>
As they've done for ages, Leinster fans also traveled in huge numbers, not worrying about the rainy weather, always ready to support a team that gives them a lot of joy. Two big crowds that broke the record for spectators at a PRO14 game: 47.128.
It wasn't to be for the Warriors as Leinster won 18-15 in a game fit for a final, with two teams that fought for each ball as if it was the last, and in which there was controversy to add salt to the game.
Probably, the most discussed incident was the yellow card to Leinster's Rob Kearney for hitting Stuart Hogg in the air. The Scottish fans will say that it was a red card and not the yellow he received.
A red card would have certainly changed the flow of the game and probably even the final score. That is now an anecdote as it was Leinster that once again celebrated winning the tournament, in a way exorcising some of the demons from their recent Champions Cup loss against Saracens.
So, I close a season I had the pleasure to share with you through this column. It was a pleasure to give readers in FloRugby an insight into the tournament I play in and my life as a rugby player.
Now, yes, is the team to rest as the next season is fast approaching.
---
Como si no hubiese sido suficiente con la hermosa noticia de que mi hermano se volvía a la Argentina para sumarse a Jaguares, se suma el notición de que también fue seleccionado en la lista extendida de 46 jugadores que comenzarán la preparación de Los Pumas para el Rugby Championship y, posteriormente, el Mundial de Japón.
Esta es una de esas situaciones que muestran como la vida de un jugador de rugby profesional puede cambiar rotundamente de un minuto a otro; el rugby es la prioridad y determina la agenda del jugador y si la hay, también de su familia. Se cambian planes, vacaciones, ciudades en función de las opciones que ofrece la profesión.
Subscribers In Latin America, Spain, France, Portugal, Middle East, and North Africa can see all of the Guinness PRO14 games from the season on-demand here>>
Como hermano mayor, saber que está en una posición tan linda, que tuve la suerte de vivir hace cuatro años, cuando fui llamado justo antes del Rugby Championship 2015. Es una experiencia muy linda, algo para toda la vida, y que le toque a mi hermano, con los enormes esfuerzos que ha hecho, me encanta. Soy su hincha número uno.
Habiendo escrito toda la temporada sobre el Guinness PRO14, no podemos no hacerlo sobre la gran final, lo que fue una impresionante fiesta de rugby en el Celtic Park de Glasgow.
Por parte de los "locales", Glasgow Warriors, sus simpatizantes llegaron desde todos los rincones del país – los Highlands, el Border Country, los Lowlands y mismo Edimburgo.
Pero como como es costumbre, los hinchas de Leinster acompañaron en gran número, sin importar el clima lluvioso, siempre dispuestos a acompañar un equipo que les da siempre alegrías. Dos hinchadas numerosas rompieron el record del PRO14 de espectadores, con 47,128.
No iba a poder ser para Warriors esta vez; Leinster se impuso 18 a 15 en lo que fue un partido digno de una final. Dos equipos que disputaron cada pelota como si fuera la última, en el que tampoco faltó la controversia. Probablemente, la más discutida y sufrida por los simpatizantes escoceses fue la tarjeta amarilla a Rob Kearny por golpear en el aire a Stuart Hogg. Para muchos debió haber sido tarjeta roja y probablemente hubiese cambiado el rumbo del partido y, tal vez, el resultado. Hoy es solo anecdótico ya que Leinster se coronó nuevamente campeón compensando de alguna manera la final perdida en la Champions Cup semanas atrás a manos de Saracens.
Cierro así una temporada que tuvo el gusto de compartir con ustedes a través de esta columna. Fue un placer poder compartir con los lectores de A Pleno Rugby el torneo que me toca jugar, un poco de mi vida como rugbier.
Ahora sí, a descansar que pronto se viene la próxima temporada.
—Juan Pablo Socino