2019 USA Rugby Collegiate 7s
By The Numbers: How USA Rugby Got College 7s Right, And The CRC Didn't
By The Numbers: How USA Rugby Got College 7s Right, And The CRC Didn't
A breakdown of the CRC and USA Rugby's College 7s.
Jun 3, 2019
by Alex Goff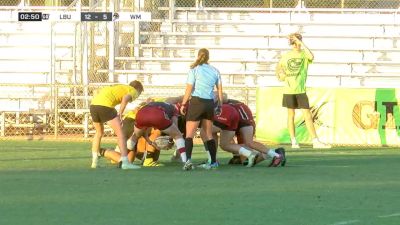 With the college 7s season now done and dusted it's time to take a look at what's working and what isn't.
First off, a caveat. FloRugby showed the USA Rugby Collegiate 7s Championships live, and we're pretty pleased we did, but it's worth acknowledging that a large chunk of this article will be comparing the USA Rugby event with the United World Sports-run CRC.
Also full disclosure, this writer used to write for a news outlet run by UWS. So I've seen both sides.
Structure
The CRC's main problem is its structure. In the interests of getting more fans with a team to root for, the event invites 24 men's college teams to Chester, PA. But the way the event is structured hurts the tournament.
With six pools of four teams each, your Cup Quarterfinals are populated by the six pool winners, plus the two best second-place teams. How do we decide the two best second-place teams? By record, and then by points difference.
And points difference might be an acceptable tiebreaker if we had so much data that the tournament seeding was reasonably accurate. But instead this approach means it's all about who can find a victim to run up the score on.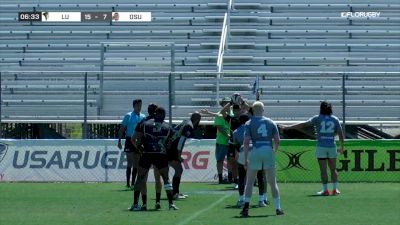 Look at Cal. They rolled through the Plate Round but shouldn't even have been there. But the tiebreaker for 2nd (OK, yes, you get around that by winning your pool games, but still), left Cal on the outside looking in.
Why? The seeding, which isn't so much seeding at the CRC as it is making placecards for a wedding reception. How did Cal get put in a pool with Life, while Pool B had UCLA, Penn State, St. Bonaventure, and Notre Dame? That pool wasn't made based on strength of the team.
The structure of the Men's CRC would be better if you did one of these things:
1. Reduce the number of teams to 20, thereby having a majority of second-place teams make the top eight.
2. Reduce the number of teams to 16, which is more standard, and have the top two from each pool make the quarterfinals.
3. Make a 24-team tournament eight pools of three, with the pool winners going for the Cup, the 2nd-place for the Plate, and the 3rd-place for the Bowl.
That third option actually is good for another reason: There are so many games at the CRC that you have to cut off some of the better teams. For years, fans have tuned in to watch on TV only to see some of the lesser teams play. Everyone who loses in the quarterfinals is done for the tournament. Yet other teams not as strong keep playing.
Doesn't make sense.
An eight-pool event could have every team play to a conclusion, and you'd get 60 games. The current format has 57 and leaves no additional placement games.
How USA Rugby Fixed Their Issues
USA Rugby's structure has vastly improved now that the competition has been separated into six brackets. The D2 bracket is kind of irrelevant here because the CRC doesn't really have a D2 bracket.
But USA Rugby has split D1 for men and for women into an elite D1 for varsity and almost-varsity teams, and a D1 for very good club teams.
It makes sense, and, as a result, we had tournaments of 15, eight, 12, and eight teams. These are manageable sizes (D1A could have been 16 but they only got 15 … that didn't really change much).
No one got dropped a level due to points difference between pools, and the knockout rounds all made sense.
Competitive Balance
USA Rugby's structure greatly improved the competitive balance. Understanding that there's a difference between a varsity program and a club, or, in more of a gray area, an elevated, funded club, and a regular club sports team, is at the center of all of this.
The Women's D1 Elite included six varsity programs, one which is a supported non-varsity sport, and another which is a well-supported elevated club. The Women's D1 bracket was all club sports teams … some a little more supported than others, but basically plain old club sports, but from big, well-funded schools.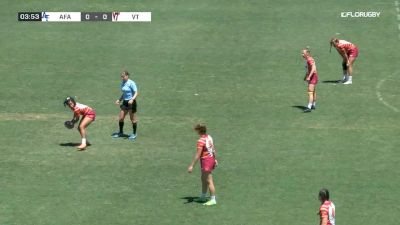 Meanwhile, the CRC mixed everyone together.
The results show what effect this had on the competitive balance.
Blowouts
In USA Rugby Women's D1 Elite, there were seven games decided by more than 21 points, or 35%.
In USA Rugby Women's D1, there were nine, or 45%, games decided by more than 21.
In the CRC, there were 30, or 62.5%, games decided by more than 21. This included scored of 71-0, 84-7, 79-0.
Blowout games were more than 50% more likely in the CRC, and the winning margins were much larger.
Close Games
In Women's D1 Elite, 25% of the games were within a try. In D1, it was only 10%. But the CRC had only four games, or 8.3%, that were close.
Overall, USA Rugby's stratified approach produced a close game 17.5% of the time, and the CRC came in at half that.
Among the men it was a similar story. USA Men's D1A 20% blowouts and 32.5% close games. D1 was 27% blowouts and 33% close games. The CRC? 52.6% blowouts and 21% close games.
So overall a blowout was more than twice as likely in the CRC, and a close game more than 50% more likely.
Coverage
Well now we're getting into a bit of a conflict of interest. I'll just say this: FloRugby covered every game of every division on every field.
Change Is Good
The thing about the CRC was that it was groundbreaking. In 2010, when it started, USA Rugby had no such college sevens tournament, and wouldn't until the fall of 2011. And at the top level, the competition has been very compelling.
But, USA Rugby's structure, as it is now, understands the college landscape better, is structured better, and provides more exciting games.
Don't believe me? Just look at the numbers.
% Championship 7s Games Decided By More Than 21 Points




Combined
USA Rugby Women D1 Elite
35%
40%
USA Rugby Women D1
45%
CRC Women
62.5%
62.5%
USA Rugby Men D1A
20%
23.3%
USA Rugby Men D1AA
27%
CRC Men
52.6%
52.6%


















% Championship 7s Games Decided By Fewer Than 8 Points




Combined
USA Rugby Women D1 Elite
25%
17.5%
USA Rugby Women D1
10%
CRC Women
8.3%
8.3%
USA Rugby Men D1A
32.5%
32.9%
USA Rugby Men D1AA
33.3%
CRC Men
21.1%
21.1%






Competitiveness Quotient (Close Games % minus blowout %)
USA Rugby Men D1A
12.5


USA Rugby Men D1AA
8.3


USA Rugby Women D1 Elite
-10


CRC Men
-31.5


USA Rugby Women D1
-35


CRC Women
-55.2