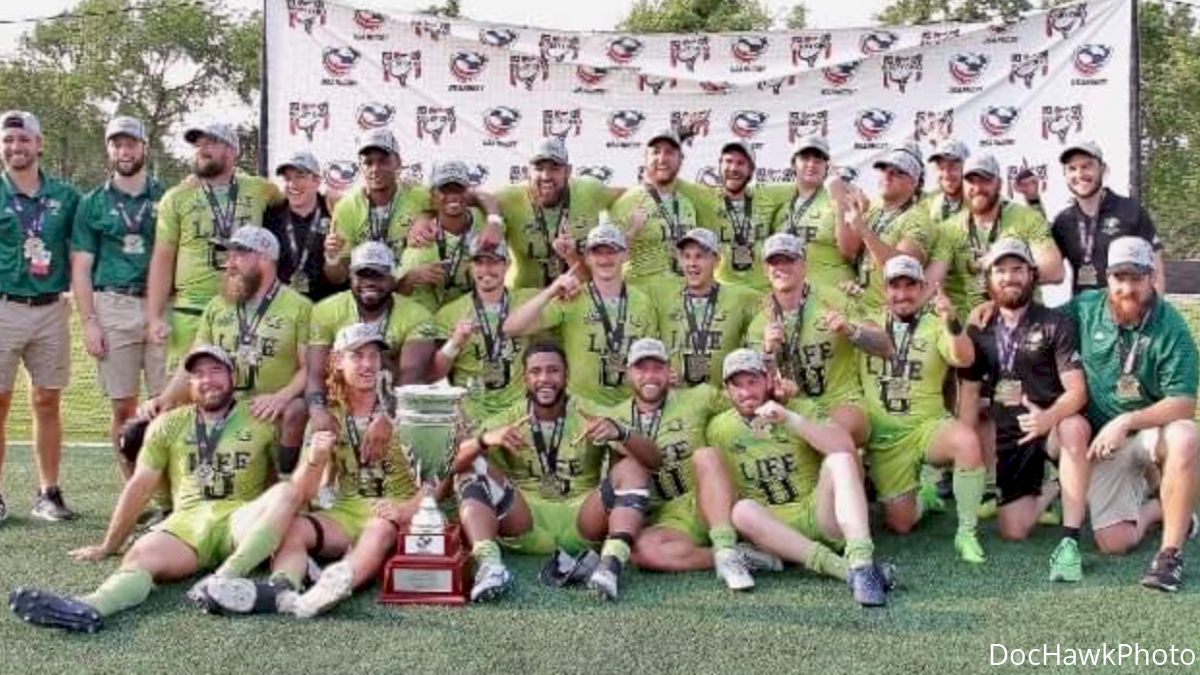 The USA Rugby D1 club finals were about as close as you could get, as Life University Men and NOVA Women won their championships by a total of three points over opponents from Austin, TX.
Life and the Austin Blacks battled in a hugely physical contest which saw the Running Eagles lead 17-13 at halftime. Sam Cowley's boot nudged them ahead a little bit more, and then Austin White scored a key try on a wild play.
A kick ahead bounced oddly, as it can on an artificial surface, and through Austin Black hands, allowing White to chase it down. That made it 25-13. But Austin stormed back. Chris Ingate got over and Adam Armstrong converted to make it a once-score game at 25-20.
After a hard fought match, Sam Cowley shares his thoughts on what got @MLifeRugby over the line. pic.twitter.com/95MyUYdhrX

— USA Club Rugby (@usaclubrugby) June 1, 2019
With 15 minutes to go, Austin capped off a long period of pressure with a maul. Armstrong converted to make it 27-25.
But Life had time and put Austin under all sorts of pressure. They ran through phase after phase right on the Blacks' line, and were at one point her up in-goal.
Eventually, Austin was penalized near the posts, and Cowley slotted the goal.
Life 28
Tries: Mizell, Cowley, White
Convs: Cowley 2
Pens: Cowley 3
Austin 27
Tries: Penalty Try, Ingate, Howard
Convs: Armstrong 2, Penalty Try
Pens: Armstrong 2
---
---
NOVA also won a close one, beating the Austin Valkyries 24-22. But it was a case of weathering a comeback, rather than overcoming a deficit. NOVA scored early when Katie Lutton ran up the wing and then offloaded to wing Stephanie Barros for a superb try.
Austin was able to answer after bashing their heads against the NOVA wall. Finally, camped out on the NOVA line, the Valks scored with flanker Kirby Delgado picking up and going over. NOVA led 7-5.
Austin came close to score a few more times in the first half before finally the forwards worked it over from close range; Delgado once more doing the honors.
Down 12-7 and with a player in the sin-bin NOVA seemed in trouble. But Northern Virginia managed to push Austin back into their 22 and won the territory battle for much of the rest of the first period.
With time up in the first half, NOVA finally got the points they so sorely needed. Center Cade Hildreth cut through and then the ball was sent out to Barros, and she finished it off.
That made it 12-12 at halftime.
Austin nudged ahead ten minutes into the second half with a penalty goal from Jordan Ynostrosa. But NOVA replied, pressuring the Valkyries for several minutes. Eventually, the Valkyries defensive efforts resulted in a penalty and a yellow card. NOVA took the lineout, and the maul, and No. 8 Kayla Cook claimed the try.
So that made it 17-15 for NOVA. NOVA didn't score again during the player advantage, but did put Austin under all sorts of pressure. A tired Valkyries defense eventually broke as a new set of forward subs pummeled them, and then fullback Nicole Benedetti scampered through. Brianna Kim converted the try and NOVA led 24-17 with 12 minutes to go.
Austin kept the ball for much of the last section of the game, but NOVA's defense held until the final seconds. Austin did go over, but there was no time left. NOVA had held on 24-22.
NOVA 24
Tries: Barros 2, Cook, Benedetti
Convs: Kim 2
Austin 22
Tries: Delgado 2, Thomas
Convs: Ynostrosa 2
Pens: Ynostrosa