2019 USA Rugby Club 15s Championships
Women's D1: How Did They Get Here?
Women's D1: How Did They Get Here?
Austin Valkyries Northern Virginia Detroit Glendale Fortress Obetz Raleigh Venom Shawn Gatewood
May 31, 2019
by Austin Willis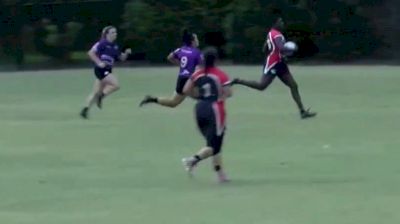 In the eastern bracket if you lined up all the teams side-by-side you would have to say that Raleigh would've been the favorite. Look at their size, and look at their 13 Shawn Gatewood. Then Raleigh went out and put an 89-0 thumping on Detroit, ouch. Gatewood could not be tackled and ran in five tries.
Watch The Club Finals LIVE on FloRugby June 1-2
NOVA wasn't scared. They were clinical. Gatewood came back out and put in three tries in the first 27 minutes. Down 21-8 NOVA took over. They made Raleigh work on defense and drive long field lengths if they wanted to score. They tried out Gatewood and company and started putting up tries of their own. NOVA Scrumhalf Brianna Kim gave NOVA a huge advantage from the boot. She slotted 3 conversions and two penalties like it was clockwork. NOVA only allowed one second-half try to Raleigh and they ran away with it 51-26.
NOVA will face an equally clinical Austin Valkyries team in the final. The matchup to watch will be Valkyries flyhalf Jordan Ynostrosa and NOVA scrumhalf Brianna Kim. Both are talented kickers and totally in command of their team's attack.
East Quarterfinals:
Northern Virginia 44
Tries: Barros 2, Benedetti, Metzmaier (2), Blease, Cook, Team
Convs: Kim 3
Pens: Kim
Minnesota Valkyries 10
Tries: Alliev,
Convs: Spencer
Detroit 0
Raleigh 89
Tries: Gatewood (5), Keleher, Larrimore (3), Gilmore (2), Jackson, Demaree, Bucholtz, Mastrangelo
Convs: Garber (7)
East Semifinal:
Northern Virginia 51
Tries: Mackenzie 3, Parks 2, Johnson, Metzmaier
Convs: Kim 5
Pens: Kim 2
Raleigh Venom 26
Tries: Gatewood 3, Jackson
Convs: Garber 3,
Call it home field advantage if you want, the Austin Valkyries were head-and-shoulders the best women's team out west. From set-piece they were lethal and in open play they made HARC and Glendale Merlins cover sideline to sideline in the Austin heat.
Valkyries flyhalf Jordan Ynostrosa won't be the flashiest player in Obetz, but she's the best maestro in women's club rugby right now. Her voice played a huge role in the Valkyries continuity last weekend. Ynostrosa's boot put heavy pressure on Glendale, who the Valkyries blanked in their 29-22 statement win in the semifinal.
The Valkyries will be the underdog against a NOVA squad that can catch fire at any moment.
West Quarterfinals:
Austin Valkyries 46
Tries: Jenkins 3, Thomas, Reedy, Ramirez, Frueh, Arambula
Convs: Ynostrosa 3
Houston Athletic 10
Tries: Shields, Waller:


Glendale Merlins 38
Tries: Dombrowski 3, Jessamy, Ordway, Cribbs
Convs: Tennant 4
Belmont Shore 12
Tries: Rodin, Gardner
Convs: Bojorquez
West Semifinal:
Austin Valkyries 29
Tries: Reedy, Ynostrosa, Navarrete 2, Arambula
Convs: Ynostrosa 2

Glendale Merlins 22
Tries: 4
Convs: 1