2019 USA Rugby Club 15s Championships
Men D2 Finalists: How They Got Here
Men D2 Finalists: How They Got Here
A look at the journey for the Olympic Club and Atlanta Old White.
May 30, 2019
by Alex Goff
One team cruises into this year's Men's D2 club final after scoring 49 points in the second half, and the other needed a final-play try to book its ticket, but they're both here now.
Watch The Club Finals LIVE on FloRugby June 1-2
West Regionals: Olympic Club
A year out of the PRP the Olympic Club is rebuilding and is finding success in D2.
The Northern California team made its way to the national final with wins over the San Diego Old Aztecs and Wichita Barbarians, and will take on Atlanta Old White in the final
The key to O-Club's success was its defense. Holding San Diego to zero points in the first 35 minutes allowed Olympic to slowly build a 20-0 lead and hold on 28-15. If head coach Ray Lehner is going to be unhappy about anything in that game, it would be allowing two tries right before halftime to give the Old Aztecs hope.
The Wichita Barbarians came to D2 the other direction, after coming close to a D3 national title. The Barbarians got two tries from Louis Montoulieu to get to the regional final.
West Quarterfinals
Olympic Club 28
Tries: Stokes, Saccomanno, Medeiros
Convs: Grant
Pens: Grant 2
San Diego 15
Tries: Dow, Diggs
Convs: Niblock
Pens: Berry
Wichita 29
Tries: Montoulieu 2, Timothy, West
Convs: Foss 3
Pens: Foss
Austin Blacks 19
Tries: Radzavich 2, Harrison
Convs: Harrison 2\
In that final, Wichita led 12-0 13 minutes in and were threatening the Olympic Club line. O-Club flanker Matthew Tymestra was sin-binned for a professional foul, and the Barbarians took the three points to make it 15-0. Wichita was in control.
Even though Olympic Club scored during the yellow card, Wichita expanded its lead to 22-7 and held on 29-14 with six minutes left in the first half.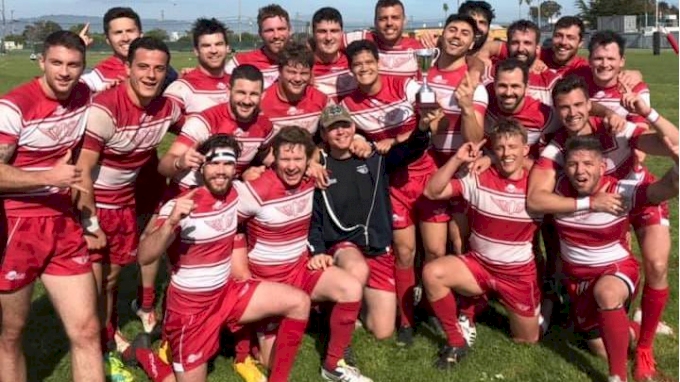 But then it all fell apart. O-Club punched one in front close, then scrumhalf James Stokes finished off a break through the middle. Now with the score 29-24 Wichita had a chance to kick the ball out and take halftime, stalling Olympic Club's momentum. But they didn't. They kept playing, O-Club got a penalty, took the lineout, and mauled it over.
The teams went into halftime tied 29-29, but it was a very different situation for the two. Olympic Club had the momentum and looked the fresher, and scored four tries in a ten-minute span to run away with it 74-29. Hooker Travis Moscone had two key tries in the first half.
West Semifinal:
Olympic Club 74
Tries: Moscone 2, Salimi, Saccomanno 2, Stokes, Bowers 2, Haley, Tucker 2, Snyder
Convs: Grant 2, Engelbrecht 5
Wichita 29
Tires: Sione, Dinh, Dahlinger, Timothy
Convs: Montoulieu 3
Pens: Montoulieu
East Regionals: Atlanta Old White
In the East, Atlanta Old White had much bigger problems. As the Cleveland Crusaders were tough opposition, and Doylestown even tougher.
Former University of Florida star flyhalf Lucas Baistrocchi provided much-needed points as his boot and a try put AOW up 11-6. But former Bowling Green standout Nick Viviani was good on his kicks too and Cleveland had the game tied 14-14 with ten minutes to go. Some sloth ball handling put Erick Ombasa through, and then a maul that involved almost the whole team, it seemed, sealed it.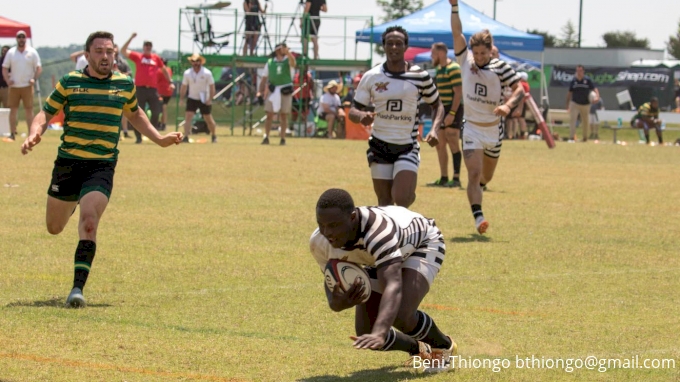 Meanwhile, Doylestown was in. The process of putting a hurt on Buffalo, and would be a formidable opponent the next day.
Doylestown got 27 points from flyhalf David Kornock, who was perfect with his kicking on the day, and three tries from flanker Bruce Dolan. Even when the Dragons were down two players due to concurrent yellow cards, Buffalo couldn't score.
East Quarterfinals:
Atlanta Old White 28
Tries: Baistrocchi, Ombasa, Truett
Convs: Baistrocchi 2
Pens: Baistrocchi 3
Cleveland 14
Tries: Wollerman
Pens: Isaacs, Viviani 2
Buffalo 0
Doylestown 62
Tries: Hartwell, Dolan 3, Green, Compo, Reilly, Kornick
Convs: Kornick 8
Pens: Kornock 2
The East final was a battle. Atlanta inched ahead, and Doylestown clawed back. Down 13-12 and short a player due to a yellow card, Doylestown nonetheless scored the go-ahead try. Atlanta replied through Ombasa only to see the Dragons take the lead once more—Kevin Mirales scoring both key tries.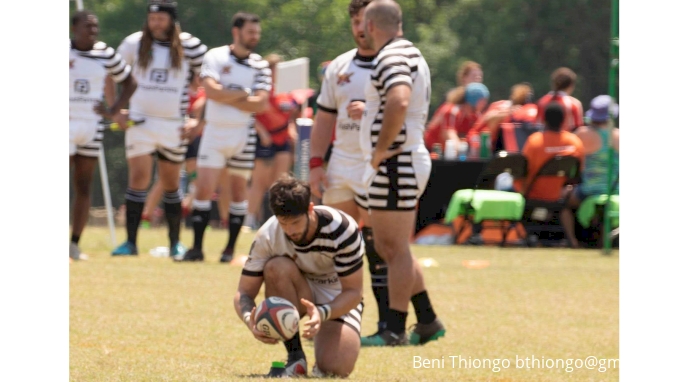 With no time left and down 25-24, Old White had one more shot, and delivered. Baistrocchi was caught very upright and Doylestown was in position to hold him up and likely to end the game. But smartly center Jared Byrne ripped the ball free and dove for the line. He appeared to be stopped, and somehow laid the ball back for the experienced and savvy scrumhalf Antoine Blanchet to dive on it to score.
Doylestown players weren't happy, but the try, and Atlanta's victory, stood.
Baistrocchi's kicking was once again hugely influential, as, really, was Kornock's. Certainly Old White had shown they can grind out a tough win.
East Semifinal:
Atlanta Old White 27
Tries: Ngethe, Ombasa, Blanchet
Convs: Baistrocchi 3
Pens: Baistrocchi 2
Doylestown 24
Tries: Mirales 2
Convs: Kornock
Pens: Kornock 4