2019 USA Rugby Collegiate 7s
Men's D1A 7s Dream Team
Men's D1A 7s Dream Team
We pick a Dream Team and a 2nd Dream Team from the Men's D1A College Championships.
May 30, 2019
by Alex Goff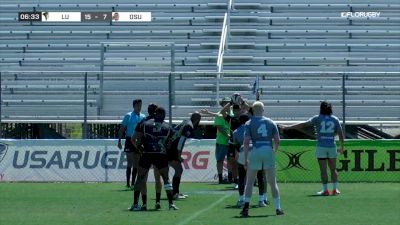 FloRugby has picked our Dream Team for the Men's D1A bracket at the USA Rugby Collegiate 7s Championships.
With try-scoring power-runner Wes White at the head of it, we spread the wealth around in what was largely a very competitive contest.
FloRugby Men's D1A 7s Dream Team
1st Team:
Prop: Wes White, Lindenwood
Hooker: Ryan Connolly, Northeastern
Prop: Cole Zarcone, Central Washington
Scrumhalf: Nick Franklyn, AIC
Flyhalf: Andrew Baldado, Ohio State
Center: Jack Wendling, Central Washington
Wing: Christian Rodriguez, Lindenwood
2nd Team:
Prop: Alex Cleary, Central Washington
Hooker: Andrew Guerra, Notre Dame College
Prop: Lorenzo Thomas, Lindenwood
Scrumhalf: Darren Chan, Northeastern
Flyhalf: Austin Taefu, GCU
Center: Lucas Bartzis, Arizona
Wing: Brady Erlich, Davenport