2019 USA Rugby Collegiate 7s
Our Women's D1 Elite College 7s Dream Team
Our Women's D1 Elite College 7s Dream Team
Our Women's D1 Elite College 7s Dream Team
May 29, 2019
by Alex Goff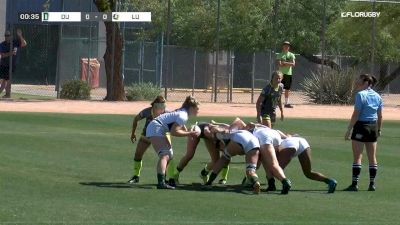 It's taken us some time to go through the footage and find your all-stars, but here are our first picks.
The Women's D1 Elite Dream Team from the USA Rugby Collegiate 7s Championships.
This was tough, and we felt really bad about leaving some players off, so we have two dreams teams, a 1st team and a 2nd team.
We have picked the team along positional lines, but we're not locked into it. We've been a little flexible with the forwards, picking, really, our best forwards and figuring one of them will play hooker. And we lump the halfbacks together, so we might pick a player who is usually at scrumhalf as a flyhalf, and in fact that's exactly what we did.
FloRugby Women's D1 Elite 7s Dream Team
1st Team:
Prop Dimekem Paogofie-Buyten, Lindenwood
Hooker Leah Ingold, Central Washington
Prop McKenzie Hawkins, Lindenwood
Scrumhalf Cassidy Bargell, Harvard
Flyhalf Annakaren Pedraza, Lindenwood
Center Emily Henrich, Dartmouth
Wing Summer Harris-Jones, Life
2nd Team:
Prop Sui A'Au, Central Washington
Hooker Caitlin Weigel, Harvard
Prop Emily Prentice, Harvard
Scrumhalf Olivia Ortiz, Davenport
Flyhalf Teresa Bueso Gomez, Lindenwood
Center Maria Marin, Life
Wing Ariana Ramsey, Dartmouth
Looking back on the tapes it's amazing how often Hawkins was in the middle of a movement, making the right pass, winning ball, and keeping everything flowing. Her (and her teammates') ability to pass on the run off either hand put Lindenwood well ahead of the others.
There were several very good scrumhalves in the competition, but Bargell was a menace throughout. Every single player listed was in the middle not only of the play, but in terms of making big decisions.