2019 USA Rugby Club 15s Championships
Women D2 Club Finalists: How They Got Here
Women D2 Club Finalists: How They Got Here
Alex Goff looks at the Women's D2 finalists.
May 30, 2019
by Alex Goff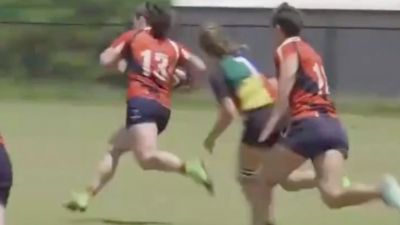 Sacramento and Harrisburg will face off for the Women's D2 Club Championship this weekend, and while these teams are somewhat different, they both will bring the fire, and the hit.
Watch The Club Finals LIVE on FloRugby June 1-2
The Sacramento Amazons left no doubt who was dominant in the West in women's D2 club rugby.
The Amazons had power up front, with second row forwards Roxanne Lembaske and Heather Snyder setting the tone, and very shifty backs led by Margaret Scott at flyhalf.
But it was more than that. Fullback Kristin Schum was very difficult to contain and scored six tries in two playoff games. Center Lindsay Palepale set the platform for her teammates, played aggressive defense, and was a bit of a points machine, scoring 44 in two games.
While the St. Louis Sabres looked very smooth in their quarterfinal win over the Austin Valkyries (who qualified a squad in the D1 playoffs as well), that was as far as they got. Sacramento pinned teams in their own 22, ran back kicks with alacrity, and just pummeled them until they turned the ball over.
It was brutal, clinical, intelligent rugby, and the Amazons are all over it.
West Quarterfinals:
St. Louis 41
Tries: Newton 2, Hecimovich, Hovde, Cole, Vandiver
Convs: Hecimovich 2, Schwartz
Austin 12
Tries: Games, Dennis
Convs: Harris
Sacramento 80
Tries: Palepale 2, Shum 5, French, Reynolds, Mailangi 2, Lewis
Convs: Palepale 10
Las Vegas 12
Tries: Aki, Griffin
Convs: Schumacher
West Semifinal
Sacramento 64
Tries: Scott, Snyder 2, Shum, Tuipulotu, Lemke, Lewis 2, Gonzales 2,
Convs: Palepale 7
St. Louis 24
Tries: Savage, David, Schwartz, Caballas
Convs: Hecimovich, Albrecht
The Atlanta Harlequins D2 side charged out of the gate, and then suddenly saw Buffalo storm back to take the lead. They must have wondered what had changed, but somehow the Quins regained momentum, and late tries from Caitlane Fricia and prop Carrie Frick grabbed a victory for the Georgia team in the quarters.
Meanwhile, Harrisburg was showing off an impressive offense. Inside center Nicole Snyder had space and opportunity and cruised through for five tries. She backs that up with three more in the semi.
Harrisburg was smart. They kicked for territory when it was logical; they resourced the breakdowns; they challenged defenses to defend the easy play, the one-off pass, and if they didn't, Harrisburg just kept coming.
East Quarterfinals
Atlanta 30
Tries: Johnson, Jackson, Nadji, Frick, Fricia
Convs: Kelly
Pens: Kelly
Buffalo 24
Tries: Benack, Huard, Crawford 2
Convs: Faulise 2
Harrisburg 52
Tries: Snyder 5, McHenry, Ciccarelli
Convs: Goodman 7
Pens: Goodman
Providence 38
Tries: Ayoub, Kern, Hanson, McCoy, Hausman, Cardoso
Convs: Hanson 4
East Semifinal
Harrisburg 35
Tries: Snyder 3, Goodman, Graves
Convs: Goodman 5
Atlanta 12
Tries: Nadji, Fricia
Convs: Kelly